BALTIMORE — Baltimore area residents can now apply for full and partial scholarships for a new community-based course about Baltimore, A Brief History of Oppression and Resistance: An Introduction.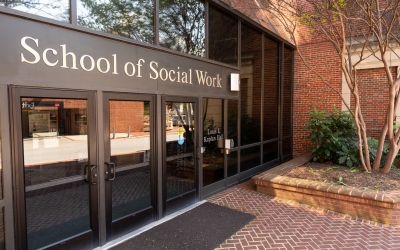 The two-hour asynchronous online course is offered by the University of Maryland School of Social Work (UMSSW), with limited full and partial scholarships to Baltimore city and county residents by the school's Office of Diversity, Equity, and Inclusion. All are welcome to take the course, offered for $80.
This is the first time this course has been offered to the community, and it is a subset of a larger prerequisite course offered for Master of Social Work students at UMSSW. The original course was developed in 2020 by Ashlie Kauffman, MFA, MA, lead instructional designer, IDEA Team, UMSSW; clinical instructors Victoria Stubbs, MSW, LICSW, LCSW-C, and Lane Victorson, MSW, LMSW; and adjunct faculty member Emma Kupferman, MSW, LICSW, LCSW-C. The team that designed the original course was honored with the 2021 University of Maryland, Baltimore Presidential Core Value Award for diversity.
Community members will learn about some of the historical and contemporary forms of structural oppression and racism that target Black individuals and communities in Baltimore City, particularly surrounding the issues of housing discrimination and transportation. That includes the discriminatory housing practice of refusing loans in low-income neighborhoods, called redlining, and how gentrification can cause negative impacts. The course also touches on the impact of the stretch of U.S. 40 in West Baltimore dubbed the Highway to Nowhere.
"This course is a way for us to engage our community in a much-needed important conversation about historical and contemporary structural oppression in Baltimore by understanding the how and the why," said Neijma Celestine-Donnor, MSW '09, LCSW-C, assistant dean at UMSSW and director of the UMSSW's Office of Diversity, Equity, and Inclusion. "In addition, the course highlights some of the people from the Baltimore community who continue to address redlining, inequitable transportation, and other manifestations of racism and oppression in Baltimore and how the community can move forward.

"We hope the conversations from this course create more bridges between the School of Social Work and the community so we can work together to address oppression both systemically and structurally."
Participants are introduced to the concept of structural oppression by using Baltimore as a representation of other cities, communities, and populations that experience oppression and the work that has been and is being done to resist its impact.
For more information about the course and registering, please visit: https://umbsswcpe.ce21.com/item/a-history-oppression-resistance-introduction-asynchronous-89110
If you would like to apply for a scholarship, please email sswdeioffice@ssw.umaryland.edu and include HOO DEI Scholarship in the subject line. Please note that while we understand payment is challenging for everyone at this time, these scholarships are limited and reserved for those most in need. City residents will receive preference.
The full course completed by UMSSW Master of Social Work students includes four modules: Baltimore today; the history of oppression in Baltimore; a history of and current look at resistance to oppression in Baltimore; and an introduction to how frameworks for critical thinking and social work principles of empathy, social justice, and cultural humility can be employed in the classroom and social work practice.

A central aim of the course is to foster knowledge and reflection about the experiences of the diverse populations that social work students serve. The team's work included developing the concept and outcomes, outlining the modules, and writing course content and narration.
A survey of fall 2020 students shows the course is changing their knowledge, understanding, and comfort in discussing oppression. For example, 87 percent felt their knowledge about the history of oppression in Baltimore changed a good amount or a great deal, and 68 percent felt their comfort level discussing oppression in Baltimore changed a good amount or a great deal.
About the University of Maryland School of Social Work
The University of Maryland School of Social Work, founded in 1961, is highly ranked and respected. Its mission is to develop practitioners, leaders, and scholars to advance the well-being of populations and communities and to promote social justice. As national leaders, they create and use knowledge for education, service innovation, and policy development.
About the University of Maryland, Baltimore
The University of Maryland, Baltimore (UMB) was founded in 1807 as the Maryland College of Medicine, which now stands as the nation's oldest public medical school. In response to growing social and cultural needs, UMB's mission has evolved and grown tremendously. Widely recognized as a preeminent institution, UMB serves as the academic health, law, and social work university of the USM, and is guided by a mission of excellence in education, research, clinical care, and public service.
UMB is a thriving academic health center combining cutting-edge biomedical research, exceptional patient care, and nationally ranked academic programs. With extramural funding totaling $682 million in Fiscal Year 2021, each tenured/tenure-track faculty member generates an average of $1.5 million in research grants each year. The 3,123 faculty members conduct leading-edge research and develop solutions and technologies that impact human health locally and around the world. World-class facilities and cores, as well as interprofessional centers and institutes, allow faculty to investigate pressing questions in a highly collaborative fashion. As a result, the more than 7,200 students, postdocs, and trainees directly benefit from working and learning alongside leading experts as they push the boundaries of their fields. For a listing of the organized research centers and institutes, visit: https://www.umaryland.edu/research/umb- research-profile/research-centers-and-institutions/