Global genome sequencing powerhouse Illumina, Inc. recently celebrated the grand opening of a new training facility in gleaming, light-filled offices at the University of Maryland BioPark in downtown Baltimore.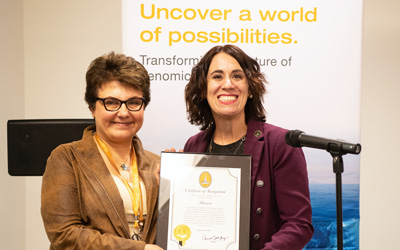 The 13,000-square-foot Illumina Solutions Center provides training labs and office space for customers and commercial teams. It is the company's first commercial location on the East Coast and will host hundreds of customers annually.
Illumina, Inc., whose mission statement is "Unlocking the Power of the Genome," is an international leader in DNA sequencing array-based technologies, serving customers in the research, clinical, and applied markets.
Illumina's technology, which is responsible for generating more than 90 percent of the world's sequencing data, allows customers to read and understand genetic variations. Its sequencing systems are propelling advances in medicine and health care unimaginable even a few years ago.
The San Diego-based company joins more than 40 companies in the UM BioPark, which employs more than 1,000 people in a combination of biomedical research, technology, and medical device companies alongside education and workforce development programs. Adjacent to the University of Maryland, Baltimore (UMB), the BioPark offers access to UMB's medical center, translational research, and clinical treatment center.
Eleezeh Safarians, Illumina's vice president of Americas Service and Support, said the BioPark was the right choice for East Coast expansion because its biotechnology commercialization and economic development mission merge with the company's culture and long-term goals. "We were looking for an area where we could cultivate a culture of collaboration, a culture of openness, a culture of innovation," she said.
Speaking to a crowd of about 75 people, UMB President Jay A. Perman, MD, thanked Illumina for choosing Baltimore and settling into the UM BioPark. "You made a good choice," he said. "You had other options and you chose us."
Perman went on to tout UMB's commitment to innovation, groundbreaking research, and proximity to federal labs and agencies. "You chose our School of Medicine. You chose our world-renowned Institute for Genome Sciences (IGS). You signed onto the game-changing work we're doing here at UMB ­— the work that Dr. Claire Fraser [IGS director] and her team are doing every day."
In fact, IGS has been using Illumina sequencing technology since 2007, and adjacency to its working core labs was a key factor in Illumina's decision to join the thriving BioPark community of life sciences companies.
"We believe this location will facilitate collaborative engagement in research activities with our academic partner, the University of Maryland, Baltimore," noted Mark Van Oene, senior vice president and chief commercial officer for Illumina. "We are inspired by all the ways genomics can stimulate economic activity to maximize impact in the region and fuel research with the potential to improve health outcomes for patients."
Jim Berens, chief executive officer of Wexford Science and Technology, said he's delighted to have Illumina in the BioPark. Recognizing the company, which WIRED magazine called the "Google of genetic testing," as an industry juggernaut that could have located anywhere, Berens shared, "Attracting Illumina, a premier life sciences company, to the BioPark reinforces the value of combining University research, entrepreneurial activity, corporate management, and community development in a dense, collaborative, programmed environment."
Signe Pringle, Maryland's assistant secretary of commerce, agreed. "This is exciting news for us. We welcome these companies and we want them to grow and thrive here. It's our job, together with the University, to provide the tools and resources for them to grow."