Kathleen Neuzil, MD, MPH, professor of medicine and pediatrics and director of the Center for Vaccine Development and Global Health (CVD) at the University of Maryland School of Medicine (UMSOM), has been named to the World Health Organization's (WHO) Strategic Advisory Group of Experts (SAGE) on Immunization.
Neuzil's term, which was approved by the director-general of the WHO, will be effective from January 2019 through December 2021. SAGE was established by the WHO director-general in 1999 to provide guidance on the work of the WHO. SAGE is the principal advisory group to the WHO for vaccines and immunization and advises the WHO on overall global policies and strategies, ranging from vaccines and technology, research and development, to delivery of immunization and its linkages with other health interventions. SAGE is concerned not just with childhood vaccines and immunization, but all vaccine-preventable diseases.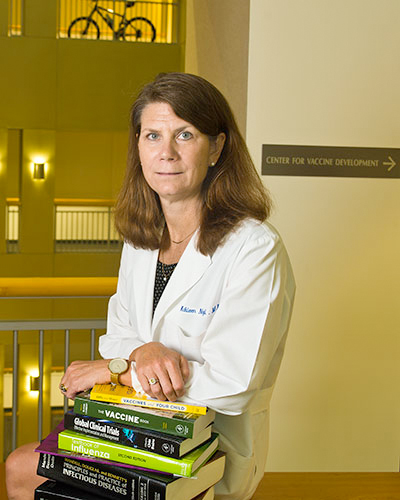 "I am honored to serve on SAGE and to contribute to better health for children around the world through thoughtful, evidence-based global health policy. Assuring access to vaccines in the world's poorest countries is my passion and can save millions of lives," Neuzil said.
Neuzil is uniquely positioned to contribute to the mission of SAGE, as she has dedicated her career to reducing and eliminating vaccine-preventable diseases in children and adults. As an academic, Neuzil has published extensively in the field of vaccinology, and her research has informed health policy and advanced vaccine programs throughout the world. Neuzil is currently leading the Typhoid Vaccine Acceleration Consortium to bring much-needed typhoid vaccines to Africa and Asia.
Neuzil likewise is experienced in the vaccine policy realm, having served as a member of the Centers for Disease Control and Prevention Advisory Committee on Immunization Practices for many years and in a number of other vaccine policy roles for professional, governmental, and global organizations. She previously served as a technical advisor to the WHO on influenza, diarrheal diseases, vaccine safety, and maternal immunization.
"Dr. Neuzil has decades of experience in vaccines and infectious disease research and global health program implementation. She will bring her expertise, energy, and passion to this new role as a member of SAGE," said UMSOM Dean E. Albert Reece, MD, PhD, MBA, who is also the executive vice president for medical affairs, University of Maryland, Baltimore, and the John Z. and Akiko K. Bowers Distinguished Professor.