"If there is one takeaway from this morning's panels," said Donald Tobin, JD, dean of the University of Maryland Francis King Carey School of Law while addressing a room full of farmers, lawyers, environmentalists, and students, "it's that Maryland's farmers face an array of legal challenges."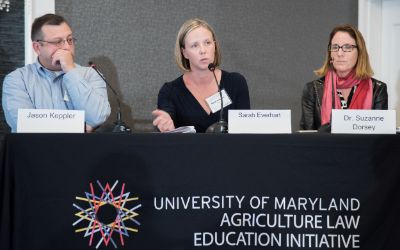 The dynamic 2018 ALEI Conference covered a wide array of topics, ranging from Maryland's aquaculture industry to the legalization of hemp farming.
A panel entitled "Phase III of the Watershed Implementation Plan for Bay Restoration — What Does it Mean for Farmers?" featured Sarah Everhart, JD, managing director of ALEI, as a speaker. Surveying the crowded hotel ballroom, Everhart said the goal of the conference is to bring diverse groups of people together. "I think it's accomplished that," she said. "We have a wide array of folks here from regulatory agencies, academia, farming, and law. It's wonderful."
Maryland Secretary of Agriculture Joseph Bartenfelder agreed. "It gives farmers, producers, and the agriculture community a better understanding of where they stand as far as what the law and what their rights are. It's also good because it works in a cooperative spirit with the university and the agriculture community," Bartenfelder said.
Maryland Sen. Thomas "Mac" Middleton was the keynote speaker at this year's event. As the only full-time farmer in the state legislature, he offered his unique perspective on how agricultural and environmental laws impact Maryland's farmers. Middleton, who will be closing out 24 years of public service in January, said respect and compromise are the keys to success in Annapolis. "When you have the respect of your colleagues and you stand up as a farmer, they listen," he said.
Elizabeth Thiliany, a sophomore at UMCP, is studying agricultural and resource economics. She attended the ALEI conference at the recommendation of her professor, Paul Goeringer, JD, LLM, MS, an extension legal specialist with the Department of Agricultural and Resource Economics at UMCP and ALEI. Thiliany was particularly interested in the panel discussing hemp legalization, which ties into her study of the economics of industrial hemp at the Robert H. Smith School of Business.
"This was a good opportunity to see what is happening in the state of Maryland around industrial hemp and to get the research rolling for next semester," Thiliany said. "I think I have a way better understanding of the legal ramifications of growing industrial hemp and the impact of the farm bill on the industry."
Other panels included: Chlorpyrifos and the Legal Landscape of Pesticide Regulation, and Developing Topics in Agricultural and Environmental Law. Dean Tobin from Maryland Carey Law reminded attendees that the University of Maryland is ready to assist farmers facing legal obstacles.
"Although complying with these laws can be daunting for Maryland farmers," he said, "I hope that the spirit of this event and the body of work created by ALEI over the last five years communicates a clear message that the University of Maryland is here to help farmers succeed and thrive."
ALEI is an initiative of the
University of Maryland Strategic Partnership: MPowering the State
, a collaboration between UMB and UMCP that leverages the complementary missions of both institutions to strengthen Maryland's economy and advance interdisciplinary research. A critical component of ALEI's mission is to advance the understanding of laws and policies aimed at protecting Maryland's natural resources.