The University of Maryland, Baltimore (UMB) and Frostburg State University (FSU) will partner in a new program aimed at addressing a lack of health care providers in rural Maryland by training students to become physician assistants. It is expected to start in 2019.
Details of the program were announced at a Nov. 10 reception in Hagerstown honoring donors who contributed to the "Building a Legacy of Care" campaign to support a planned physician assistant (PA) program to be offered through the University System of Maryland at Hagerstown (USMH).
(View photo gallery.)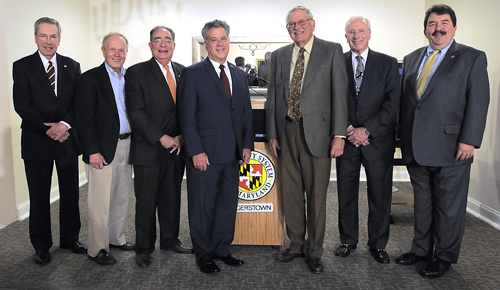 "This is an incredible example of the University System of Maryland (USM) acting at peak 'system-ness,' " UMB President Jay A. Perman, MD, said.
Maryland's primary care shortages aren't going away anytime soon, Perman added.
Physician assistants can help address the shortage of primary care providers by performing many primary care functions, such as examining patients, prescribing medications, and ordering diagnostic tests, usually under the supervision of a physician.
"We need to scale up programs for our advanced practice professionals … for physician assistants and nurse practitioners," Perman said. "We need to give the students here in Western Maryland a ticket into these high-demand, high-wage health care professions, and then give them a compelling reason to stay here and care for this community."
The program will be led by Beth Smolko, MMS, at FSU in conjunction with Mary Jo Bondy, DHEd, MHS, PA-C, director of graduate studies for the University of Maryland Graduate School. "I know full well that the two of you are doing a lot of the heavy lifting here, and I thank you," Perman said.
FSU President Ronald H. Nowaczyk, PhD, and Perman serve on a group of university presidents convened by USM Chancellor Robert Caret, PhD, Perman noted. The group has been tasked with recommending ways that the University System can come together to ensure a sufficiency of health care providers throughout the state.
"Every time we get into a critically important topic, a topic of training, or facilities, or clinical experience, presidents like Dr. Nowaczyk and our members from the Eastern Shore say, 'How does this affect Maryland's rural communities? How can we make sure that our communities stand to gain as much as the metro areas do?' " Perman said. "This, right here, is the answer."
The PA profession has seen great growth over the last half-dozen years alone, Perman noted. "There's no reason to expect that this growth will slow," he said.
"You know, I often say that I'm proud that my University — the University of Maryland, Baltimore — has the city of Baltimore in its name. And I am," Perman added. "We take very seriously our profound responsibility to the entire state. We embrace it. We live it. And with this partnership, we're putting our Maryland mission to work."
A newly created health sciences center, which will serve as the educational facility for the program, will be named the Agnita M. Stine Schreiber Health Sciences Center. Her son, Lee Stine, president of the Agnita M. Stine Schreiber Foundation, made a leading donation to the new center through the foundation.
"It's my brother's and my pleasure to support this important project," Stine said. "My mother was very active in the community and we're glad that we had the funds to do this."
The new state-of-the-art space will occupy the third floor of the Walnut Street Clinic building, owned by health care provider Meritus Health. The fundraising campaign, which has raised more than $1.4 million, was created to raise funds for renovations to the existing building and for scholarships to local students in the physician assistant program.
"It is the generosity and support of private donors that enable our institutions to truly realize their potential and reach aspirations," said James Brady, PhD, chair of the USM Board of Regents.
"We are so thankful to all the donors who recognize the critical need for this program," USMH Executive Director Mark Halsey said. "Through their meaningful gifts, a legacy of care will permanently impact our community."
Perman thanked Nowaczyk, Brady, and Halsey "for knowing that collaboration is the way forward here, and for embracing this chance to transform the way we care for this community."
To support the "Building a Legacy of Care" campaign, contact Erin Harman, director of advancement and outreach at USMH, at eharman@hagerstown.usmd.edu.