Eight food vendors from within blocks of the University of Maryland, Baltimore served their tasty specialties to more than 200 members of the UMB and University of Maryland Medical Center community recently at the Office of Community Engagement's Local Food Connection Fall Food Fair at the University of Maryland BioPark.
The Local Food Connection works to support the economy of neighboring communities in Southwest Baltimore by using institutional purchasing power. The University spends about $1 million every year in food orders under $5,000 and is positioned to make an enormous impact in the local catering economy. A few years ago, less than 1 percent of that spending was going to local businesses, but as of Fiscal Year 2017, that number increased to 15 percent thanks to the efforts of the Local Food Connection.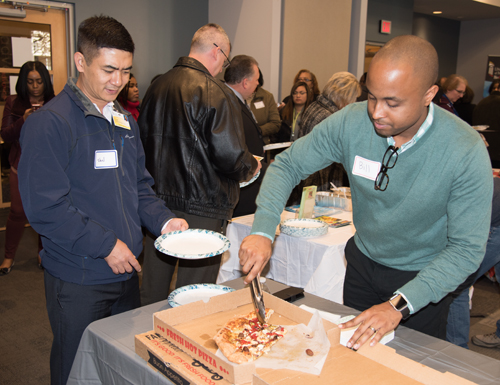 "Our goal here is to really support local food merchants in our neighborhoods so they can grow and employ the community," said Colin Smith, co-manager of the Local Food Connection program and a student at the University of Maryland School of Social Work.
Smith said the Food Fair brings in merchants from the community — specifically those owned by minorities and women — so that purchasers from the University can taste the food and later place catering orders with them. They also hope to increase student foot traffic to the businesses, he said.
Sylva Lin, owner and chef of Culinary Architecture Market & Kitchen in the nearby Pigtown neighborhood, served coconut macaroons and Belgian chocolate brownies at the Food Fair and passed out menus.
"It's always a great event for us to get our business name out there, especially because people from the University don't always come across to this side of [Martin Luther King Jr. Boulevard], so it's a good way to let them know there are food alternatives here in this part of Southwest Baltimore," she said.
Reetta Gach, from the School of Medicine's Office of Student Affairs, tasted pizza from Zella's Pizzeria, chicken tikka masala from Mem Sahib, chicken from Primo Chicken, as well as salad and rice pudding.
"I do purchasing for the events for our students, and I wanted to be able to find out the local options," she explained.
Samantha Bisknell, a research lab associate at the School of Medicine, said she and her co-workers are always looking for new places to try.
"It's perfect because there are only a select few restaurants you know about here, so now we can find out about more restaurants," she said.
Zelda Parker, assistant to the vice president of finance at University of Maryland Medical System, also wanted more selections for ordering for events and said she was not disappointed by the vendors at the fair.
"Everything was wonderful. Great selections, great choices, and some different choices, not the same sandwich and salad," she said.
Parker also liked the idea of supporting local vendors. "It's giving back to the community, so that keeps our communities vibrant," she said. "It's really a great opportunity for the area."