The University of Maryland's Agriculture Law Education Initiative (ALEI) hosted its third annual conference in Annapolis on Nov. 17, as farmers, lawyers, and policymakers met to discuss the complex intersection of environmental regulation and agriculture in Maryland. Panelists shared their expertise on issues ranging from the legal challenges of organic farming to the legal framework of administering antibiotics to livestock.
The Agriculture Law Education Initiative is a partnership of the Francis King Carey School of Law at the University of Maryland, Baltimore (UMB); the College of Agriculture and Natural Resources at the University of Maryland, College Park (UMCP); and the School of Agriculture and Natural Sciences at the University of Maryland, Eastern Shore.
ALEI is an initiative of the University of Maryland Strategic Partnership: MPowering the State, an alliance between UMB and UMCP created in 2012 to significantly expand research collaboration, business development, and student opportunities at both universities.
Keynote moderator Michael Pappas, JD, MA, associate dean for research and faculty development at Carey Law and an ALEI member, said the conference is a signature event for the farming community and ALEI. "The great thing about this conference is it brings together policymakers, farmers, lawyers, and environmental interests, and it allows us to address issues in one room and really spread education. That's the core mission of ALEI," he said.
The panelists covered a diverse array of agricultural and legal topics with the aim of helping farmers understand the legal frameworks they operate within and how to navigate through them.
The keynote panel, "Conservation Programs and the 2018 Farm Bill," focused on the development of a new farm bill, with the current bill set to expire in 2018. As the 2018 bill begins to take shape, many are speculating about the future of popular conservation programs within the current bill.
According to the National Sustainable Agriculture Coalition (NSAC) website, conservation programs "improve the resiliency and productivity of farming operations, and also protect and enhance shared natural resources."
Panelist Paul Wolfe, JD, senior policy specialist, NSAC, said conservation programs could be on the chopping block because they don't have a large constituency but make up the second-largest block of funding in the current bill. "That is one of our biggest concerns, that these programs could be attacked and looked at to make changes to fund a few specific programs," he explained.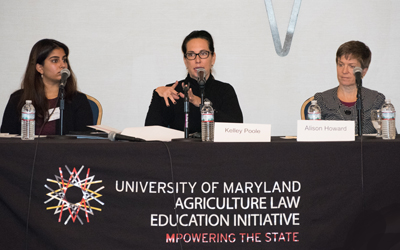 Wolfe said the NSAC recognizes that more money is not in the cards for conservation programs, so the goal is to maintain the programs and improve operation and management. Focus areas for the 2018 farm bill include:
• Expanding access to working lands conservation programs.
• Targeting dollars to the most effective conservation activities and systems.
• Improving support for outreach, planning, and implementation.
• Increasing measurement, evaluation, and reporting of program outcomes.
"We're trying to figure out how you shuffle the deck chairs to pay for all the things you want to do," Wolfe said.
Ben Grumbles, JD, LLM, secretary of the Maryland Department of the Environment, spoke about Maryland's climate change programs in light of a changing federal political landscape. Freshly returned from the United Nations Climate Change Conference in Bonn, Germany, Grumbles acknowledged the reality of climate change.
"We all know that water boils at 212 degrees Fahrenheit whether you're a Republican or a Democrat," he said. Citing extreme weather patterns, temperature increases that threaten crops and public health, and precipitation issues that can cause flooding or drought, Grumbles said Maryland must take a proactive approach to climate change. "We in Maryland absolutely have skin in the game and absolutely need to embrace a risk-management approach," he said.
Grumbles noted that he held Maryland up as an example of progress in climate change policy at the UN conference, citing the state's 26-member bipartisan climate change commission, stringent greenhouse gas reduction requirements, and a regional approach with the power sector.
"We're not just standing still and denying the need for increased strategies and collaborations for risk management," he said.
Farmers have a role to play in mitigating and adapting to climate change and should be at the table during discussions, Grumbles explained. "Climate change topics should be a discussion — hopefully a collaborative one — that's based on science and goodwill and how do we integrate the environment, energy, and the economy into our decisions on how the state should be moving forward."
Sarah Everhart, JD, legal specialist and research associate, ALEI, said the conference is valuable for Maryland farmers, environmentalists, and other stakeholders to come together to understand the regulations that affect them all. "We [ALEI] feel it's important to bring them together in one conference because they often hold separate events to discuss the complex regulatory challenges that farmers face."
Other panels included:

Organic Farming – Challenges, Benefits, and Legal Battles: Alison Howard, Homestead Farm; Kelley Poole, vice president of government affairs, Organic Trade Association.

Legal Resources for Improving Soil Health on Leased Land: Sarah Everhart, JD, legal specialist and research associate, ALEI, University of Maryland Francis King Carey School of Law; Terron Hillsman, PhD, state conservationist, USDA-Natural Resources Conservation Service (NRCS).

Nutrient Management Update and Preparing for an Audit: Hans Schmidt, assistant secretary of resource conservation, Maryland Department of Agriculture.

Administering Antibiotics to Livestock in Maryland: The Legal Framework: Michael Radebaugh, VMD, state veterinarian, Maryland Department of Agriculture; Colby Ferguson, government relations director, Maryland Farm Bureau; Betsy Nicholas, JD, executive director, Waterkeepers Chesapeake; founder, Fair Farms.

Developing Legal Issues in Agriculture and the Environment: Paul Goeringer, JD, LLM, MS, extension legal specialist, ALEI, Department of Agricultural and Resource Economics, College of Agriculture and Natural Resources, University of Maryland, College Park; Kelly Nuckolls Winslow, JD, LLM, extension legal specialist, ALEI, Department of Agricultural and Resource Economics, College of Agriculture and Natural Resources, University of Maryland, College Park.