"It's not buildings alone that make a community," University of Maryland, Baltimore (UMB) President Jay A. Perman, MD, told community leaders at the Howard's Park Dog Park on the night of Nov. 4. "It's a sense of personal safety. It's a feeling of creative expression. And it's a commitment to the values you share with your neighbors."
Perman, Baltimore Mayor Stephanie Rawlings-Blake, JD '95, Kirby Fowler, president of the Downtown Partnership of Baltimore, and William Cole, president of the Baltimore Development Corporation, addressed residents of the neighborhood near Centre and Howard streets, sharing the accomplishments of the UniverCity Partnership, a group of more than 100 Westside stakeholders, as well as plans to provide additional street lighting to much of the area.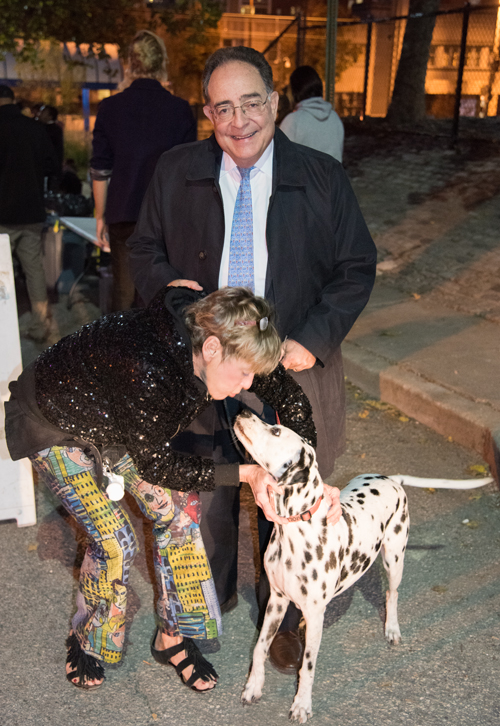 Rawlings-Blake said more than $1 billion of capital investment has been made in the area since the group's founding six years ago, and recounted that the key priorities of the UniverCity Partnership were and are to re-energize redevelopment efforts in the downtown area's Westside, and create a "modern, mixed-use urban neighborhood with a balance of historic, commercial, cultural, educational, and retail resources." She also emphasized that success would require providing "quality amenities [such as the dog park] to attract a core residential population, including the city's workforce, downtown visitors and investors, as well as university and medical center faculty, staff, and students."
Perman shared many of UMB's contributions to community development, including the nearly completed Health Sciences Facility III, the Maryland Proton Treatment Center, the renovation of the Drovers Bank building on North Eutaw Street and the Sons of Italy building on Fayette Street, and the highly anticipated opening of a third commercial lab and office building at the University of Maryland BioPark.
"UMB's commitment to the Westside won't expire," Perman promised. "We've been here for 210 years, and — believe me — we're here for good."