Students and faculty of the University of Maryland School of Pharmacy (UMSOP) and University of Maryland School of Nursing (UMSON) will offer free vaccinations against influenza at a clinic to be set up in Montgomery County near a State Board of Elections poll site on the campus of Universities at Shady Grove (USG).
The clinic will be held Tuesday, Nov. 8, 2016, from 3 to 7 p.m. The location is USG Building 1, First Floor, 9640 Gudelsky Dr., Rockville, Md.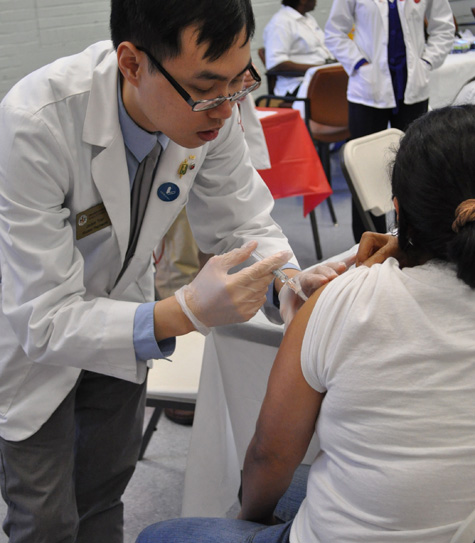 Vote & Vax is a national community outreach project aimed at increasing influenza vaccination rates among Americans on Election Day. Students and faculty of the UMSOP have organized a free Vote & Vax flu shot clinic in Montgomery County to improve public health and to demonstrate the expanding role of pharmacists, including the ability of pharmacists to immunize in all 50 states. UMSON students and faculty members also will administer shots. Several University of Maryland, College Park undergraduates in the School of Public Health will help greet the public.
Shots will provide protection against the seasonal flu. Vaccine is being provided by the Montgomery County Department of Health and Human Services.
Voting is not required to receive a free flu shot. However, parking vouchers are available only to voters.
Dozens of UMSOP students are working on the project through the UMSOP's student chapters of the American Pharmacists Association Academy of Student Pharmacists, the Student Section of the Maryland Public Health Association, and the American Society of Health-System Pharmacists.
"Our student pharmacists are playing a vital and important role in ensuring that the public health needs of Maryland's citizens are met through the Vote & Vax initiative," said Natalie D. Eddington, PhD, FAAPS, dean of the UMSOP. "Their outreach in Montgomery County is commendable and consistent with their focus on community engagement, a commitment they will surely continue as practicing pharmacists."
Community engagement, collaboration, and interprofessional education are among the priorities of the University of Maryland, Baltimore (UMB), which is home to both UMSOP and UMSON. Programs in pharmacy and nursing are among more than 80 degree programs from nine public universities, including UMB, that are offered at USG.


The University of Maryland, Baltimore is home to the Graduate School, and schools of dentistry, law, medicine, nursing, pharmacy, and social work and it is the founding campus of the University System of Maryland.
The Universities at Shady Grove (USG) is part of the University System of Maryland and the partner campus of 9 Maryland public universities, all of which share in the mission of creating educational and economic opportunities for the residents of Montgomery County and the surrounding region. Since its founding in 2000, USG has been providing innovative approaches to some of higher education's biggest challenges — quality, access, and affordability. Over the last 16 years, USG has grown its initial offering of 14 undergraduate degree programs to more than 80 degree programs awarded by nine of Maryland's top public universities.



.