Students and faculty of the University of Maryland School of Pharmacy (UMSOP) and the University of Maryland School of Nursing (UMSON) offered free seasonal flu vaccines on Nov. 8 to people visiting the polling site at the Universities at Shady Grove (USG) in Rockville, Md.
(View a photo gallery.)
The initiative was led by student chapters of the American Pharmacists Association-Academy of Student Pharmacists (APhA-ASP); the Student Section of the Maryland Public Health Association (SMdPHA); and the American Society of Health-System Pharmacists (ASHP).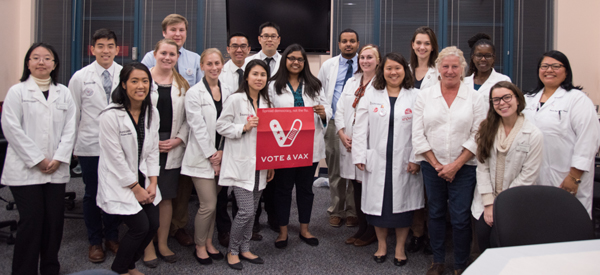 Organized as part of a national community outreach project known as Vote & Vax, which aims to increase influenza vaccination rates among Americans on Election Day, the clinic immunized 115 people against this serious viral infection.
"Through their participation in the Vote & Vax initiative, our student pharmacists played a vital and important role not only in helping to meet the public health needs of Maryland's citizens, but also in demonstrating the expanding role of pharmacists as members of the health care team," said Natalie D. Eddington, PhD, FAAPS, FCP, dean and professor of the UMSOP. "Their outreach in Montgomery County is commendable and consistent with their focus on community engagement – a commitment they will surely continue as practicing pharmacists."
The flu is a contagious respiratory illness caused by influenza viruses that infect the nose, throat, and lungs. Symptoms associated with the flu can be mild to severe, and include fever, cough, sore throat, runny or stuffy nose, muscle or body aches, headaches, and fatigue. More than 200,000 people are hospitalized for flu-related complications each year.
The best way to prevent the flu is by getting a flu vaccine each year.
"I have participated in multiple flu clinics during my time at the School of Pharmacy, and was thrilled to be part of this year's Vote & Vax event," said Erika Saunders, third-year student pharmacist and chair of APhA-ASP's Operation Immunization at Shady Grove. "The value that this initiative provided to the local community was immeasurable, as it offered easy access to free flu shots for any individual living in Montgomery County, including small children and older adults, who are particularly at risk for developing the flu. It also showcased the important role that pharmacists can play in providing vaccinations to help keep people healthy, which is so important to us as student pharmacists."
"As a member of the planning committee for Vote & Vax, it was incredibly fulfilling to watch this event unfold," added Alina Kukin, third-year student pharmacist and chair of the ASHP student chapter's Vote & Vax committee. "We were able to immunize more than 100 people, many of whom might not have otherwise received their flu vaccine. It was a remarkable accomplishment for us as soon-to-be health care professionals, as well as an even more significant success for public health in Maryland."
This event marked the third time that student pharmacists participated in the Vote & Vax initiative, with faculty and students from the UMSOP collaborating with faculty and students from the UMSON to organize the clinic. The Montgomery County Department of Health and Human Services provided the flu vaccines at no cost, and Marla Dalton, PE, CAE, executive director of the National Foundation for Infectious Diseases, was on-site to provide individuals with patient education materials. Her daughters and a friend were costumed as "flu-bugs" to gain the attention of voters and USG students and to entice them to go inside for their flu shots.
"What truly makes Vote & Vax special is both the time and place at which it occurs," said Melanie Slaby, a second-year student pharmacist and chair of the SMdPHA student chapter's Vote & Vax committee. "By providing flu vaccines on Election Day, we were able to reinforce the idea that, like voting, vaccination is a civic responsibility. Choosing to vaccinate ourselves against infectious diseases is an action that we all can take to help protect the more vulnerable individuals in our communities against the spread of disease. It was great to have an opportunity to spread this message and help get people excited about preventative health services."
Nursing students and pharmacy students who are active in SMdPHA commended its role in Vote & Vax.
Speaking on behalf of SMdPHA as its Shady Grove liaison, UMSOP student Quynh-Nhu Nguyen said: "I've had the opportunity to reach out to students at USG in various different academic programs, including the University of Maryland School of Nursing and the University of Maryland, College Park undergraduates in the School of Public Health. I love that USG is diverse in this way."
UMSON student Tacarra Gerald said she values how SMdPHA allows her and others "to get our hands in and work with the pharmacists, for example, in Vote & Vax."
UMSON student Bernadette Jackson said the organization is "welcoming" to everyone and has events that overlap with pharmacy and nursing, such as the Vote & Vax clinic. She added: "We're all here for one purpose, to help our community, and I really appreciate that."
Many other UMSOP students also volunteered at vaccination clinics coordinated by Walgreens at polling sites in Baltimore City.