Ignoring gusty winds and frigid cold weather, about 35 University of Maryland, Baltimore (UMB) students participated in a "March for Civility," organized by the University Student Government Association (USGA), as they walked in solidarity from the School of Nursing to the Inner Harbor.
View this video for excerpts from the "UMB March for Civility:"
The Universitywide march on Nov. 21 was billed as a way to "reaffirm the campus' commitment to civility on campus and in the community at large following the recent escalation of hate speech and acts of xenophobia and racism in the United States."
"A lot of students reached out to me after the election, there were a lot of hate speech and terrible actions that they heard about, " USGA president Amber Mueller said. "I wanted to do something that was very positive and also sent a message that the University of Maryland, Baltimore is committed to having a safe, diverse, and inclusive environment and we will not tolerate discrimination of any type."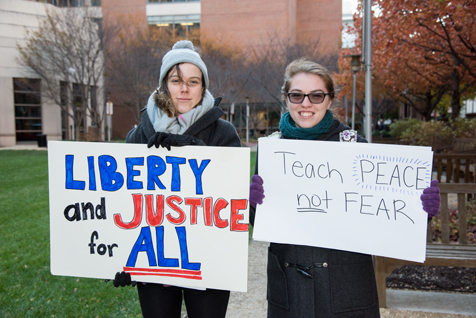 Mueller carried a sign that read "We Love Our International Students."
"There's been a lot of concern, not only on our campus, but also at UMBC [University of Maryland, Baltimore County] and [University of Maryland] College Park about international students being deported … especially as soon as they graduate if they don't have a job lined up," said Mueller, a PhD student in UMB's molecular medicine program. "They've been reaching out and they are kind of worried. I just wanted to say 'we're here to support you and you're not going anywhere.'"
Jerrica Stanley, a student of the University of Maryland School of Social Work, said she was glad to be a part of an organized gathering on campus.
"I just wanted to get involved with any of the protests happening in the University community," said Stanley, who was also representing the Baltimore Council of Minority Professional Graduate Students. "Now is the best time for us to unite together in solidarity for social justice for all people, not just for the elite."
Leslie Guthrie, a student at the University of Maryland Francis King Carey School of Law, said after a "week or so of healing," it was time for her to take action.
"Being in law school and so focused on academics, I didn't have time to really think about what I could do in reaction to the election," she said, holding a sign that read "Liberty and Justice for All." "I was ready to do something and participate in a march like this. In situations like this, it seems you want to take action and you also want to stand in solidarity with others."
Karen Campion, another social work student, stood next to Laura Nieman, a nursing student. Prior to the march, neither had met each other before.
"It's very important to be clear about what the threats to civility are," said Campion, noting civility is one of UMB's core values. "I am very concerned about the rights of Muslims and about them feeling discriminated against. I think it's important for us as professional students to be really clear about who we are standing with in solidarity."
Added Nieman: "We want to try to fight a lot of the negativity a lot of Muslim groups are feeling right now. It's a way for us to say, 'We hear you. We know you're scared. We stand with you.'"

UMB thanks the Baltimore Police Department for providing traffic safety support for this event.