The panel and topic of the Daniel Thursz Lecture Series on Social Justice – "The 2016 Election & the Future of Social Justice in America" – was selected by the University of Maryland School of Social Work (UMSSW) long before the world woke up on the morning of Nov. 9 and learned of President-elect Donald J. Trump's victory.
"There's plenty of blame to pass around, but the point of our being here today is to not talk about what happened last week but to talk about the future of social justice," said panel moderator Tom Hall, host of Midday on WYPR 88.1 FM. "Because those of us who are appalled at the decision that our fellow countrymen and women made, need to figure out the proper response, need to figure out the proper posture, need to figure out where we go from here."
Nearly 200 people attended the lecture Nov. 15 in the UMSSW auditorium on the University of Maryland, Baltimore (UMB) campus as a panel consisting of a journalist, an activist, and an educator shared their thoughts about how the election turned out the way it did and how a country of many wounded people can move forward.
(View a photo gallery.)
Panelists included E.J. Dionne Jr., Washington Post columnist and frequent commentator to NPR's All Things Considered; DeRay Mckesson, one of the leaders of the Black Lives Matter movement; and Kimberly R. Moffitt, associate professor at the University of Maryland, Baltimore County (UMBC).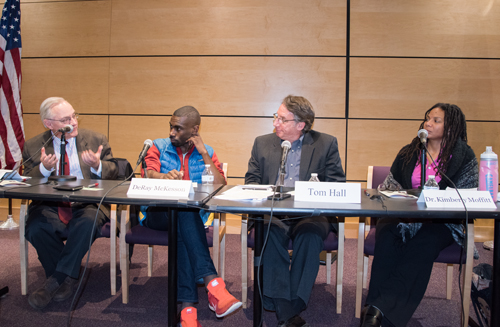 "Tonight's discussion goes to our school's roots, Daniel Thursz' impact on the school and our deeply held values." said UMSSW Dean Richard P. Barth, PhD, MSW, as he welcomed the audience. Daniel Thursz, PhD, MSW, died in 2000 after a multi-faceted career that included serving as the school's dean from 1966 to 1976.
Since the election outcome, "The feelings and fears that have been generated amongst not just our students but also from our faculty, staff, and compatriots in the community are extremely intense," Barth said, adding he believes the election was a rejection of the political status quo.
Democratic nominee Hillary Clinton made several mistakes in her campaign, Dionne said. "She counted too much on the revulsion of Donald Trump and not enough on what she would do for the country. On the whole I don't think she used the campaign to talk enough about the economic issues that moved a lot of voters in this election."
While the country waits to see what kind of president Trump will be, Dionne said, "we need to stay organized, we need to be ready to defend some real achievements of the last few years, including Obamacare. We need to be vigilant."
Mckesson recounted how he was in New York's Jacob Javits Center on election night, along with thousands of Clinton supporters, waiting for a victory party.
"It was a very sad place to be," he said.
What matters next is how willing people will be to organize together to make sure that those who felt alienated by the Trump campaign feel included, he said.
"When I think about what comes next … there's a real question of can we organize? I think about the Black Lives Matter movement. I think about the Occupy movement. I think about all the movements and that what normally happens is people win the awareness battle and then the movement dies," Mckesson said. "In moments that Trump provokes, now the question is can we organize on a scale we have never seen before?"
Moffitt said she is struggling with acceptance of the election outcome and on what to tell her children about it.
"I am not in a space of healing quite yet, so many of my comments do not sound like a kumbaya moment," she said.
View this video for excerpts of the evening's discussion.