"As a University president and as a physician both, you might expect that I have some strong opinions on how important it is that we have a good, thoughtful health insurance policy in this state and this nation, and that we ensure that all people have access to fair and appropriate coverage," University of Maryland, Baltimore (UMB) President Jay A. Perman, MD, told Maryland health care and government leaders, and members of the press at the Nov. 14 launch of the Maryland Health Connection College Enrollment Week.
The Maryland Health Connection was established in 2011 as the state's official health insurance marketplace, enabling Maryland residents to explore health insurance plans, compare rates, and determine their eligibility for tax credits (such as those provided under the federal Affordable Care Act), cost sharing reductions, and public assistance programs such as Medicaid and the Maryland Children's Health Insurance Program. During College Enrollment Week, informational events will be held at institutions of higher education across Maryland aimed at encouraging young adults to enroll for 2017 coverage before the open enrollment period ends Dec. 15.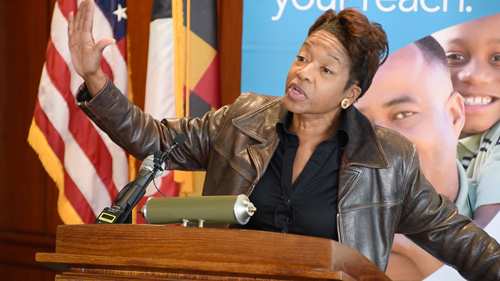 Perman drew on his experience as a practicing pediatric gastroenterologist to emphasize the importance of health insurance coverage for all family members. He shared the story of Leah, a young patient suffering for want of health insurance that would cover costly tube feedings necessary for her to thrive.
"So now Leah's stepmother is planning to quit her full-time job and go part-time — so that she can work with Leah over breakfast in the morning, and then join her for lunch at school," he explained. "Think about the false economy this situation is perpetuating," he urged. "The family's medical expenses are going way up. Their income will drop significantly with a part-time job vs. full-time, and I'm confident we'll still have to admit Leah to the hospital for more intensive care — a huge expense. This is the impact of insurance. We need thoughtful conversations not only around getting all people insured, but also getting them the right kind of coverage — humane coverage."
Baltimore Health Commissioner Leana Wen, MD, U.S. Reps. Elijah Cummings and John Sarbanes, Baltimore Mayor-elect Catherine Pugh, Maryland Secretary of Health and Mental Hygiene Van Mitchell, and others also shared their support for College Enrollment Week, and for the Affordable Care Act (ACA), also known as "Obamacare." Several expressed concerns that the incoming federal administration might seek to cut or eliminate coverage for uninsured Marylanders.
"For my patients, for our residents this is deeply, deeply personal," said Wen. "The ACA may be a policy issue, and it's important for us to engage in policy conversations, but ultimately to me as a doctor, as the city's doctor, it is about people's lives. In Baltimore City in 2010 there were 81,000 adults without health insurance. That number now is less than 40,000. That's 40,000 people whose families are forever changed because of it."
Dramatizing that point, Maryland Health Connection officials invited self-described slam poet Gayle D. to speak to the audience. Gayle's story was made into an animated public service announcement. She also shared a poem about her family's story and the relief they feel finally securing health insurance coverage. Here is a portion of the poem:
"We sleep all night, covered. We work, we school, covered. We eat, we argue, we love, covered. We are covered, y'all. We are covered. We're covered like snow on the sidewalk. We walk like covered people. We talk like we are protected. We are safe. We are sound. This is the story of a family resting assured. Peekaboo. We're good. Woo hoo! How good you would feel if you were covered, too."