Sixth- and seventh-graders from Southwest Baltimore Charter School (SBCS), mural artist Candace Brush, and Maryland's First Lady, Yumi Hogan, put the finishing touches on a mural depicting opportunities in health, law, and human service careers - all available just blocks away at the University of Maryland, Baltimore (UMB).
The Nov. 4 event was the culmination of a yearlong effort by Brush, a recent University of Maryland, College Park graduate, who was commissioned to paint the mural. (See the Photo Gallery.)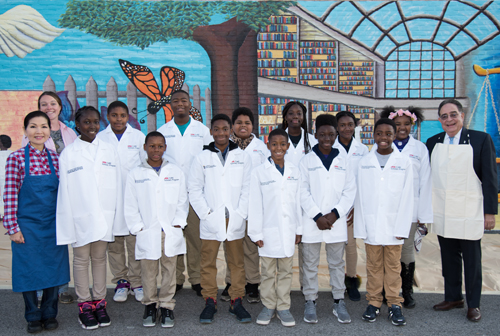 Ms. Hogan, an accomplished artist and adjunct professor at the Maryland Institute College of Art, and Brush guided students as they painted clothes on the mural's human figures. The first lady is honorary chair of UMB's Council for the Arts & Culture, which works to enhance the quality of life at the University and in the larger community by promoting the use of public spaces for the visual and performing arts, and to raise awareness of the links between the arts and the sciences. Under her guidance, the mural project was initiated in 2015 as a way to inspire children to pursue futures as great as their imaginations.
The SBCS mural holds particular significance for the 20 children chosen for the project. All of them are part of UMB's CURE Scholars Program. UMB partners with Southwest Baltimore Charter School, Franklin Square Elementary/Middle School, and Green Street Academy to identify promising middle school students and prepare them for health care and research careers through hands-on workshops, lab experiences, and mentoring.