Should smokers be on an organ transplantation list? What about someone who is not faithful at taking prescribed medications, convicted felons, or the elderly who have "already lived full lives"? Should there be an age cutoff?
These are just some of the questions considered by representatives from across academic disciplines as they gathered Nov. 1 to discuss the many challenges of organ donation and transplantation at the University of Maryland, Baltimore (UMB) Third Annual Interprofessional Forum on Ethics and Religion in Health Care. The event, held at UMB's Southern Management Corporation Campus Center, drew an audience of religious leaders, nurses, physicians, and social workers.
"I think there's lots of questions that we have to ask in order to make the decisions and I think sometimes, there's not really a right answer," said Silke Niederhaus, MD, assistant professor at the University of Maryland School of Medicine (UMSOM), who spoke on the "Journey to Organ Transplantation in the 21st Century."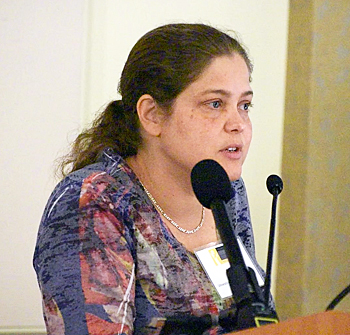 Other speakers included UMB President Jay A. Perman, MD; Anita Tarzian, PhD, RN, associate professor at the University of Maryland School of Nursing and program coordinator of the Maryland Health Care Ethics Committee Network at the University of Maryland Francis King Carey School of Law; Rabbi Shmuel Silber, founder and dean of the Institute for Jewish Continuity, who also serves as rabbi of Suburban Orthodox, Congregation Toras Chaim in Baltimore; and Karen Kennedy, RN, MS, organizational trainer of the Living Legacy Foundation.
In explaining the origin of the annual forum, Patricia D. Franklin, PhD, RN, assistant professor, director, Nurse Leadership Institute, University of Maryland School of Nursing, told the audience that about three years ago, an educator, a nurse, a physician, a pharmacist, a rabbi, and a social worker walked into a bar.
"It's not the beginning of a joke. It really happened," said Franklin, an organizer of the forum. The group had just completed the first interprofessional forum on ethics and religion in health care and needed some time to debrief.
"We sat there and immediately agreed it was a successful program, but more importantly, we recognized that it was a terrific model for facilitating and advancing interprofessional education and practice," she said.
Three years later, more than 100 attendees considered complex questions relating to the ethical, religious and spiritual aspects of organ donation and transplantation.
Since his arrival as president at UMB, Perman, who provided welcoming remarks, has made interprofessional education a priority.
"He who saves a life, it is as if he has saved an entire world," Perman said, quoting from the Talmud. He recounted the story of a young patient he had counseled who underwent two successful transplants and leads a full, productive life.
The morning included a realistic role-playing scenario, which brought some audience members to tears. The group of "actors" included Nirav Shah, MD, FCCP, assistant professor at UMSOM; Tyree Nutter, RN, MA, an in-house coordinator for the Organ and Tissue Donor Program at the University of Maryland Medical Center (UMMC); and Rabbi Ruth Smith, lead chaplain for Organ Transplant and Adult Education at UMMC, performing various roles as they informed a family member of a loved one's death and the possibility that his organs could assist someone else.
The forum was presented in collaboration with the Institute for Jewish Continuity; the University of Maryland Schools of Dentistry, Medicine, Nursing, Pharmacy and Social Work; and the Maryland Healthcare Ethics Committee Network. Attending nurses, physicians, social workers, and pharmacists received continuing education credits.