At what point does a lower backache lead to a drug dependency? What is the "perfect" dose of opioids that will provide a patient with pain relief without making him or her become disabled with addiction? How do doctors overcome the challenge of limiting what opioids they prescribe?
These were some of the questions considered by several lead researchers on chronic pain and management abuse in a Nov. 17 symposium hosted by the University of Maryland Center to Advance Chronic Pain Research (CACPR).
The symposium, "We Need 'A Fix'," featured speaker presentations and panel discussions exploring the complex problem of chronic pain management and opioid abuse. Presenters and panelists shared current knowledge and future planning in biomedical research, public health, and government policy.
"This is certainly an issue that deserves urgent, compassionate attention and I am very appreciative of the fact that you're here today to light the path forward," University of Maryland, Baltimore President Jay A. Perman, MD, told a panel of experts representing various academic disciplines and backgrounds at the symposium in the University of Maryland School of Nursing (UMSON) auditorium.
"Coming together in the research that many of you undertake, the policies that you shape, the services that you provide and letting each in his or her own discipline influence the other disciplines – to me, because I understand the value and power of collaboration, it really is the only way out of what really is a devastating crisis," Perman said.
The CACPR is a multidisciplinary center composed of nationally and internationally renowned clinical and preclinical translational scientists whose principal research focus is on the physiological, genetic, and psychosocial underpinnings of the development and persistence of debilitating chronic pain conditions. Co-founded by Susan Dorsey, PhD, RN, FAAN, professor and chair of the Department of Pain and Translational Symptom Science and the Department of Anesthesiology at UMSON, and Joel Greenspan, PhD, professor and chair of the Department of Neural and Pain Sciences at the University of Maryland School of Dentistry, the CACPR seeks to promote cutting-edge, translational, and clinical biomedical research that will advance understanding and treatment of chronic pain.
"We're facing a real crisis in this country," said Gary Michael Franklin, MD, MPH, a research professor from the University of Washington, one of four speakers presenting their viewpoints and research throughout the afternoon. "The deaths are the tip of the iceberg. This opioid epidemic has affected everybody."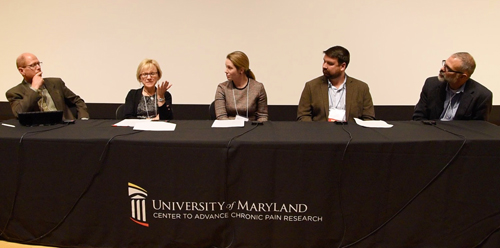 Considered a pioneer in pain and opioid abuse research, Franklin reported the first deaths in the country linked to prescription drugs when, in 2005, 32 injured workers who had entered the medical system originally with low backache were dead three years later from unintentional overdoses of opioids. The patients were not substance abusers. Rather they had merely gotten injured on the job and were prescribed opioids to manage their pain.
Franklin called the opioid epidemic "the worst man-made epidemic in modern medical history. This was made by organized medicine and by drug companies and the like."
A recent case study reported that 30 percent of people on chronic opioids for more than three months were either severely dependent or addicted, Franklin said. Other studies show 100 percent dependency after more than three months of opioid use.
"It's really hard to take care of folks in chronic pain," Franklin acknowledged. "And the last thing we want doctors to do is to be abandoning these patients and feeling like they're overwhelmed from these patients.
"How long do you have to be on opioids before you're going to really have trouble getting off of it? I think the time frame is way shorter than you might imagine," he continued, recalling a man he met recently who was on opioids for three weeks following knee surgery and was struggling three months later to get off the medication.
Worldwide, there is a strong relationship between the amount of opioids sold and the number of deaths, said Franklin, showing a map produced by the International Narcotics Control Board, representing the top countries for supply of opioids for pain. The United States ranks No. 1, followed by Canada, Australia, Germany, and the United Kingdom.
Washington state has led the country in reversing the epidemic, adopting the first guideline in the United States that contained a dosing threshold (120 morphine equivalent dose per day) for physicians to follow.
Further studies have shown there was insufficient data on long-term effectiveness to reach any conclusion "but that there was very strong evidence supporting a dose-dependent risk for serious harm."
"There's no dose at which there is no risk," Franklin said.
At least 10 states have passed new regulations in response to the opioid epidemic including new dosage thresholds.
"A lot of pain doctors say, 'Well, I've got a lot of patients in my office who are doing great at high doses.' But unfortunately, we can't identify who those patients are. There's not a single paper who can accurately identify who those people are," Franklin said. "I'm not saying that no one should ever get chronic opioids for these routine conditions, but I haven't seen any evidence about who they can be and still take it safely and improve their quality of life and not get into trouble."
Opioids, generally, should not be used for the ongoing treatment of routine musculoskeletal conditions, headaches, or fibromyalgia. Franklin said. "I believe that most people who are dying from opioids are taking it for these kinds of conditions."
Additional speakers included Christopher D'Adamo, MD, assistant professor, University of Maryland School of Medicine (UMSOM); Andrea G. Hohmann, PhD, chair and professor, Indiana University; and Andrew Coop, PhD, professor, University of Maryland School of Pharmacy, (UMSOP).
The day concluded with a panel representing various viewpoints on the issue, including UMSOM professor Greg Elmer, PhD; Diane E. Hoffmann, JD, MS, professor, University of Maryland Francis King Carey School of Law; Jay Unick, PhD, MSW, associate professor, University of Maryland School of Social Work; Suzanne Miyamoto, PhD, RN, FAAN, chief policy officer, American Association of Colleges of Nursing; and Mark O'Brien, JD, director of opioid overdose prevention and treatment, Baltimore City Health Department.