The University of Maryland School of Social Work (SSW) helped its neighbors by framing new decks for a row of townhomes during a Team Build event on Oct. 30 for Habitat for Humanity of the Chesapeake.
Dean Richard P. Barth, PhD, MSW, was among nine volunteers in the group, which included faculty, staff members, and a student, Tiffany Newton, who handled many of the arrangements in her role as a graduate assistant. View a photo gallery.
The activity fulfilled a goal that was derived from a retreat, providing a way to break down internal barriers. "What I love about this is that it builds our community in the School of Social Work while it's helping to build West Baltimore," said Barth.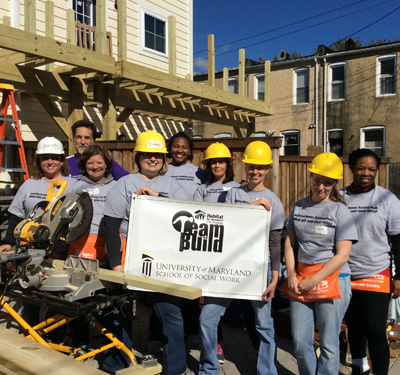 After requesting that Habitat assign a West Baltimore location, the SSW group was dispatched to a row of 18 homes built with an energy-efficient design in the 1200 block of Ward St. They are located in Pigtown, a community near the campus of the University of Maryland, Baltimore (UMB) that is among the seven neighborhoods that partner with UMB in the Southwest Partnership.
In another connection, the work was sponsored by Paul's Place, Inc., a nonprofit organization that offers services to improve lives in Southwest Baltimore and that, in the past, has contracted with the SSW for program evaluation. Paul's Place, located just down the street at 1118 Ward St., had requested that Habitat add decks on the rear of the 18 homes to make it easier for residents to interact with one another. The organization provided funding for the decks to Habitat for supplies such as lumber, fasteners, and artificial flooring.
"These decks bring enjoyment and safety," commented Paul's Place Executive Director Bill McLennan. "Your volunteering helped make it possible. Thank you!"
The day was crisp and sunny when the SSW group reported for an orientation by Leanna Powell, a relationship manager for Habitat. But the morning chill led some volunteers to pull on more than one shirt. Next they put on safety glasses, hardhats, and work gloves. All but one of the volunteers were women, one of whom quipped that the heavy-duty gloves came in a size described as "one size fits most, not one size fits all."
For Barth, the task was his second volunteer construction gig in the past week, as he had joined volunteers from the SSW's Promise Heights initiative on Oct. 24 to build a playground at Gilmor Elementary School in West Baltimore.
The Habitat fee of approximately $2,500, which covers the first 10 participants in a Team Build group, was borne by alumni of the SSW. On a Team Build, Habitat construction guides help make sure participants are safe and use proper techniques to complete their tasks. By the afternoon, for example, some workers who had been unaware of a tool called the impact driver had learned to use one.
"Being able to do something myself was really empowering," said Newton.
Martha Stuart, MSW, clinical field instructor and resident service director for the SSW's Social Work Community Outreach Service, said she had taken the opportunity as a way to give back. "I think it's important that those who might not be able to afford [a home] can have affordable housing in the city."
Other volunteers included Sarah Wise, Sarah Butts, MSW '08, and Chrishna Williams, all of the dean's office; Katie Esser, Carol Ross, and research assistant professor Angela K. Henneberger, PhD.