Considering the religious or spiritual beliefs of aging patients is a delicate but necessary process, according to the speakers at the University of Maryland, Baltimore (UMB) Second Annual Interprofessional Forum on Ethics and Religion in Health Care on Nov. 2.
The event at UMB's Southern Management Corporation Campus Center featured religious leaders including Rabbi Shmuel Silber, of Suburban Orthodox Toras Chaim in Pikesville, Tahara Akmal, a Muslim chaplain and educator, and David Harness, a Christian staff chaplain at the University of Maryland Medical Center. The program also featured medical experts from many backgrounds, including Chanel Whittaker, PharmD, residency program director at the School of Pharmacy, Jack Schwartz, JD, adjunct professor at the Carey School of Law, and Elizabeth Galik, PhD, CRNP, associate professor at the School of Nursing.
Attendees came from diverse provider backgrounds, including nurses, social workers, physicians and dentists. Throughout the day, moderated panels of experts led the group through considering the case of a seriously ill man and his family, and how providers could work with the family to best manage his care. The program touched upon how to advise and work with families on advance directives, how to better manage the differing (and strong) opinions of various family members on the choice of care for their family, and how to incorporate spiritual beliefs into treatment.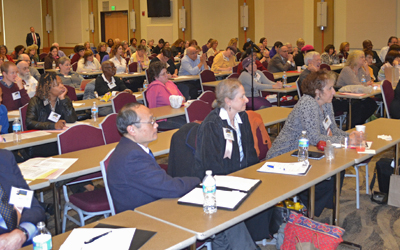 Silber, who helped organize the event, said the idea came about a few years ago when he met with UMB President Jay A. Perman, MD. The two were discussing the ways that medicine and spirituality intersect, and how UMB could incorporate that idea into an interprofessional discussion. Last year was the first in the series of events.
"It bloomed, thank God," Silber said about that original idea. "There's a thirst for these collaborative efforts. If we collaborate more with each other, we can all be better at our jobs."
Perman opened the event that morning with remarks about a very personal situation that made the topic of the day particularly real for him. His beloved mother-in-law, Berenice Mittelman, had died just days before after a long struggle with Alzheimer's, he said. His wife, Andrea Perman, a research nurse, and her siblings struggled to manage their mother's care as she "deteriorated," he said. Her caregivers struggled to manage his mother-in-law as her condition became increasingly serious.
"I know that the team of health professionals treating Mother wondered whether they were serving her and her family in the best possible – the most compassionate way, the most humane way, the most ethical way," Perman said. "I can say confidently that what you're doing here today has real consequences for real families. My family is among those you're serving with this forum, and so I thank you from the bottom of my heart."
Silber hopes the series of events will continue. "Our goal is to allow everyone involved in case to understand all the different components that make people who we are, that inform everything about us, including our decisions about health care," he said.