Robert L. Caret, PhD, was inaugurated as the University System of Maryland's (USM) fourth chancellor on Nov. 19 at a ceremony at the Inner Harbor's Christopher Columbus Center.
Each of the system's 12 institutions, including the University of Maryland, Baltimore (UMB), was represented, and UMB President Jay A. Perman, MD, was among officials who participated in the ceremonies. Leaders from government and higher education attested to the new chancellor's abilities and accomplishments.
Much of Caret's nearly four decades in higher education was in service to USM, at Towson University. There, Caret launched his career as a chemistry professor, and also served as dean, executive vice president, and provost, before leaving to serve as president of San Jose State University from 1995 to 2003. Caret returned to Towson is 2003, serving as president until 2011. The chancellor's most recent post was president of the University of Massachusetts System.
Longtime friend U.S. Senator Benjamin Cardin told the audience that Caret's second return to USM was a secret desire for many years. "Myrna and I often theorized how special it would be if we could only entice Bob back to Maryland," he said. Cardin's words of support were echoed by Congressman Steny Hoyer, Lt. Gov. Boyd Rutherford, and Maryland House Speaker Michael Busch. "Bob Caret takes over a system that is built on a great foundation. He will have the support of the governor and the legislature," said Busch, adding that Caret's vision for the university system is perfectly aligned with the needs of the state.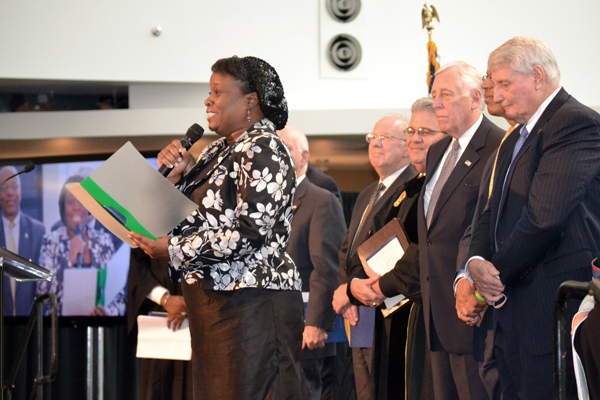 The chancellor's 15-minute inauguration speech left no doubt about that vision, making clear his two top priorities – enhancing college completion and advancing USM as an economic engine for Maryland.
"We are home to seven incubators and four research parks and we've launched almost 400 new companies in the last several years," he said. "When it comes to economic vitality, the University System of Maryland is a powerhouse."
One key to economic success, Caret told the audience, is making sure USM students are themselves successful. Often, the cost of higher education makes completing a degree a near impossibility. Helping them graduate sooner will bring college costs down for students as well as for system schools. "If you can find a way to graduate all of our students one semester earlier, getting that down to about 4.1 years as an average, it saves about $10,000 per student per semester and we have about 36,000 graduates. It saves $360 million that can be used to educate more students."
Caret also spoke about his recent 900-mile Maryland bus tour. At every stop the chancellor spoke with education and business leaders, as well as with students and parents, gathering insights and sharing his vision.
"In Baltimore we talked about the ways in which we can work together to provide hope and the vision of a better future and the means of actually achieving it," he said, sharing his goals of "improved K through 12 outcomes, increased access to post-secondary education and a focus on increased opportunity for jobs leading to a better quality of life for everyone."
But wending his way across the Free State served not only to gather information and stimulate ideas, Caret explained, it also gave him an opportunity to take in the full measure of the opportunity given him by the Board of Regents.
"I recognized how fortunate I was to have this opportunity to return here and to play this role. As we neared the end of our 900-mile journey I thought of the wonderful people I met along the way and I looked out the window at the majesty of Maryland in autumn and realized that I was truly home."