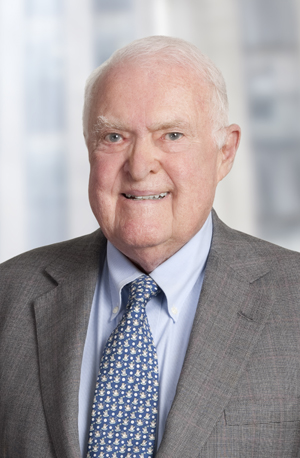 Philanthropist Francis J. Carey Jr., an attorney and investment banker after whose grandfather the University of Maryland Francis King Carey School of Law is named, died Nov. 1, at his Pennsylvania home. He was 88.

In April 2011, on behalf of the W. P. Carey Foundation, Carey and his brother, Wm. Polk Carey, presented the law school with a $30 million gift, the largest in the university's history, and one of the largest ever in legal education. The gift is used to support Maryland Carey Law's academic programs, to develop and strengthen the law school's curriculum, to support student employment initiatives, and to recruit faculty.

On Sept. 16, 2011, the law school officially changed its name to the University of Maryland Francis King Carey School of Law. The name honors Francis King Carey, an 1880 graduate of the school of law who was a prominent attorney and civic leader in Maryland.

"The entire University of Maryland, Baltimore community mourns the loss of Francis J. Carey Jr.," says University of Maryland, Baltimore President Jay. A. Perman, MD. "The Carey gift was a transforming moment for the law school. It has enabled the school to train leaders in the legal profession, to attract top-tier faculty, and to support outstanding faculty research."

"The legal community is indebted to the vision and generosity of the Carey family," says Donald B. Tobin, JD, dean of the law school. "As the state's flagship law school, we are committed to carrying on the legacy of the Carey family and its gift by educating future generations of great lawyers, great leaders, and great thinkers. We share the Careys' enthusiasm for 'doing good while doing well.'"

As chairman of the W. P. Carey Foundation, a philanthropic organization that supports educational institutions with the goal of improving America's global competitiveness, Francis. J. Carey, Jr. played an influential role in the founding of business schools, academic prizes, chairs, and lecture series recognizing and promoting excellence in economics, international relations, law, and business.

The W. P. Carey Foundation was instrumental in the founding of the Carey Business School at Johns Hopkins University, and the W. P. Carey School of Business at Arizona State University. Carey's maternal grandfather, John S. Armstrong, helped found Arizona State University.

Carey graduated from The Gilman Country School for Boys in Baltimore (now known as the Gilman School), which was founded by his paternal grandmother. He earned a law degree from the University of Pennsylvania before joining the Philadelphia law firm now known as Reed Smith LLP.