She has performed as a fire spinner all over the world. She's sung at the Venice Jazz Club in Italy for her grandmother's birthday. And now Emma Earnest, MSW '23, has performed the national anthem for her fellow graduates at the University of Maryland, Baltimore's (UMB) 2023 commencement.
Earnest, a fellow in the University of Maryland School of Social Work's (UMSSW) Substance Use Disorder Workforce Expansion (SUDWE) program, said she was nervous, elated, and proud to sing the anthem May 18 at Chesapeake Employers Insurance Arena. (A portion of her performance may be viewed below.)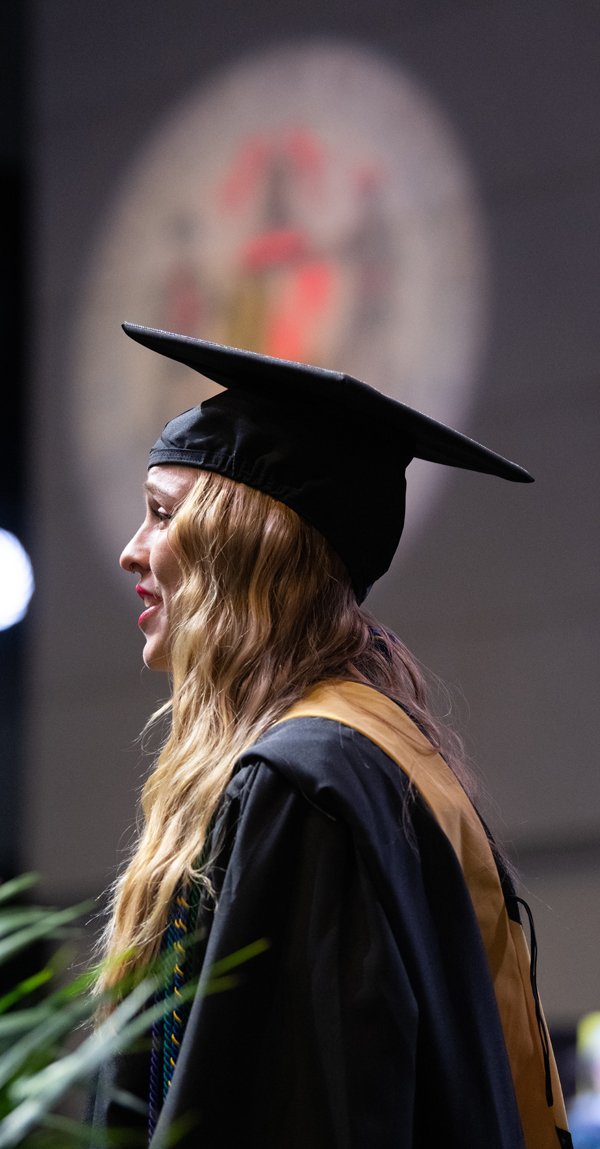 After her performance, UMB President Bruce E. Jarrell, MD, FACS, told her, "Emma, thank you for that wonderful rendition."
(Read more about the commencement ceremony at this link.)
Earnest said that while she sang, "I felt such a deep sense of pride for all of my hard work and for every moment that brought me to the stage. Singing is one of my heart's callings and when I sing I feel my highest, most authentic self. I was honored to share my gift with everyone at graduation."
She was chosen from a handful of UMB students who sent in audition recordings. Before going into the social work field, she worked in the entertainment industry. She sang professionally from the age of 12 to 22, including performing the national anthem at sporting events in high school, and also worked as an actress for 15 years, appearing in about a half-dozen films.
Earnest said she switched her careers from acting to social work "because I wanted my career to center others and not myself."
She said her background as a performer informs her social work practice.
"As an actress, I learned how people work, what makes them tick, and why they do what they do. I learned how to step into others' shoes and understand where people come from," Earnest said. "I learned how to listen and allow for what is shared to land in my heart and from there to set boundaries. I learned how to change my communication and state of being to hold space for a variety of people. I learned how to express myself in ways that cater to each individual. I also learned how to radically accept myself and those I work with. Performing has brought me back to myself and taught me who I am and how I am in this world."
Earnest earned her Bachelor of Social Work degree from the University of Maryland, Baltimore County, where she was honored as one of two undergraduate recipients of the Universities at Shady Grove's 2022 Leadership and Service Awards.
Earnest worked as a substance use disorder counselor in agencies in Frederick and Hagerstown during her time in the SUDWE program, which provides students with specialized substance use treatment-related training to better engage and equip them to participate in the behavioral health workforce. She said she has had a negative relationship with alcohol herself and has been sober for nearly a year and a half.
Earnest said of her experience at UMB, "I will remember all of the hard work that I put into my studies and how my internship experiences fit into my life. I will remember that I can do anything that I put my mind to, and I always know more than I ever think I do."
Earnest said that in addition to looking forward to singing the national anthem at commencement, she was excited to celebrate with her family, including her father, who was in attendance at the Universitywide commencement, and her grandmother and sisters Dani and Ari, who would be attending the UMSSW convocation Friday.
"I am looking forward to celebrating this huge accomplishment with my family and stepping into the other side of the past seven years," she said.
She said she will continue to work with clients at her own company, Earnest Power, LLC, which provides psychedelic preparation and integration.
"I help people prepare for psychedelic journeys by helping them identify their intensions and what they are bringing to the medicine," she said. "The integration is supporting them as they unpack their psychedelic experiences and the meaning around them."
Though she still performs when asked, Earnest is focused on her social work career. She will begin work in the fall for an agency in Baltimore as a substance abuse specialist providing therapeutic services.
"I am doing my heart's calling and my soul's mission," she said.