The 2022 University of Maryland Francis King Carey School of Law convocation marked the return to a beloved tradition of gathering in person to celebrate a job well done.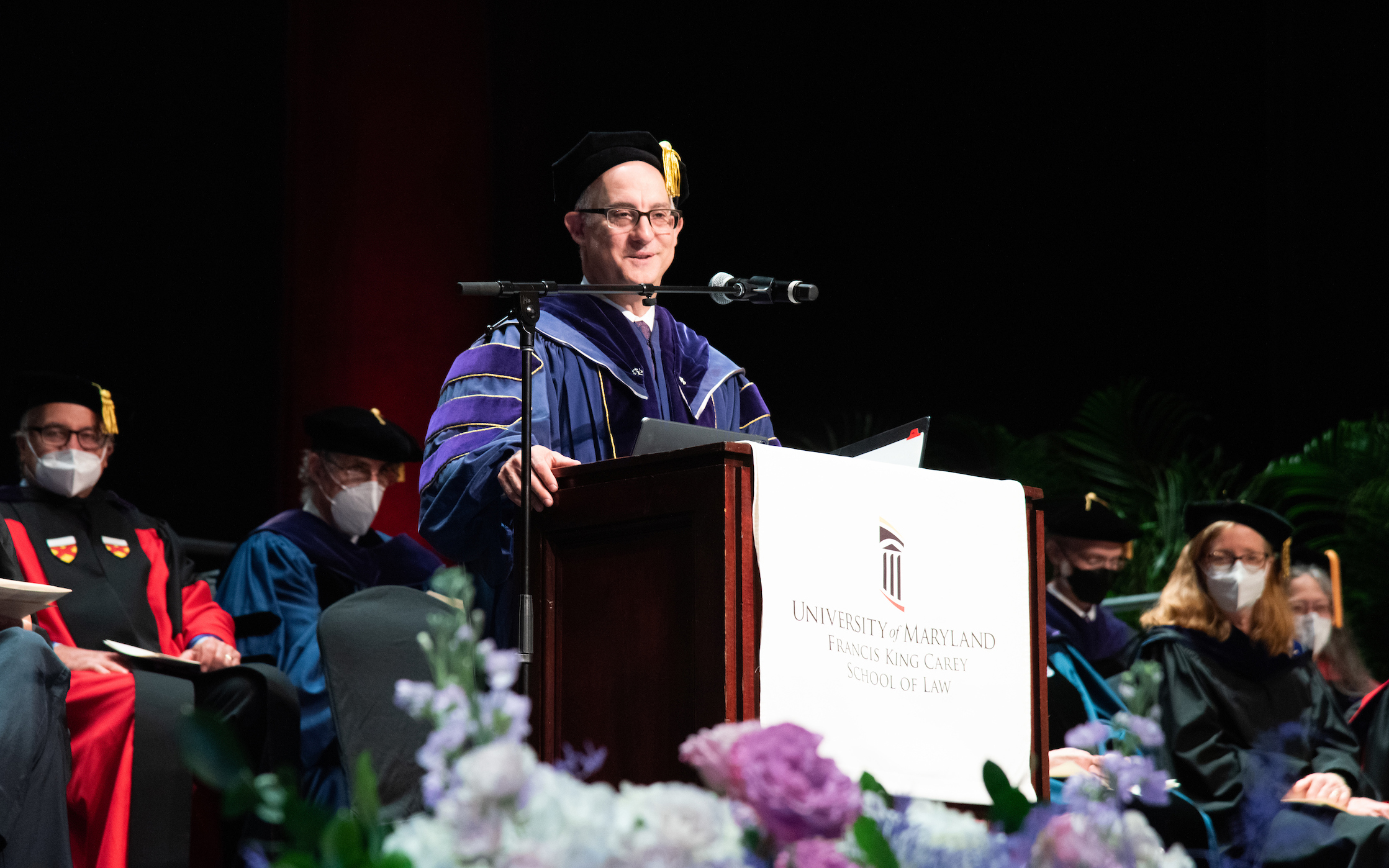 On May 20, Baltimore's Hippodrome Theatre was filled with the royal purple regalia of Juris Doctor, Master of Law, and Master of Science in Law candidates, dedicated faculty, and proud families eager to mark the culmination of years of hard work — two of which took place during the COVID-19 pandemic.
In addition to the Class of 2022, members of the Class of 2020, whose ceremony was called off due to physical distancing guidelines, also were in attendance.
Maryland Carey Law Dean Donald B. Tobin, JD, commended the degree candidates for overcoming significant challenges to their legal educations, which in the end — due to stubborn resilience — turned out to be mere stumbling blocks rather than insurmountable obstacles.
"One of the special things about both these classes — and one of the things that gives me immeasurable hope — is that you rose and you fought the adversity with so much determination and passion," Tobin said.
"You fought for your careers, you fought for justice, and you fought for each other. Some of the time you fought with me," Tobin added with a chuckle.
"You are people who have courage and character, compassion and critical thinking skills, and our nation needs those skills now more than ever," he continued.
This was Tobin's last convocation address as Maryland Carey Law dean. He is stepping down to resume teaching at the end of the academic year.
University of Maryland, Baltimore President Bruce E. Jarrell MD, FACS, thanked Tobin for his eight years of dedicated service.
"I want you all to know what a marvelous leader he has been," Jarrell said of Tobin's tireless efforts to enrich Maryland Carey Law, which include the creation of the Levitas Initiative for the Prevention of Sexual Assault and the Chacón Center for Immigrant Justice.
Nancy Dordal, JD '22, who graduated summa cum laude, is thankful to Tobin and the law school for providing a launchpad for her to pursue her passion for immigration law. Ever since she visited the El Paso, Texas, border as a high school student, she knew she wanted a service-oriented career.
"I wanted to do what I could to pursue justice," Dordal said, noting she enjoyed serving clients in the immigration clinic. "It's been really wonderful."
Keynote speaker Tamika L. Tremaglio, JD '95, MBA, executive director of the National Basketball Players Association, the labor union that represents NBA players, shared what she wished she knew when was taking the leap into her professional career.
It all comes down to trust, courage, and dedication, she said. In these simple lessons "lies an approach to your career, your life, and your community that can help you reach your highest potential," Tremaglio told a rapt audience.
The sky is the limit for Vanessa Agbar, JD '22, who completed her law degree while balancing school and working for the Democratic National Committee. She's excited for what the future holds as she moves across the country for a position at a firm specializing in public health law.
"Today I feel like I'm on top of the world," she said as she hugged her family.