Sitting among the thousands of graduates at the University of Maryland, Baltimore (UMB) commencement on May 18 was Courtney Miyamoto, who held two distinctions among the robe-clad crowd: She became a third-generation graduate of the University of Maryland School of Dentistry (UMSOD), and her retrospective video to mark the big day was unveiled during the ceremonies at Royal Farms Arena.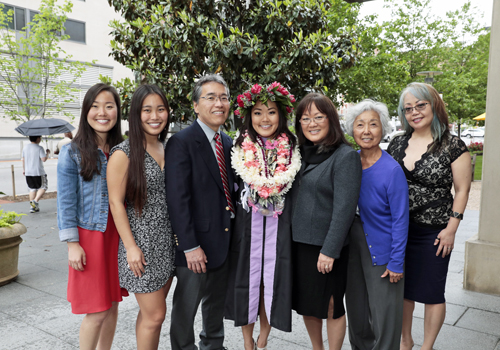 Miyamoto joined her late grandfather Alan Miyamoto, DDS '62, and father Michael Miyamoto, DDS '87, as UMSOD alumni. Out in the arena, Michael was brimming with pride as he sat among a group of six family members who traveled from the states of Hawaii, Washington, and Pennsylvania to celebrate Courtney's commencement. Her grandfather "is with me in spirit," Miyamoto says.
With her stylish video (see below) — shot with a GoPro camera and her cellphone — Miyamoto delivered a message to the graduates of UMB's six professional schools and interdisciplinary Graduate School: As you step forward in your new career, step back, too, and take a moment to reflect on how far you've come, which direction you'd like to go, and appreciate the blessings in your life.
"We can get so caught up with life — exams, school requirements, payments, loans — that we can sometimes lose our path," Miyamoto says. "So I feel that it's important as we graduate to look at the whole picture: Recognize how far you've come, anticipate the next step toward your future goal, be grateful and appreciate those around you, stay humble, and stick with your core values."
This message provides the tagline to the video, which was met with enthusiastic applause at commencement. Miyamoto, who's from Kahului, Hawaii, on the island of Maui, put a Hawaiian touch to it, using the phrase E mahalo kakou i ka mea loa'a to end the four-minute presentation — let us be thankful for what we have.
"I danced hula and chanted in Hawaiian back in the day. Hawaiian tradition and culture is a big part of our way of life," Miyamoto says. "So I wanted to end the video on a note of reflection."
Commencement and the video unveiling capped a special week for Miyamoto, who on Tuesday received the Nathan David Gold Memorial Award from UMSOD for conscientious and enthusiastic dedication to clinical practice. "Courtney was selected for this honor by her classmates and faculty, and it is a highly regarded schoolwide award," said Karen Faraone, DDS, MA, associate dean of student affairs at the school. "She is well-loved among her class."
Miyamoto's video takes viewers on a tour of Baltimore landmarks before roving around the UMB campus, with shots of the schools of social work, pharmacy, nursing, law, and medicine, historic Davidge Hall, and more. It follows Courtney and her friends as they skateboard to the School of Dentistry, then takes a spin through UMSOD lecture halls and labs before closing with scenes of students having fun on ski trips and the annual school picnic with faculty and staff.
This was an offshoot of a video Miyamoto produced in 2016 to document life as a second-year dental student, wanting to give Grandpa Miyamoto and students' families and friends a glimpse of life at today's dental school. Sadly, her grandfather passed away before it was finished, but Courtney says the video was shown to subsequent incoming UMSOD classes by Andrea Morgan, DDS, the school's director of student advocacy and cultural affairs.
This year, UMB was looking for a new video to show at the Universitywide commencement, and Faraone approached Miyamoto with the idea to revise her 2016 video and submit it for consideration.
"Dr. Faraone said, 'This is a great opportunity,' because she saw my video from second year," Miyamoto says. "She was the driving force to get me in contact with Vanessa Carroll, special assistant to the Dean, Mark Reynolds, to help with funding for updated video editing software."
The dean's office helped purchase Adobe Premiere Pro software, and Miyamoto worked with the UMB Office of the President to revise her production, which uses the Craves' pulsating song "By My Side" throughout. The song's refrain: "I can stand it all and make it go away … with you by my side."
"This upbeat song was a happy reminder of the memories created in Baltimore and in school," Miyamoto says. "It portrays a positive message: You can face all the challenges in life with people supporting you along the way. For me, it's my close friends, family, and, of course, Grandpa."
Miyamoto dedicated the commencement video to her grandfather, who practiced dentistry into his 80s. Her younger sister Lindsey also inspired her.
"Lindsey is exploring her creative side with YouTube and Instagram," Miyamoto says. "She's put together some very nice YouTube videos of family get-togethers and fun activities on the weekends in Hawaii. She's my inspiration."
Clearly, family is important to Miyamoto, and six members were in attendance on May 18: her father, mother Joyce, sisters Lindsey and Caitlyn, Auntie Keala, and Grandma Miyamoto. Her grandmother, Amy, told Courtney she had been exercising back in Hawaii to get ready for this weekend, so she could walk the Baltimore campus where her late husband studied more than 50 years ago.
The next steps for Courtney? After considering applying for a residency, she's opted to head back to Hawaii to work in her father's practice in Wailuku. It's a full-circle story, as she recalls doing office chores as a teen before working there as a dental assistant, business assistant, and lab technician during a gap year after graduating from the University of Hawaii at Manoa with a bachelor of arts in biology and a minor in art in 2013.
"I really missed the family, pets, and Hawaii in general, especially this past third and fourth year," Miyamoto says. "I visited home last summer and got advice from about six dentists about plans after dental school. They recommended professional networking, keeping involved with continuing education, and working under the mentorship from my father, so I decided to head back home and join my family's private practice and another dentist's practice on the island."
There, she says she'll start with general dentistry — fillings, single crowns, bridges, extractions — and plans to one day bring oral health care to underserved populations in Hawaii, fulfilling UMB's mission to improve the human condition and serve the public good.
"Working in an FQHC [federally qualified health center] during an externship really opened my eyes to working in this area of dentistry one day, or at least helping to provide affordable or free dental services to the underserved," Miyamoto says. "I'm happy I'm in this field as a career, working with great mentors in improving people's oral health and lives."