Party in the Park lived up to half its billing on May 18. The University of Maryland, Baltimore's (UMB) annual student celebration between the morning school convocations and the afternoon Universitywide commencement had to be moved indoors from Plaza Park because of intermittent rain.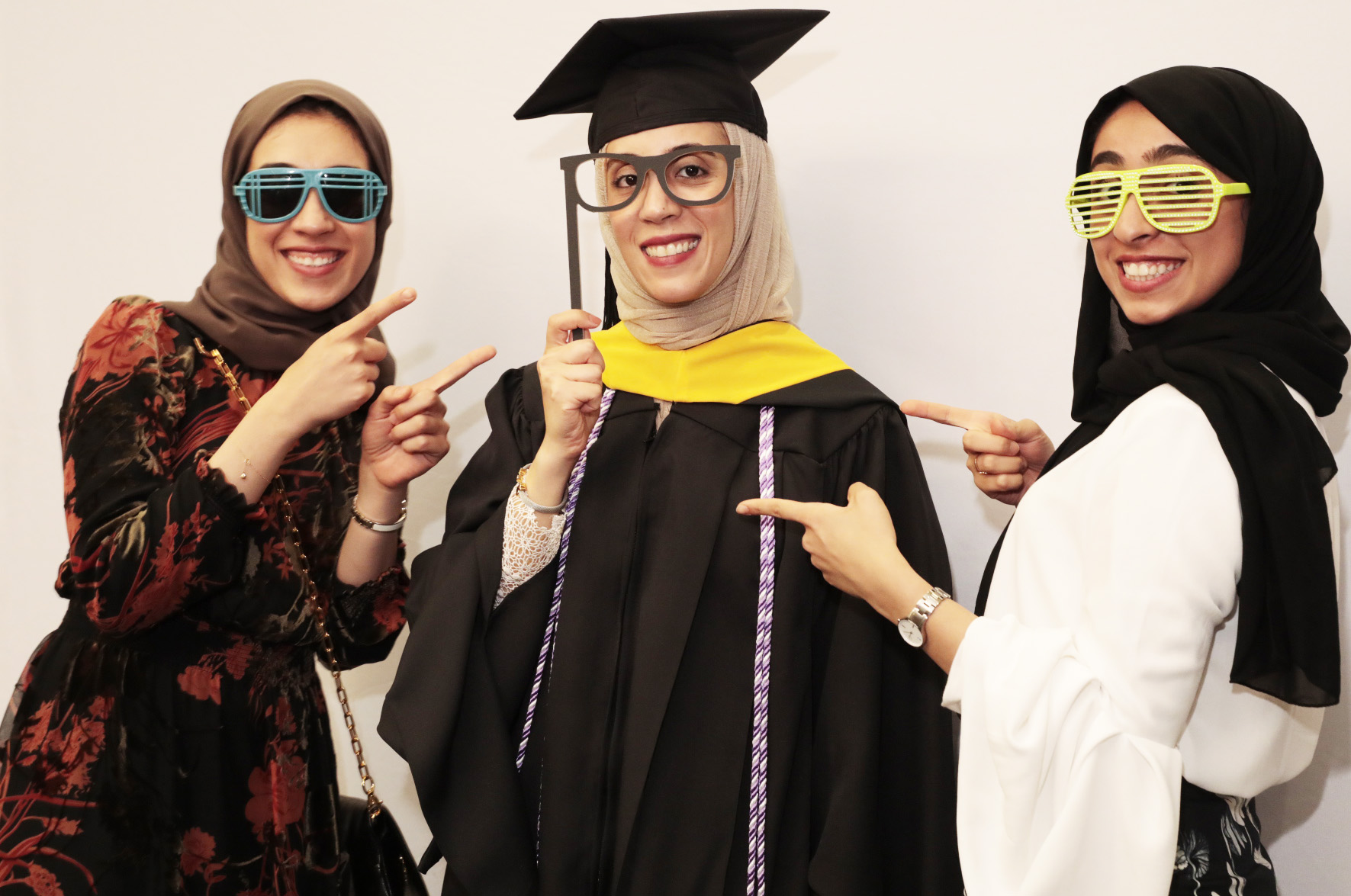 But it indeed was still a party, as graduates and their families headed over from morning convocations to the SMC Campus Center and up its commencement-themed stairway to the Elm Ballrooms for free food and drink and camaraderie. On the first floor near the Fireplace Lounge, attendees danced as a DJ cranked out tunes while others took turns taking pictures in a photo booth. (See a photo gallery.)
"I'm so glad that we had this party," said Sheena Patel, who graduated from the School of Medicine with a Master's in Public Health. "I'm so glad it wasn't canceled altogether, because I know in between our ceremonies we have a couple of hours to kill, so it's a good way to bring people together and give them something to do. I definitely like the photo booth. It's a lot of fun. The music is upbeat, so that's cool."
The weather did rain on one literal parade, however, as the annual academic procession from Plaza Park to Royal Farms Arena was called off. But that didn't dampen the graduates' enthusiasm while they enjoyed the party that has been a UMB commencement staple since 2015.
"This is great, especially because all my family is here to see my graduation," said Dooah Almarzoog, who was celebrating her Master's in Community Public Health from the School of Nursing. "It's nice that UMB was prepared to have our guests and show them a good time. I love the DJ and the music. And especially the booth for the photos. Me and my sisters took a lot of nice pictures, so it's really a good idea."
As graduates arrived, they could start their visit by writing notes on a large vinyl banner spread across two tables that eventually will be displayed in the campus center. A few themes emerged: gratitude (Thanks, Mom and Dad); celebration and relief (We did it — we're done!); reflection (What a journey it's been!); and a little humor (Thanks, FAFSA!).
Up in the Elm Ballrooms, graduates, their families, and guests had their choice of hot dogs, sliders, potato salad, and cookies provided by CulinArt. The ballroom tables were filled to the brim, with the overflow sitting on couches in the area outside near the food trays. The Oriole Bird and Ravens' Poe mascots worked the room, posing for photos and delivering fist-bumps, high-fives, and hugs.
Brandy Cumberland, who graduated from the School of Nursing's RN-to-BSN Program, was sitting at a table with her husband and three young children, who were munching on potato chips and enjoying their mom's special day. The family had made a three-hour drive from Wingate, Md., in southern Dorchester County, to attend all the day's ceremonies.
"This party is a very, very nice event," Cumberland said. "We appreciate the University doing this. We're having a great time."
Downstairs, the party started cranking up as more graduates arrived between noon and 12:30 p.m. With music provided by Marvin "DJ Marvalous" Ganthier, the dancing continued, with graduates, parents, and even campus center employees taking their turns bopping and swaying. The DJ announced that it was time for graduates to start heading over to the arena for the Universitywide commencement, but first a line dance formed for the song "Cupid Shuffle."
"This is so much fun," said Rhiya Dave, who earned a Master's in Public Health from the School of Medicine and was about to head over to the arena, where she would carry the MPH banner into the ceremony. "It's a really nice way for all of us to just celebrate and be together one last time."
School of Pharmacy graduate Mudit Verma was enjoying the music and photo ops, too, and said he was excited to get to the arena to celebrate beside his classmates and all the graduates of the UMB schools. He thought Party in the Park — wherever it was held — was an enjoyable part of the daylong festivities.
"I'm out here with my family, and we're eating good food and drinks and having a dance party," he said. "This is such a great time. This has been a great event."