When Erin Levitas was accepted into the University of Maryland Francis King Carey School of Law in 2014, she knew she wanted to use her degree to help survivors of sexual assault like herself.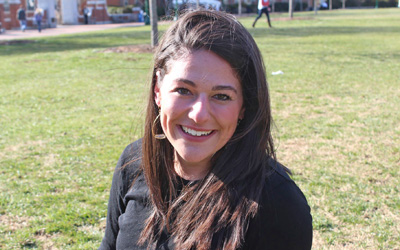 A rape in the summer of 2012 at the age of 19 changed the course of Erin's life, so much so that she listed the experience as a defining factor in her desire to become an attorney in her admission essay to Carey Law.
Erin's dream of attending law school was cut short when she was diagnosed with cancer in the spring of 2015 and died less than a year later. However, her passion for victims' rights will live on in the Erin Levitas Initiative for Sexual Assault Prevention at Maryland Carey Law.
The program, which will take place in several area elementary and middle schools, aims to stop sexual violence before it starts by educating students to be able to identify, question, and reject the ideas that lead to it.
The Phyllis L. and Leonard J. Attman Foundation has underwritten the annual program with the goal of raising $3 million, through the newly created Erin Levitas Foundation, to ensure the initiative's continuation in perpetuity at the law school.
Carey Law Dean Donald B. Tobin, JD, says the program is a fitting way to honor Levitas' legacy. "We're incredibly excited about this initiative," he says, "and it gives a wonderful opportunity for our students who are passionate about issues involving gender violence and sexual violence to have an opportunity to make a contribution to the community."
The initiative draws from two Carey Law programs: the Gender Violence Clinic, which explores the ways in which gender and violence intersect, and the Center for Dispute Resolution (C-DRUM), which promotes the power of effective conflict resolution.
"Given the #MeToo moment that we're currently living in, it's not hard to see why addressing sexual harassment and sexual violence among young people needs to be a priority," says Leigh Goodmark, JD, director of the Gender Violence Clinic at Carey Law.
The Levitas Initiative builds on C-DRUM's 15-year relationship with Maryland public schools to prevent and resolve student conflicts, build healthier relationships, and promote safe school climates more conducive to learning.
Deborah Eisenberg, JD, director of C-DRUM, acknowledges that conflict resolution is an important life skill that can be learned at school. "Processes like mediation and restorative practices build students' socio-emotional skills and empathy and respect for each other," she says. "These dialogue processes will focus on prevention by giving students the tools to build healthy relationships starting in their middle school years."
Goodmark says introducing middle schoolers to the realities of sexual assault might seem early to some, but it's actually catching young people before it's too late.
"We're particularly interested in addressing middle school students, because we want to educate students before their views on gender relations, sexual harassment, and sexual abuse are shaped and give them information and skills that they can take into their young adult relationships," she says.
Under the supervision of a hired expert, law school students trained in sexual violence education and restorative justice will engage with area elementary and middle school students with the goal of changing attitudes that drive gender violence.
Teachers, administrators, and parents also will receive training in restorative methods of conflict resolution, education on their legal rights and responsibilities, and knowledge of when and how to intervene.
"Respect for women and girls can be taught," Tobin says. "One of our goals is to create a curriculum that can be replicated at other law schools so that Erin's mission can spread beyond Maryland and throughout the country."
Marissa Neuman Jachman is Erin's cousin and executive director of the Erin Levitas Foundation. She remembers Erin as a light spirit who valued education, friends, and, family, and one who became a passionate advocate for survivors of sexual assault.
"We know that we can't replace the change Erin would have continued to make in our world," Jachman says. "But we would like to try, and we hope people join us."
To find out more, please visit https://erinlevitas.org/