The University of Maryland School of Medicine held the ceremonial opening of the Fannie Angelos Cellular Therapeutics Laboratory, a state-of-the-art facility that will allow scientists to create the next generation of cancer cures — cells that help a patient's immune system attack and eliminate cancer.
The laboratory also will be used to study and develop ways to engineer cells for a wide variety of other illnesses, including diabetes and heart disease.
The laboratory was made possible by a $1 million gift from Baltimore lawyer and Orioles owner Peter G. Angelos, JD, as well as donations from other benefactors.
The opening on April 30 was part of a daylong event focused on cancer immunotherapy, a new treatment that involves modifying the immune system to enable it to better attack cancer cells. Maryland Gov. Larry Hogan, who in 2015 received treatment for lymphoma at the University of Maryland Medical Center, attended the event.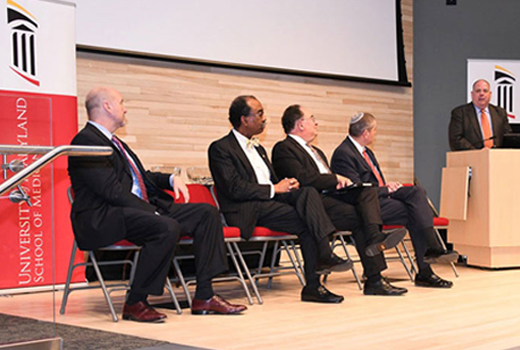 The state-of-the-art laboratory, part of the University of Maryland Marlene and Stewart Greenebaum Comprehensive Cancer Center (UMGCCC), will produce cell-based therapies and cancer vaccines for immunotherapy research. The research will be conducted by physician-scientists from the University of Maryland School of Medicine (UMSOM). Currently, researchers must rely on outside facilities and other academic institutions for genetically modified cells to treat patients in clinical trials.
"Having our own cell-processing laboratory will increase our ability to offer novel and promising cell-based therapies to our patients," says the lab's director, Aaron P. Rapoport, MD, professor of medicine and the Gary Jobson Professor in Medical Oncology at UMSOM and director of the Blood and Marrow Transplant Program and co-leader of the Tumor Immunology and Immunotherapy research program at the cancer center. "It will also help our investigators move their basic and preclinical research into the clinic more quickly so that patients may benefit from our discoveries."
In recent years, immunotherapy has emerged as a promising treatment for certain types of cancer. A patient's own immune cells, or T cells, can be genetically engineered to recognize and attack a cancer. Last year, the U.S. Food and Drug Administration (FDA) approved two versions of immunotherapy that are known as chimeric antigen receptor (CAR) T-cell therapies — one for children and young adults with leukemia and another for adults with non-Hodgkin lymphoma. The latter is now offered at UMGCCC. In addition, researchers are testing cancer vaccines and antibody-based therapies to stimulate the immune system to kill other kinds of cancer cells.
The ribbon-cutting was followed by a lecture from Carl H. June, MD, director of translational research at the Abramson Cancer Center at the University of Pennsylvania. June has collaborated for years with Rapoport and is a pioneer in the development of CAR T-cell therapy. The lecture is part of June having received the prestigious Passano Award this year. Every year since 1945, the Passano Foundation has honored a scientist who has made an outstanding contribution to the advancement of medical science and whose work has been done in the United States. June is sharing the award with Michel Sadelain, MD, PhD, director of the Center for Cell Engineering at Memorial Sloan Kettering Cancer Center in New York.
The new laboratory will be a resource for all the clinical departments and divisions at UMSOM, including hematology/oncology, cardiology, surgery, and neurotrauma. Researchers at three University of Maryland campuses — the University of Maryland, Baltimore; the University of Maryland, College Park; and the University of Maryland, Baltimore County — will have access to the laboratory, which also will provide leased space to private biomedical companies.
Rapoport's research has focused on using a patient's genetically engineered immune cells to treat blood cancers. Since 1998, he has led six major clinical trials, with more than 150 patients. The results of his latest study, from 2015, showed significant success using genetically modified T cells to treat patients with multiple myeloma, a cancer of the bone marrow.
The laboratory will be named in honor of Angelos' sister, Fannie Angelos, who died in 2015 of complications from a bone marrow disorder. Rapoport was one of her oncologists.
Curt Civin, MD, professor in the departments of Pediatrics and Physiology at UMSOM, director of the UMSOM Center for Stem Cell Biology and Regenerative Medicine, and associate dean for research at the school, served as a consultant/advisor to Rapoport and the team that designed and developed the lab, providing guidance and support. "It has long been my dream to have such a facility on our campus, and we are very grateful for Mr. Angelos' generous support to help make it a reality," Civin said.
The Fannie Angelos Cellular Therapeutics Laboratory — a GMP (Good Manufacturing Process) and Clean Room Facility — also was made possible by a $250,000 gift from Neil Kishter, a longtime supporter of the Blood and Marrow Transplant Program who is the founder of the Kishter Group, a wealth management firm in Washington, D.C. Additional support came from a $500,000 gift from the family of philanthropists Hamish and Christine Osborne. Hamish Osborne, who died in July 2016, and his wife have been generous supporters of UMSOM. The family's gift will fund the laboratory director's position — the Hamish and Christine Osborne Director of Cellular Therapeutics.
"Immunotherapy is an extremely exciting area of scientific endeavor, especially for the treatment of cancer," said UMSOM Dean E. Albert Reece, MD, PhD, MBA, executive vice president for medical affairs at UMB and the John Z. and Akiko K. Bowers Distinguished Professor. "This new laboratory has the potential to yield groundbreaking findings, not only for scientists studying cancer, but for many other disciplines as well."