Antonio "Tony" Williams, MS, is retiring as police chief and associate vice president of public safety at the University of Maryland, Baltimore (UMB), effective July 1.
A steady and positive influence, Williams has served the University for more than seven years, and his tenure has been marked by steadily declining crime rates, recognition for meritorious service from the national Commission on Accreditation for Law Enforcement Agencies, and innovative upgrades to safety programs like the Police Escort Service, which provides rides or walking escorts with UMB police to UMB faculty, staff, and students.
In the wake of two on-campus robberies the night of Oct. 6, 2014, Williams and UMB President Jay A. Perman, MD, quickly stepped forward with a series of town halls to address fears within the University community. With a highly effective information campaign — advising the University's people to secure their valuables, to pay attention to their surroundings, to walk without distractions and devices, and to use the escort service — crime began to fall. In fact, robberies fell from 12 in 2014 to four in 2015 to two in 2016.
"Chief Williams has been a powerful leader and valuable advisor to me on many matters during his time here," Perman said. "We thank him for his years of dedicated service to the University and wish him well in his retirement."
Williams took over from Cleveland Barnes as UMB police chief on Jan. 18, 2010. A Baltimore native, Williams retired from the Baltimore Police Department (1986-2005) before serving as chief of police for Baltimore City Public Schools (2005-2007) and the University of Maryland, Baltimore County (2007-2010). He is a member of numerous organizations including the International Association of Chiefs of Police.
"I want to take this opportunity to thank everyone for the wonderful opportunity to serve the UMB community while working to make our community safe for students, faculty, staff, and visitors," Williams said of his retirement. "I enjoyed collaborating with all segments of our community to help UMB be the best place to study, work, live, and visit. I appreciated the opportunity to lead one of the best public safety departments in the University System of Maryland. I will always consider myself a part of the UMB family. Best wishes to everyone. Stay safe!"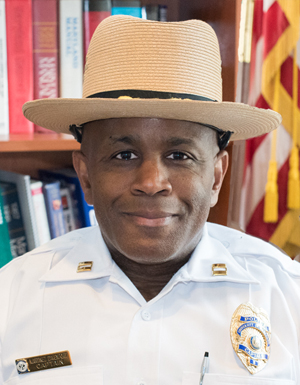 Capt. Martinez Davenport, MS, will serve as UMB's interim chief of police while a national search for a permanent replacement is undertaken. That search will be led by Roger J. Ward, EdD, JD, MPA, chief accountability officer and vice president, and Dawn M. Rhodes, MBA, chief business and finance officer and vice president.
Davenport joined the UMB Police Force in 2015 after 32 years of service with the Baltimore Police Department (BPD). He rose through the ranks in BPD, and retired as a major in 2015. Prior to joining BPD, he served in the U.S. Marine Corps, taught as a substitute teacher in the Baltimore City School System, and worked with the Baltimore City YouthWorks program.
He earned an Associate of Arts degree from Baltimore City Community College, a Bachelor of Science degree in criminal justice from Coppin State University, and a Master of Science degree in applied behavior science from Johns Hopkins University.
Davenport teaches criminal justice and related courses as an adjunct professor at both Stevenson University and Baltimore City Community College.