More than a hundred people turned out for a town hall on May 18 to offer their suggestions on goals that when finalized will form the foundation of UMB's 2017-2021 strategic plan.
"What you see today is very much in draft form," said Roger Ward, EdD, JD, MPA, chief accountability officer, vice president for operations and planning, and co-chair of the 2017-2021 effort.
He and co-chair Claire Fraser, PhD, director of the Institute for Genome Sciences (IGS) in the School of Medicine, showed a framework for the new strategic plan that had been developed through the work of a Steering Committee made up of representatives across campus taking information from the Middle States reaccreditation process and feedback from the deans of UMB's seven schools and vice presidents into account.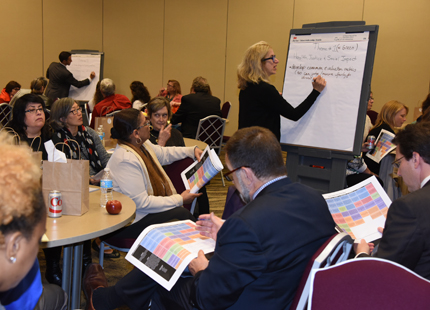 "The Steering Committee is made up of 23 members representing all seven schools — 12 faculty, 10 staff, and one student," Ward said of the group members, who are listed on the strategic plan website. "They have been meeting every three weeks."
Ward said the 2017-2021 plan will differ in some ways from UMB's 2011-2016 strategic plan, which ends June 30.
"We have a shorter time frame this time around, which was deliberate," he said. "Also this plan offers much more flexibility to allow schools and administrative units to take ownership of the strategic plan whereas last time it was top down in terms of tactics and goals. It's a slightly different model of implementation this time."
"We're not doing this in a vacuum," Fraser added. "There are a number of existing plans, documents, and initiatives that are absolutely essential to inform this current strategic planning process.
"Today this is the first exercise where the campus will begin to think about identifying goals that fit under each of the themes we have put together. We will take the information from today's exercise, go back to the Steering Committee, run another iteration by leadership, and hopefully by the end of June we'll be in a position where everyone on the campus will feel comfortable with ratifying the themes and goals that will inform our initiatives over the next five years."
Those assembled at the Southern Management Corporation Campus Center were asked to assist with the "adoption phase" of the strategic plan by joining one of six work groups looking at the following broad themes:
Health, Justice, and Social Impact
Scholarship and Discovery
Innovative Teaching and Learning
Inclusive Excellence
Partnership and Collaboration
Efficiency, Effectiveness, and Assessment
The groups of roughly 20 people were led by assistant vice presidents from Institutional Research, Communications and Public Affairs, Academic and Student Affairs, Human Resources, the IGS marketing director, and the student government president, who all wrote down ideas on flip charts for future reference.
While the groups discussed goals, Ward and Fraser looked on, clearly pleased.
"I'm very happy with the turnout, especially with this being commencement week," Ward said. Although he said this was the only town hall scheduled, he said other faculty, staff, and students would have the chance to give their input through the strategic plan website. "This is far from the end of the process."
After 20 minutes, the group exercise concluded with each theme reporting on its "bullet points." Here are just a few of them.
Health, Justice, and Social Impact: Develop proper evaluation measures; create a baseline survey of what we're doing across schools; help employees when they need social services; build local and global relationships; provide mechanisms to explain social determinants of population health
Scholarship and Discovery: Identify funding for students and faculty for translational discoveries; expand interdisciplinary research initiatives and collaboration; involve mentees and junior faculty; get ahead of big data; promote research incubators
Innovative Teaching and Learning: Assess available teaching tools and technologies; find uniform approaches to tools and technology; identify methods across the schools so that we can share resources; keep our PhDs here at UMB to teach; build relationships with preceptors
Inclusive Excellence: Develop career paths and address special needs; provide diversity training; operationalize cultural competency and inclusion; bolster mid-level staff mentorship; prepare faculty to include cultural competency and inclusion into their curriculum
Partnership and Collaboration: Name someone in every school responsible for collaboration and partnership; coordinate collaboration and partnership across all the goals in strategic plan; create a database of partnership and collaboration to avoid duplication of efforts; structure various incentives
Efficiency, Effectiveness, and Assessment: Service modules that are shared across schools; synchronizing academic calendars; sharing best practices across schools; facilitating mining research partners through UMB whether it be through a single school or across schools or across USM; are unit goals contradictory to some of the department/school/University goals, hindering their effectiveness
Ward praised the participants and left them with one final task. "Did we capture everything relating to goals and themes or did we miss something? Are there any gaps?" he asked. "If so, let me, Claire, or a Steering Committee member know. Thanks for staying engaged."