Elsie Stines, MS, CRNP, and Jay A. Perman, MD, have traveled a long journey together. From their initial work in 2000 at the University of Maryland Hospital for Children when Stines, a pediatric nurse practitioner, joined Perman, then chair of the Department of Pediatrics, to 2004 to 2010 at the University of Kentucky, where she was director of collaborative programs and he was dean of the College of Medicine, to their return to the University of Maryland, Baltimore (UMB) in 2010, they have been a professional team.
So it's only fitting that on Stines' biggest academic day, completing her Doctor of Nursing Practice (DNP) at the School of Nursing graduation, it was Perman, now UMB president, doing the hooding.
"Having my longtime mentor and friend Dr. Perman hood me reflects what a wonderful achievement this truly is," says Stines, project director in the Office of the President and pediatric nurse practitioner in the Division of Pediatric Gastroenterology and Nutrition, University of Maryland Medical Center (UMMC). "Not only did Dr. Perman encourage me to pursue a terminal degree, he remained supportive and inspiring throughout my studies. He was my biggest cheerleader during the program, and never gave up on me, which is priceless."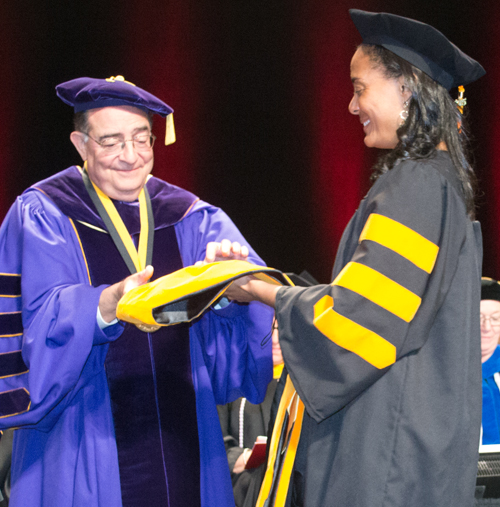 Stines and Perman, a pediatric gastroenterologist, share a passion for pediatrics and fighting childhood obesity, teaming up on a Summit on Childhood Obesity in 2011 that drew leaders from across the state. They also partner on a weekly President's Clinic in which students from all six UMB professional schools join them in caring for pediatric patients with gastrointestinal issues — a model for interprofessional collaboration they began in Kentucky.
Because of Stines' longstanding interest and expertise in childhood obesity and interprofessional education and practice, her scholarly DNP project focused on the importance of collaboration in addressing the childhood obesity epidemic. It is titled "Evaluation of a Childhood Obesity Screening Program in a Pediatric Dental Clinic."
"Although there were several reasons why I decided to pursue this degree, my primary reason was the desire to be a more effective leader," says Stines, who started the program in fall 2012, and is supportive of the American Association of Colleges of Nursing position to encourage nursing professionals to seek a terminal degree. "I especially want to play a broader leadership role in improving patient and health outcomes and health care systems, particularly in vulnerable populations, like in our neighboring community of West Baltimore."
She looks forward to expanding her duties with UMMC and the Office of the President. "I am thrilled to be working with and being part of such a collaborative, innovative, and visionary team," she says. "More importantly, I am excited to work directly with our neighbors in West Baltimore. I feel we are truly making a positive impact within our community."
The day before graduation she described reaching the end of her academic journey in a word — "AWESOME!!!!" — and said "Obtaining this degree truly is a dream come true for me. I hope I can maintain my composure during the ceremony," which she did, beaming as Perman draped the orange hood around her neck.
Perman also was clearly touched by the occasion. "I am so privileged to have been Elsie's mentor and very proud that she continues as my colleague, Dr. Stines."