The Coalition for Community Schools has recognized three Baltimore public schools with significant ties to the University of Maryland, Baltimore (UMB) among five individual schools that will be honored nationwide.
The coalition also has recognized the Family League of Baltimore for the success of its network of public schools in Baltimore City, including nine supported by the University of Maryland School of Social Work (SSW). The winners will receive a National Community Award for Excellence from the coalition at a ceremony in Washington, D.C., on June 10.
The individual schools to be honored are all part of Baltimore Community Schools, which is the Family League-led network of 45 city schools. Each provides a wide range of supportive services before, during, and out of school that promote student achievement, strengthen families, and build healthy communities. The network is operated in partnership with Baltimore City Public Schools (BCPS) and with support of the mayor and Baltimore City Council. The three individual honorees are:
The Historic Samuel Coleridge-Taylor Elementary School (HSCT) in Upton/Druid Heights, a high-poverty neighborhood in West Baltimore that is the focus of Promise Heights, a SSW-led initiative that works to improve the educational outcomes for youth and ensure families are healthy and successful.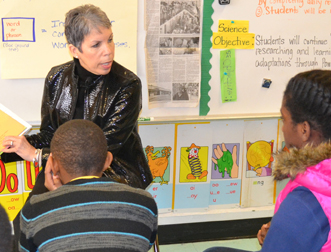 In 2012, Promise Heights became a U.S. Department of Education Promise Neighborhood grantee—President Obama's signature education and poverty program to transform schools and communities into vibrant centers of opportunity and excellence. Partners include other schools at UMB as well as government, faith-based, and nonprofit partners beyond the University. The SSW has provided teacher training in trauma-informed behavior management skills, child development, and social-emotional teaching strategies. At HSCT, 95 percent of students receive free or reduced-price lunch, and many live in public housing. Teachers and staff made more than 100 home visits last year that helped to decrease absenteeism and increase parent engagement at HSCT. School readiness scores have risen and school climate has improved since 2011, when HSCT became a community school. As in other Promise Heights schools, the position of community schools coordinator is held by a licensed clinical social worker employed by the SSW. The coordinator at HSCT is Henriette Taylor, MSW, LGSW, who testified before Congress in February on the need for integrated wrap-around services that include early childhood development, extended learning time, technology initiatives, summer and bridge programs, college preparation; career development; dropout prevention, and reconnections for out-of-school youth.
Benjamin Franklin High School at Masonville Cove (BFHS/MC), which the BCPS had designated for turnaround after it became one of the city's lowest performers. The rejuvenation was so successful by last year that the Social Work Community Outreach Service (SWCOS) at the SSW and the work of its community schools coordinator, Dante deTablan, MSW, were featured by the U.S. Department of Education in a nationally distributed resource, Strategies for Community Engagement in School Turnaround. DeTablan, who is a doctoral student at the SSW, currently heads the Ben Franklin Center for Community Schools, a nonprofit organization established to oversee the work. More than 75 collaborators have devised ways to meet the needs of students and families through options such as an early childhood education program for parenting teens. The high school students clocked more than 17,000 service learning hours last school year and are credited with helping to halt plans to build a waste incinerator nearby. BFHS/MS also houses a SWCOS-led Family Stability Program, sponsored by United Way of Central Maryland, that serves 20 families. Clinical instructor Kelly Baker, MSW, MPH, LGSW, and SSW interns help families in multiple ways, improving students' attendance and academic performance.
Wolfe Street Academy, a SWCOS-led charter elementary school in southeast Baltimore that has moved to high performing from a low performing status since adopting the community schools strategy nine years ago. Because of the strategy, students have greater access to after-school learning opportunities and benefit from a new library. Student mobility, which is the rate of transfers and withdrawals within a school year, has decreased from 46.6 percent to 8.8 percent in eight years. Average daily attendance is 96 percent, in part through the work of SSW interns guided by Connie Phelps, MSW, LGSW, who has been SWCOS' community schools coordinator at Wolfe Street since 2006.
SWCOS partners with educators in three other schools, employing a full-time community schools coordinator/SWCOS field instructor in each. The social worker leads and trains graduate social work interns to bring in needed resources for students and their families, increase parents' involvement with their child's education, and improve communication between the parents and the school.
Many at UMB are familiar with the work being done at James McHenry Elementary/Middle School, which is located near the UM BioPark and also partners with BioPark tenants and has benefited from STEM education through UMB's Office of Community Engagement. In February, the SWCOS-led team at James McHenry received the Outstanding UMB Staff Award, presented at the Universitywide Dr. Martin Luther King Jr. Diversity Recognition Awards ceremony. Wendy Shaia, EdD, MSW '01, executive director of SWCOS, accepted on behalf of an interprofessional group that included representatives of Maryland Carey Law's Center for Dispute Resolution.
Other SWCOS-led community schools are the Augusta Fells Savage Institute of Visual Arts and Harlem Park Elementary/Middle School. Other Promise Heights community schools are Furman L. Templeton Preparatory Academy, a charter school whose board members include SSW Dean Richard P. Barth, PhD, MSW; Booker T. Washington Middle School for the Arts, and Renaissance Academy High School. Joining the fold is Eutaw-Marshburn Elementary School, also located in the Upton/Druid Heights area.
Among the 2015 recipients of National Community Schools Awards for Excellence, the Family League-led Baltimore Community Schools is one of only two multi-site recipients. The other is in Salt Lake City, Utah. Other individual schools to be honored by the Coalition for Community Schools are in Chicago and Los Angeles.