Faculty and students from the Francis King Carey School of Law and the School of Pharmacy stood behind Maryland Governor Larry Hogan as he signed into law two bills they helped craft that will prevent drug overdoses. The May 12 ceremony took place in the governor's office in Annapolis.
"Families and communities across the state are struggling with heroin and prescription drug dependence and overdose," said Maryland Carey Law Professor Ellen Weber, JD, director of the law school's Drug Policy and Public Health Strategies Clinic.
Weber, along with 2L law students Rory Murray and Beth Millford, Suzanne Doyon, MD, ACEP, FACMT, medical director of the Maryland Poison Center at the School of Pharmacy, and other partners, worked tirelessly to ensure the passage of both pieces of legislation.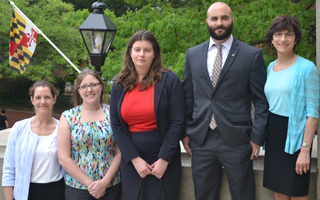 The passage of SB 516/HB 745 expanded the state's Overdose Response Program. Under the new program, physicians and some advanced practice nurses can prescribe and dispense naloxone — a medication used to counter the effects of opioids in overdose situations — through a standing order and without fear of being sued.
Watching the Overdose Response Program signed into law had special meaning for Murray who served in the Marine Corps before enrolling at the law school. "Opioid addiction is unfortunately a big part of the veteran community. I've had a handful of friends who've died from their addictions," he said. "This bill puts naloxone into people's hands. If they have naloxone they can prevent an overdose."
The enactment of SB 654/HB 1009, the so-called Good Samaritan Law, provides criminal immunity for people who help anyone experiencing a medical emergency as a reult of ingesting drugs or alcohol.
"Elected officials once again demonstrated their commitment to prevent overdose deaths in Maryland. This bill will make it easier for families and friends to call 911 for help," said Doyon of the Maryland Poison Center.
Having students research, draft and win passage of legislation underscores the value of experiential legal education, said Weber. "It's so important for our students to use their lawyering skills to develop and advocate for policies that will help solve these serious health problems."
Millford noted one of the difficulties in getting the Good Samaritan bill enacted was that the legislature passed a similar bill just last year. "Part of the challenge was to convince people that change was needed so soon," she said.
Weber expects the passage of the bills will contribute to the broader strategy to address drug issues through health rather than punitive measures. "These bills highlight the serious health crisis that heroin use poses for all Marylanders," she said. "Now is the time to invest wisely in health care strategies and laws that will prevent and treat opiate and other substance use disorders."