When it comes to early detection of oral cancer, the dental community is the main line of defense through proper screening and patient education. On April 24, a team of more than 50 University of Maryland School of Dentistry (UMSOD) faculty members, oral surgery residents, dental students, and dental hygiene students volunteered to provide oral cancer screenings during the Maryland Day celebration at the University of Maryland, College Park (UMCP). During the event, volunteers screened more than 200 patients for signs of precancerous conditions or signs of cancer. In addition, all patients were educated on risk factors and, if needed, were referred to a specialist.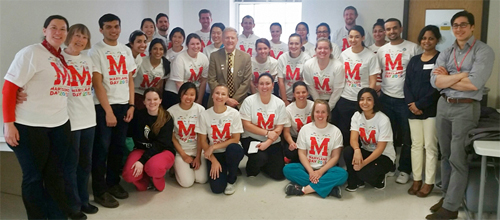 The oral cancer screenings, led by Robert Ord, DDS, MD, chair of the Department of Oral & Maxillofacial Surgery at the School of Dentistry, and Alice Horowitz, PhD, research associate professor at the School of Public Health at UMCP, have been an important part of the Maryland Day celebration since 2007.
"Volunteering at this event over the past few years has shown me and my fellow students how to properly utilize oral screenings," said Louis Spear, DDS '16, president of the Oral-Maxillofacial Surgery Interest Society at UMSOD. "Simply performing the exam can raise awareness about oral cancer and possibly detect lesions in the early phases, when they tend to be asymptomatic."
By educating and screening patients during this daylong event each year, Spear and his fellow volunteers hope to increase both access to care and oral cancer prevention.