Beginnings and endings blended into a wonderful mosaic at the commencement ceremony May 15 at the University of Maryland, Baltimore (UMB).
The roughly 2,000 members of UMB's Class of 2015, graduating from its schools of dentistry, law, medicine, nursing, pharmacy, social work and its Graduate School, are about to begin their careers.
Their challenges were spelled out by Niña-Cecilia Santos, class president of the School of Dentistry, who served as student remarker.
"Coming to school at the University of Maryland's founding campus I came to know a new community," Santos told those assembled at Royal Farms Arena. "All of us did, arriving at a graduate campus that trains the future leaders of Maryland to do unparalleled research at state-of-the-art facilities. We came from all over to learn new ideas, new knowledge, and new rules. We rose to the occasion. … The crux of this ceremony isn't to celebrate the acquisition of a piece of paper. It celebrates our transformation. When we put on the uniform of our calling, be it white coats or suits, we take on the identity of our profession and all its responsibilities."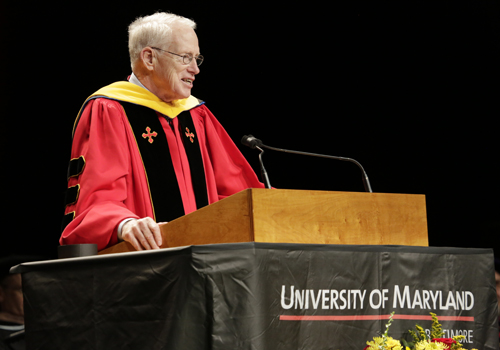 Endings were personified by keynote speaker William E. "Brit" Kirwan, PhD, who is in his final months as chancellor of the University System of Maryland (USM) after a sterling 50-plus-year career. But Kirwan wasn't alone.
Honorary University marshal Gregory Robinson, DMin, MDiv, MA, was retiring as associate dean for academic administration and resource management to join the clergy full time after 41 years at the School of Medicine. Honorary student marshal Frank L. Margolis, PhD, is professor emeritus at the School of Medicine after 20 years of service. And University registrar Tom Day was saluted on his retirement after 32 years of service.
Kirwan, introduced as "a towering figure of U.S. higher education," by UMB President Jay A. Perman, MD, entertained the graduates and their families with several stories, invoking the names of famous people such as Teddy Roosevelt, John Glenn, and Harriet Beecher Stowe.
He left the graduates with three guideposts.
Expect the unexpected: He said when he began his career, he planned to be the best math professor he could be at the University of Maryland, College Park (UMCP). He never expected to be department chair, provost, president of UMCP, president of Ohio State University, then chancellor of USM since 2002. "So expect the unexpected," Kirwan told the graduates. "As John Lennon said, 'Life is what happens when you are making other plans.'"
Value humility: "My wife says this is such a virtue of mine because I have so much to be humble about," Kirwan joked. He said the inner strength to trust others is the mark of a strong leader.
Be empathetic: "Empathy is an underappreciated virtue. It can be a very powerful force," Kirwan said. "Teddy Roosevelt summed up the importance of empathy perfectly when he observed 'nobody cares how much you know until they know how much you care.'"
Kirwan related how forgettable many commencement speeches are and how his own high school commencement speaker said they would forget his name within a month. "However, I have a leg up on him," Kirwan said with a smile. "You might possibly remember my name because it's on your diploma!"
The graduates arrived at the arena after a Party in the Park at University Square that included music, food, a photo booth, and games. Then they joined the faculty and University leaders for a festive academic procession the few blocks to the arena.
In full regalia, they marched the few blocks with shouts of joy, horns, kazoos, 2015 sunglasses — even a wheelchair. Upbeat dental hygiene graduate Marilyn Butler was pushed in the procession just three days after surgery for a broken leg and dislocated ankle.
She wasn't the only one to leave her sickbed.
Esther McCready, MM, BM, DIN, was wheeled into the arena to receive an Honorary Doctor of Public Service after a recent hospital stay. It wasn't the hardest challenge she had faced involving the University. In 1949 McCready applied to the University of Maryland School of Nursing and was rejected because the school did not accept African-American students. She filed suit, was admitted, and became the School of Nursing's first African-American graduate in 1953, overcoming ugly racism along the way.
Jane Kirschling, PhD, RN, FAAN, current dean of the School of Nursing, which now has 37 percent minority representation (53 percent of them African-American), said "not only were Esther's dreams not deferred but thanks to her courage and bravery the dreams of so many others did not have to be either. Esther, we honor you as a civil rights icon, a transformational figure in education. You are a treasure," inspiring the third standing ovation for McCready from the graduates and arena crowd as well.
Others receiving honorary degrees included renowned engineer Robert S. Langer, ScD, the David H. Koch Institute Professor at the Massachusetts Institute of Technology, and Kermit R. Crawford, RPh, who rose from intern to president of pharmacy, health, and wellness at Walgreens, the nation's leading drugstore chain.
Students, in addition to being the stars of the show, contributed in other ways. Paige Fisher, a graduating student at the School of Social Work, sang "The Star-Spangled Banner" and Hippocractic Notes, the a cappella group from the School of Medicine, entertained the crowd with a video titled "UMB."
USM regent David Kinkopf let the graduates know their responsibilities wouldn't end when they left the arena, diplomas in hand.
"We expect great things from you," he said. "Great communities and societies do not happen accidentally. You must help create them and you've learned how to do that here at UMB."