Incorporating hospitals from five counties across the southern and D.C. metro portions of Maryland, the University of Maryland Center for Health and Homeland Security (CHHS) facilitated a full-scale exercise that prepared the region for the possibility of a mass casualty incident. The scenario, a bus crash involving a large number of injuries coupled with an infectious disease component, gave participants the opportunity to practice real-world response capabilities in the event of any number of similar incidents.
CHHS is an academic consulting agency located within the University of Maryland, Baltimore. Founded and directed by University of Maryland Francis King Carey School of Law professor Michael Greenberger, JD, the center works with public health organizations to address legal issues surrounding public health emergencies, as well as hospital and local health department preparedness and response policies and training.
The regional effort tested medical surge plans during a mass casualty incident, including communications, situational awareness, resource and personnel management, and continuity of operations. The Region V Emergency Preparedness Coalition, which includes representatives from Calvert, Charles, Montgomery, Prince George's, and St. Mary's counties, participated in the exercise. Each of the nearly 20 participating facilities assessed their internal response mechanisms to deal with an influx of patients while also working within the jurisdictional response framework to coordinate across the region.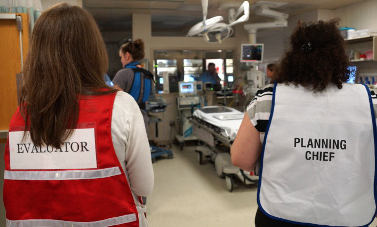 "The regional coordinators and hospital staff put a lot of time and effort into preparing for this exercise and carrying out their various roles during the scenario," said Laura Hoch, CHHS Exercise and Training Program manager. "While having plans in place for mass casualties and infectious disease response are important, actually walking through a situation step-by-step is key to understanding how plans will be implemented in a real-world situation."
In addition to developing the exercise, CHHS Exercise and Training staff evaluated activities at each location to include in an after action report. Hospitals experienced customized injects to test skills that management identified as areas for improvement, which once addressed can be used to help the region better prepare for a real-world incident.
The May 19 exercise was one of the center's largest to date. Past clients have included local governments across Maryland and the State's Emergency Management Agency, as well as colleges, hospitals, and the D.C Homeland Security and Emergency Management Agency. CHHS also offers planning services in continuity of operations, critical infrastructure protection, interoperability, mass evacuation and sheltering, and resource management.