On May 1, the University of Maryland, Baltimore (UMB) Office of Government and Community Affairs hosted a policy briefing for federal lawmakers on "Data, Privacy & the Internet: What You Need to Know." Boasting an array of legal experts from the University of Maryland Francis King Carey School of Law (Maryland Carey Law), UMB hoped to give those on Capitol Hill an idea of the depth of knowledge available to them when making key decisions regarding the future of cybersecurity.
"From the Medical Center, to our schools of medicine, pharmacy, nursing, dentistry, social work, and law, we are a University dedicated to serving people," stated Maryland Carey Law Dean Donald B. Tobin, JD, who opened the session with an overview of UMB professional schools and extensive research projects, before honing in on the Carey School of Law's academic excellence.
Two Carey School of Law faculty, whose work includes particular expertise in cybersecurity, joined Tobin: Michael Greenberger, JD, professor and founder and director of the University of Maryland Center for Health and Homeland Security (CHHS); and Frank Pasquale, JD, MPhil, professor of law.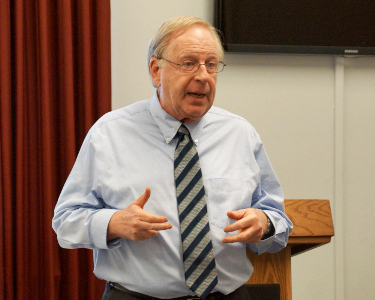 Pasquale, who recently published The Black Box Society that was cited by a White House Report on Big Data, emphasized the astounding impact digital footprints can have on privacy. "The role of the law school and University is to be thought leaders in what laws need to be explored to address current cyber threats," he told the Capitol Hill staffers in attendance. From the vulnerability of health care records to the rise in the Internet, Pasquale believes now is a critical time for Congress to address the balance between business needs of the emerging technology industry and a citizen's right to privacy.
Greenberger, who founded CHHS in 2002 after the attacks of Sept. 11, and a recognized void in the academic field addressing counterterrorism law as well as public health and emergency management policy development and analysis, explained how cybersecurity has become one of the greatest national security threats we face. "This is a problem across the nation, not only in the private sector but our very military and government is affected on a daily basis," he lamented.
In 2012, CHHS developed the course Law and Policy of Cybersecurity at Maryland Carey Law to address the growing need for analytic skills in the cybersecurity profession. Greenberger also launched a new course following the Edward Snowden NSA leaks titled National Security, Electronic Surveillance and the Fourth Amendment. This coming fall, CHHS will lead a cybersecurity specialty for Maryland Carey Law's new Master of Science in Law program.
Both Greenberger and Pasquale agreed that it's difficult to find a proper equilibrium between security and privacy, but said first steps by Congress could potentially include federal regulation of data breach notification laws, definitions of data that should be protected, as well as improved cyber education for government and private sector organizations. The policy briefing ultimately helped pass the message to Capitol Hill that UMB and the Carey School of Law are building a base of cyber scholars that can be called upon to provide expertise.