The University of Maryland School of Nursing (UMSON) has initiated a community partnership with the Enoch Pratt Free Library — the first of its kind in Maryland — that embeds nursing students within library branches around Baltimore City.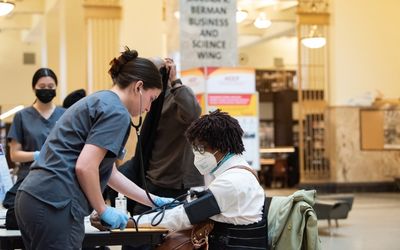 Healthcare in the Library, an initiative that began this spring, provides free crucial services to the community.
Fifty-six students in their second semester of UMSON's entry Bachelor of Science in Nursing (BSN) program are on-site at four library branches — Central Library, Brooklyn, Waverly, and Southeast Anchor Library — Wednesday to Friday during the spring semester, providing services such as general health assessments, blood pressure checks, medication and medical condition education, health referrals, and more. The students are not providing first aid, wound care, emergency services, diagnosis of illness, or vaccinations.
While this partnership helps to address gaps in community health care that were made even more evident during the COVID-19 pandemic, it also provides a clinical experience for nursing students.
"By interacting closely with the members of the community, students gain firsthand knowledge of how social determinants impact health," said Patricia Zimberg, JD, MS, RN, an adjunct faculty member teaching one of the cohorts of the Clinical Care Across the Continuum class; prior to her retirement, she directed the school's Care Coordination Certificate.
"Community health clinical experiences enable students to develop the necessary skills for advancing a culture of health," Zimberg added. "As the health care system navigates the current nursing shortage, public health nurses play a key role in improving and maintaining the health of communities through primary and secondary prevention efforts."
For Annika Marquez, one of the BSN students participating in the class, the hands-on experience she is gaining with members of the community during the clinical experience has helped her to understand different populations and their health care needs.
Marquez said she chose nursing because she wants to help people.
"It's one of those things that you can really make a difference in someone's life," she said.
Though the Healthcare in the Library initiative marks the first time the Pratt Library system is serving as a clinical site for nursing students, it's not the first time University of Maryland, Baltimore (UMB) students have provided services to the community there. Social Worker in the Library, another UMB and Pratt collaboration, began in September 2017.
"The Pratt Library is a trusted place that people turn to as a community hub. We continue to open the doors of access to our community with social workers, peer navigators, free legal aid, and now free health care resources," said Heidi Daniel, president and CEO of the Enoch Pratt Free Library. "We are proud to partner with the University of Maryland School of Nursing to welcome nursing students into our locations to provide potentially lifesaving access to health services."
For more information and to view the schedule, visit: https://www.prattlibrary.org/services/healthcare-in-the-library.
Contact: Emily Chappell, echappell@umaryland.edu, (443) 615-5810