For the first time in four years, the University of Maryland, Baltimore (UMB) held an in-person Employee Recognition and Service Awards Luncheon on March 27, honoring long-serving employees while handing out the Cecil S. Kelly Memorial Employee of the Year Award, James T. Hill Scholarship, and Community Service Award.
The annual event, which was held virtually from 2020 to 2022 due to the COVID-19 pandemic, attracted a crowd of 200-plus to Westminster Hall including University leaders, Staff Senate members, and Employee of the Month winners who were all nominees for the 2022 Employee of the Year Award. UMB President Bruce E. Jarrell, MD, FACS, noted that the staff members honored at this gathering "are the ones who make this place go."
"The staff at UMB is phenomenal," said Jarrell, who also was recognized for being a 25-year employee, having started his UMB career at the University of Maryland School of Medicine (UMSOM) in 1997. "I've been working very closely with many of you over the past three or four years, and I'm certainly a better person because of that.
"We rely on you," Jarrell added. "You really know how UMB works, especially the 111 employees here today who have worked at the University between 20 and 50 years. That's a lot of institutional knowledge. There are more go-to people in this room than is assembled at any other of our gatherings."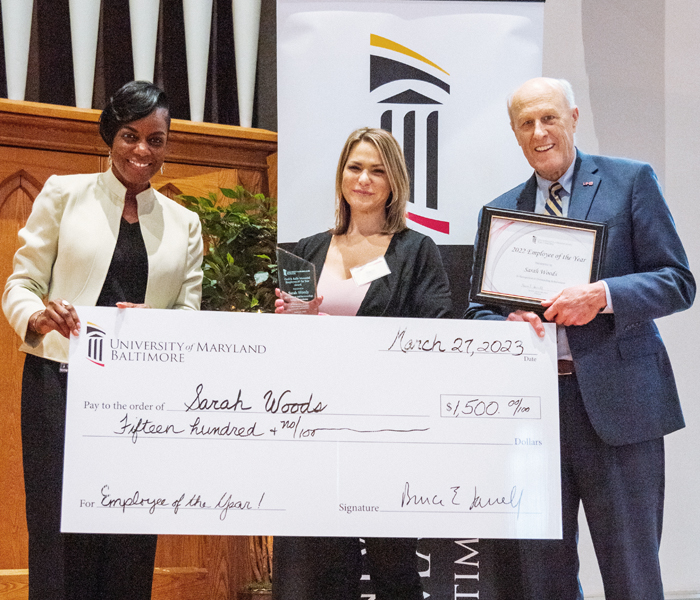 Among those go-to people are Sarah Woods, research administrator, Department of Microbiology and Immunology, UMSOM, who was selected as Employee of the Year; David Callahan, retention engagement specialist, JACQUES Initiative, Institute of Human Virology, UMSOM, who received the James T. Hill Scholarship; and Cpl. Yale Partlow, outreach and intervention officer, UMB Police Department (UMBPD), who won the Community Service Award.
Cecil S. Kelly Memorial Employee of the Year Award
Woods was honored for her work in helping UMSOM receive a large Department of Defense grant on vaccine research. While a five-member team from the Department of Microbiology and Immunology thought it could compile the 30 pages of scientific writing needed in three weeks, the grant required 200 pages of administrative paperwork that Woods would need to put together.
Woods' hard work paid off: A year later, the team was selected for the project and received $10.8 million in research funding to explore how vaccines can work over a long time without frequent boosters. Woods, who often worked 16-hour days during the early part of the pandemic, said much of her work was urgent.
"COVID was a struggle, but we were able to push through it, and I think having to go through that changed my entire perspective of my position here within the department and the University," she said. "There's nothing like submitting a proposal, seeing it be awarded, and then the faculty member completing that research and publishing their data."
Woods accomplished all this while coping with personal tragedy. Her sister died suddenly in a motorcycle accident. Within six months, the children's father also passed away, and Woods became the guardian of her 8-year-old niece and 3-year-old nephew.
"You have to shift to making sure that their well-being is the priority, and managing my own grief, my parents', and the family's has been tough," she said, though the support from her department helped alleviate some of the burden.
"The outpouring of support has just been amazing," Woods said.
The award, which comes with a $1,500 bonus, is presented to an employee who exemplifies the qualities of service, humanity, and commitment that Kelly exhibited during his career on UMB's facilities staff from 1966 to 1989.
"This is an unexpected surprise," Woods said. "Just like when I was nominated for Employee of the Month, I had no idea this was coming. It's just an honor to be recognized."

(Read more about Woods' work with UMSOM.)
James T. Hill Scholarship

Callahan joined the JACQUES Initiative, a program that offers HIV and hepatitis C testing, prevention, education, linkage to care, and supportive services, as an intern in 2014, providing HIV testing and counseling at the University of Maryland School of Dentistry while he was pursuing an associate's degree in Allied Human Services from Baltimore City Community College.
"A position for a treatment coach opened up, and my internship supervisor suggested I apply for the position," Callahan said. "My plan was to focus on school full time and worry about getting a job later. But because I was impressed with how the JACQUES Initiative provided supportive services to their patients, I decided to apply, and the rest is history."
The James. T. Hill Scholarship was established to support UMB's commitment to staff development in recognition of Hill's long and outstanding service to the University, as well as his personal commitment to the professional development of fellow employees. A U.S. Army veteran, Callahan plans to use the $2,000 scholarship toward his pursuit of a bachelor's degree in Health Services Management from University of Maryland Global Campus.
His ultimate goal is to open a wellness center for HIV-positive military members and veterans.
"The military has its plan for HIV treatment, but it doesn't include wellness," Callahan said. "They treat the HIV, but there's no supportive services for overall wellness for active-duty personnel, veterans, and their families.
"I know my career goal will remain a dream if I do not complete my degree," he added. "This scholarship will allow me to continue my education and gain the necessary knowledge so that I can better provide much-needed supportive services to my community."
Community Service Award
Partlow has been recognized before for his commitment to community engagement, first with the UMB Employee of the Month Award for August 2019, then as a member of the UMBPD Community Outreach and Support Team (COAST) that won the Governor's Award for Outstanding Proactive Crime Prevention in December 2019.

Partlow is certified in crisis intervention training and works with COAST to provide critical resources and case management for UMB's most vulnerable neighbors, particularly homeless individuals. COAST also fosters partnerships with other agencies and community organizations as a leader in outreach and intervention with the local community.
"We're in the next phase of our Police Athletic/Activities League, working with local youths, and we've been expanding our outreach efforts," Partlow said. "We have interns from the School of Social Work who assist us with case management, and we're in the process of hiring community health workers to join our efforts, so our capacity to reach more people and increase accessibility is really expanding."

The Community Service Award recognizes employees who are active in local community service organizations or have a long history of service on the local, national, and international levels.
"I was really surprised to win this award, but it's very cool and I'm extremely grateful," Partlow said. "President Jarrell and Senior Vice President Dawn Rhodes have been very supportive of our efforts along with Chief Thomas Leone and Assistant Chief Tonya Bell. They've been critical in making our outreach program one of the best in Maryland."
Long-Term Service Appreciation
Malika S. Monger, MPA, PHR, associate vice president and chief human resources officer, co-hosted the event with Jarrell and noted that the service award honorees had a combined 2,720 years of working at UMB.
"As a newer employee of the University, it's a great honor for me to recognize our outstanding staff," Monger said. "UMB is so fortunate to have a staff with so much dedication, energy, and drive."
Monger read off the list of employees who celebrated 20-, 25-, 30-, 35-, 40-, and 45-year service milestones in 2022 before bringing two 50-year employees to the stage — Perry Comegys, electron microscopy/histology technician, and Jean Marie Roth, academic program specialist, both from UMSOM — who received standing ovations.
Four employees who have been nominated for University System of Maryland Board of Regents Staff Awards also were recognized: Lisa Finn, MPH, program manager, Office of Graduate Programs, University of Maryland School of Pharmacy; Danielle Harris, LCSW-C, interim director, Community Engagement Center, UMB; Mike Humphrys, MSc, executive director, technical, Institute for Genome Sciences, UMSOM; and Courtney Jones Carney, DPA, MBA, executive director, Intercultural Center, UMB, and program director, MS in Diversity, Equity, and Inclusion Leadership, University of Maryland Graduate School.
Jen Badie contributed to this article.