The University of Maryland, Baltimore (UMB) will hold a second virtual town hall meeting relating to the novel coronavirus (COVID-19) at 1 p.m. on Tuesday, March 17, 2020. This virtual event will focus on teleworking.
Host Dawn M. Rhodes, MBA, will take questions from viewers in real time, and answer them with the help of Matthew Lasecki, SPHR, associate vice president of Human Resources; Vicky Hunter, MS, associate vice president, infrastructure services, Center for Information Technology Services; and Alana Kyriakakis, JD, university counsel.
On March 12, UMB Interim President Bruce E. Jarrell, MD, FACS, issued a sweeping telework policy for UMB staff as part of an effort to minimize the number of people on campus during the coronavirus outbreak.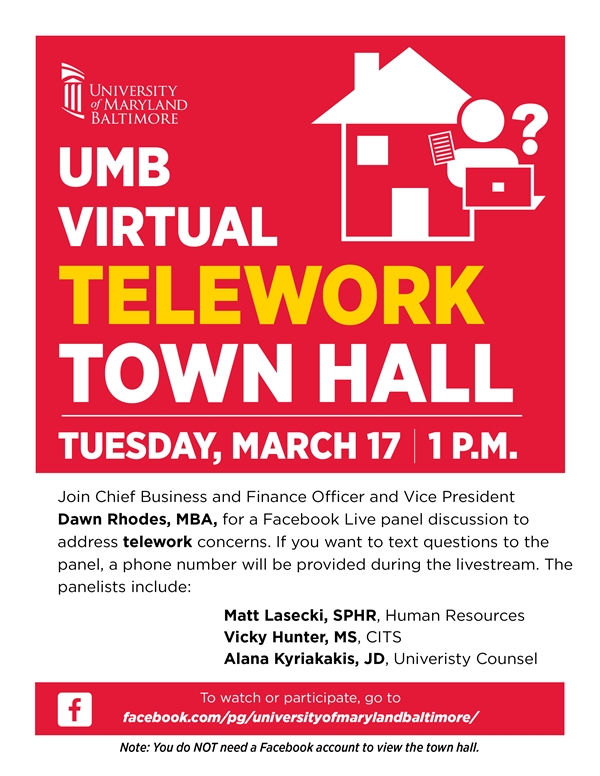 "As the situation regarding the novel coronavirus (COVID-19) changes, so too will the way we work, teach, and learn. One critical change that will affect the work of many employees is teleworking," he said.
The telework policy mandated a transition to episodic telework, beginning on March 14. So long as the policy remains in effect, "only employees deemed 'Essential for Pandemic Circumstances - On Campus' should report to their worksite. All others who are able to telework are required to do so. Anyone unable to telework and not deemed 'Essential for Pandemic Circumstances - On Campus' will be placed on Administrative Leave," Jarrell said in letter to the UMB community.
Tuesday's virtual town hall will be a Facebook Live event. There is no requirement to be a member of Facebook to watch the town hall. Visit https://www.facebook.com​/universityofmaryland​baltimore/. During the event, a phone number will be shown that viewers may use to ask questions.