The setting was a building being converted from industrial use to startups in a neighborhood near the University of Maryland, Baltimore (UMB). On its seventh floor, a dental clinic took shape, beckoning adults whose circumstances in life had led them to forgo dental care for months or, in some cases, for years or even decades.
There the action centered on 200 students of the University of Maryland School of Dentistry (UMSOD) who treated more than 600 people during 715 patient visits at the 2019 Baltimore Mission of Mercy. Organized by UMSOD and United Way of Central Maryland (UWCM), the event took place on Feb. 28 and March 1. The students were joined by supervising faculty members, dozens of UMSOD staff members, and volunteers from UMB and supporting organizations.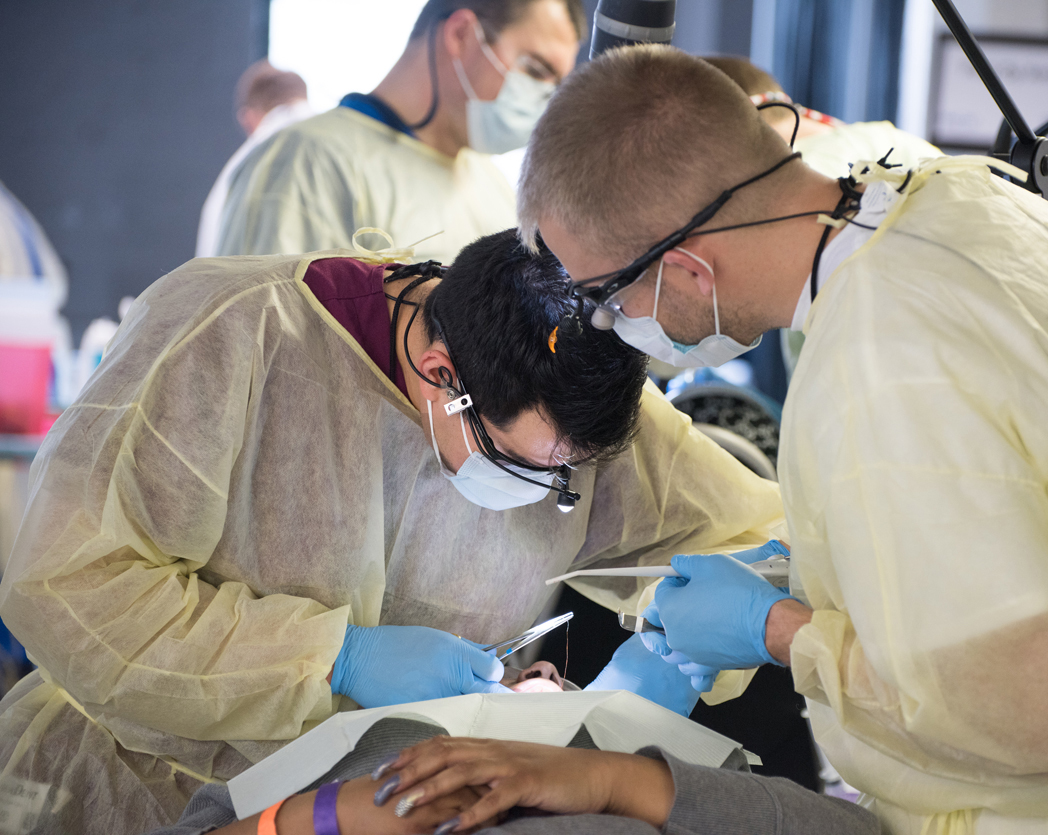 (View a photo gallery on Facebook.)
"I am extremely proud of what the University of Maryland School of Dentistry's faculty, staff, and student volunteers accomplished in two days. At the Mission of Mercy, we were able to offer needed dental care to more than 600 of our fellow community residents," said Mark A. Reynolds, DDS, PhD, MA, dean and professor at UMSOD. "Many of these individuals have limited resources, and our overall aim was to provide to them quality oral health care, which is an integral part of overall health and the quality of life."

Patients were required to be 18 and older and in need of obtaining extractions, restorations (fillings), and cleanings. Those with more complex needs were given referrals.
"The need for oral health care is just so great, we need to have these types of activities," said Louis G. DePaola, DDS, MS, associate dean of clinical affairs and professor at UMSOD, adding that many of the patients "would have no access to dental care" otherwise.

About 60 percent of the 100 chairs at the Mission of Mercy were dedicated to oral surgery and the extraction of teeth because that is the greatest need, DePaola said. For those patients, extraction of diseased teeth improves the level of their oral health and removes potential sources of infection. For many, the procedure also eliminates the pain associated with dental decay.

James Gee, a retired employee of the Baltimore City school system, said one tooth in particular had been hurting. Afterward, he expressed gratitude to the students who cared for him and calmed his nerves. "They made me feel like I was getting a haircut or something like that," he said, instead of the four extractions he had required.
In what has proved to be a successful method of streamlining intake during this Mission of Mercy and a previous event, those who wished for dental care were invited to arrive at 2 p.m. on Wednesday, Feb. 27, for pre-screening. The first 200 people were given wristbands, brought in to undergo digital imaging of their jaws, and guaranteed treatment on Thursday or Friday without having to wait in line.

Baltimore resident Ronald Diggs, who retired after a career in environmental services, saw a flier about the event at church and was determined to obtain the dental care he so desperately desired. "I was the first one to get here," he said. After arriving at 6:30 a.m., Diggs went back to his home in northwest Baltimore, then returned to the clinic's location, the 1100 Wicomico Building, at 1 p.m. After an hour's wait, a screening confirmed what his discomfort had already told him: Seven badly decayed teeth would have to go.

The next day, a fourth-year dental student and a third-year assistant performed his extractions. Afterward, unable to speak with rolls of gauze still in his mouth, Diggs gave them a heartfelt thumbs-up.
"Some of these patients are getting all their teeth extracted," observed Ramsay Koury, DMD, clinical assistant professor and the Mission of Mercy organizer at UMSOD. Others are elated when their badly deteriorated front teeth are restored by the students, he said. "A lot of these patients will shed tears and hug them and tell them how grateful they are. That sense of fulfillment and accomplishment is unparalleled."
Once the students have experienced how rewarding volunteering can be, they're committed to giving back for life, Koury said. "We're combing teaching with service, and we're helping underprivileged people."

Student David Anguiano, a member of the DDS Class of 2019, said: "One of reasons I pursued dentistry was to help others. In the present time, this Mission of Mercy is one of the things I can do to start helping people."

The clinic's largest room was lined by row upon row of temporary oral surgeries staffed by student clinicians garbed in masks, gowns, gloves, and protective eyewear. When appropriate, patients received applications of silver diamide fluoride to arrest the development of cavities in remaining teeth.
In an adjacent room, patients received restorations during both full days and, on Friday only, dental hygiene services.

Overall, patients received dental care valued at $612,340 in a total of 1,743 procedures, according to UWCM.

"Most of these patients can't afford their co-pays or (don't) have insurance of any kind," Scott Gottbreht, associate vice president of homeless services, impact strategies at UWCM, said in a WBAL-TV interview that aired Feb. 28. "And that's systemic throughout Baltimore. These folks have nowhere to turn for cost-affordable dentistry."

No matter the procedure, everyone who registered was given a medical screening and offered testing for HIV and the hepatitis C virus. The latter was offered by the JACQUES Initiative of the University of Maryland School of Medicine. The former was conducted by physicians and nurse practitioners from Saint Agnes Healthcare who were assisted by rotating groups of Bachelor of Science in Nursing students from the University of Maryland School of Nursing.

"One notable aspect of the event is that it aligns perfectly with our Medical Mission at Home strategic imperative and gives volunteers from providers and nonprofits in the area a chance to collaborate and interact with each other while serving our community," said Chris A. Chekouras, MBA, president and chief operating officer of Saint Agnes, Ascension.

In addition to Saint Agnes, Ascension, supporting partners included the Maryland State Dental Association Foundation and CareFirst BlueCross BlueShield.