Despite headlines that often drew national attention last year, the number of people living and working in downtown Baltimore is increasing, according to the 2018 State of Downtown Report, released by the Downtown Partnership of Baltimore (DPOB) on March 26 during its annual breakfast meeting. The event is held to release the annual report that details progress in downtown's residential, retail, hotel, office, and employment growth and density.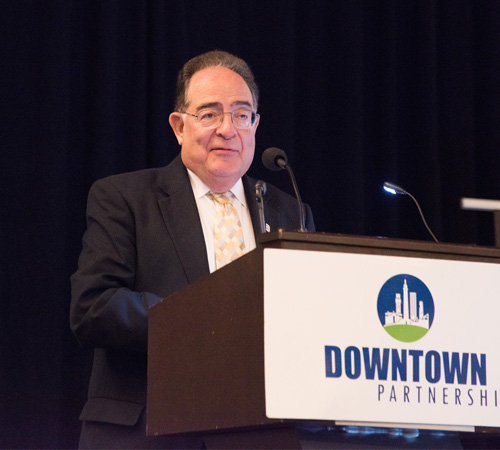 "As board chair of the Downtown Partnership, it's my job — but more importantly, my privilege — to present the key findings from our 2018 State of Downtown Report," University of Maryland, Baltimore (UMB) President Jay A. Perman, MD, told business and community leaders attending the breakfast at the Hyatt Regency. "Downtown continued its forward momentum last year, with our numbers of residents and employees climbing over the year before. While our apartment occupancy rate rose to an impressive level, office occupancy dipped somewhat.
"I do understand that last year, yes, was a tough one for our city," Perman acknowledged. "I know we all believe that our issues with crime are vitally important — that we won't achieve our true potential as a great city as long as there's violence in our streets. But those challenges frankly overshadowed the many accomplishments we had last year. So, this morning, I'd like to provide some balance to Baltimore's story. The report we're releasing today offers proof of downtown's progress … real numbers, not just opinion. And, yes, we're making significant headway."
The report uses data collected from within a 1-mile radius of the intersection of Light and Pratt streets, including Charles Center, Preston Gardens, the Bromo Arts District, the UMB campus, Jonestown, Federal Hill, Harbor East, Harbor Point, Sharp-Leadenhall, and Pigtown. The area is barely 4 percent of Baltimore's total geography, but it contains 29 percent of the city's businesses and 35 percent of its jobs. The area also is considered one of the top-performing downtown centers in the country, Perman said.
DPOB President Kirby Fowler said last year was "challenging for the entire city, and that included downtown as well.
"But thankfully in January and February of this year, the numbers have improved," he noted. "There's been a 27 percent decrease in violent crime. But it could slip. That's why we are working hard with our city to make a difference."
DPOB used half of its budget last year on hiring private security, Fowler said. "We are trying to make a difference and we look forward to working with our city, state, federal, and private partners to do the same."
Baltimore City Councilman Eric Costello noted the plans underway to revitalize Lexington Market and the strong relationships built between UMB and other West Baltimore community partners.
"We are making incredible progress there," Costello said of the city's Westside.
Costello credited Fowler and the partnership with creating jobs for youths through the city's YouthWorks program and for advocating for public safety.
"Whether we want to acknowledge it or not, it is an elephant in the room, but the Downtown Partnership because of its advocacy, because of working with Council President (Bernard C. 'Jack') Young and the mayor's office, we've been able to establish overtime employment that's optional for police officers in the central business district so that we are getting more foot patrols on our streets because we know that's what our residents, we know that what our tenants, we know that's what our visitors expect and demand of their experience downtown."
Also, according to the report:
Housing occupancy increased while office occupancy dipped for the first time in a few years. Employment was up slightly to 119,690 jobs.
Following a national trend, restaurants were a major driver of retail growth in downtown Baltimore.
The housing sector — largely defined by market-rate apartment buildings — had a big year in 2018, with three major projects coming online: 225 N. Calvert St.; 300 St. Paul St.; and 414 Light St.
In terms of hospitality, downtown hotels outpaced national averages for average daily rate and revenue per room but lagged slightly in terms of occupancy. Two renovated and rebranded hotel properties hit the market last year: the Crown Plaza at 101 W. Fayette St., and the Hotel Revival on Monument Street in Mount Vernon. Another 965 hotel rooms are in the pipeline through the next five years.
"Our housing occupancy rate rose from 93 percent to 96.5 percent, continuing an upward trend that began in 2016," Perman said. "With these additions, downtown now has a total of 14,488 rental units. And I'm pleased to say that nearly 24 percent of them are affordable and, therefore, more accessible to people with lower incomes.
"There is no denying that downtown Baltimore neighborhoods are bringing new residents, investment, jobs, and enthusiasm to our city … at a time when Baltimore needs all of these things," Perman said.
To read the State of Downtown Report in its entirety, visit GoDowntownBaltimore.com.