More than 45 students at the University of Maryland School of Pharmacy held an event Feb. 28 to support Marjory Stoneman Douglas (MSD) High School in Parkland, Fla., where 17 people were killed by a gunman on Feb. 14. Participants signed a large banner and made smaller posters, all held aloft in a photo to be sent to the high school. Their message: "Gun Violence is a Public Health Issue."
(View a photo gallery.)
The show of solidarity is one of a series of #WhiteCoatsAgainstGunViolence events nationally that are being organized by students in the health care professions who attended the high school. They include Allison Cowett, who graduated in 2011 and is now a third-year School of Pharmacy student at the University of Maryland, Baltimore (UMB).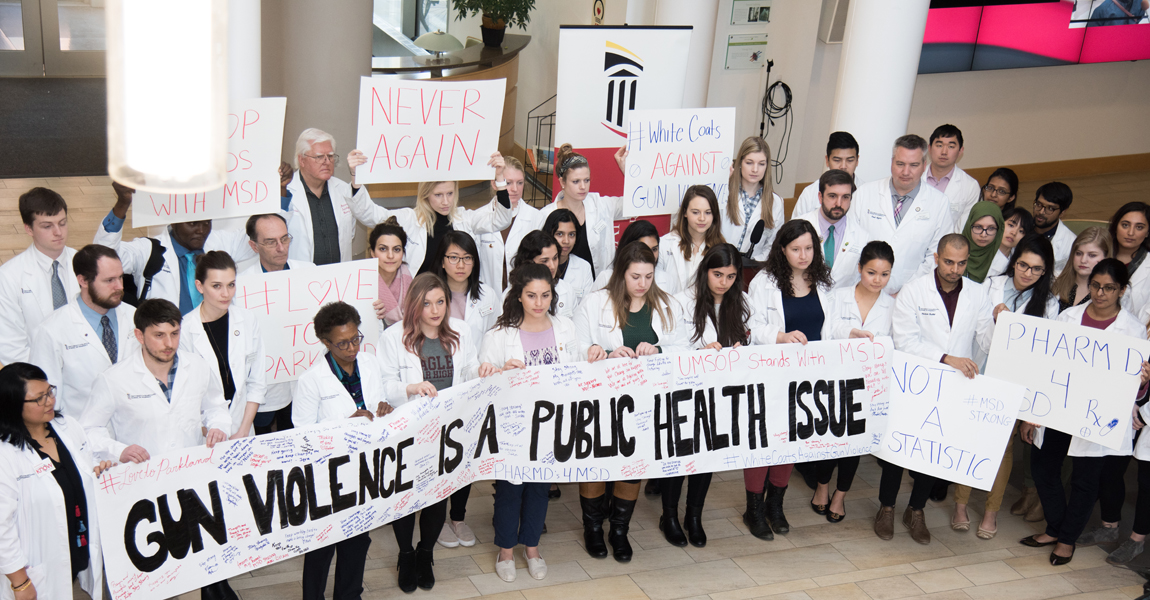 "I hold these memories of MSD dear to my heart," Cowett told the gathering, describing a huge campus with a close-knit, actively involved student and parent community that had helped shape her.
Cowett's remarks in the School of Pharmacy's atrium came on the same day that students were allowed to return to class at the Florida school. Cowett told the gathering: "We hope you think about Marjory Stoneman Douglas today and think about how you can advocate for change."
She led the group in a moment of silence in respect for those who lost their lives or were wounded at MSD.
Lending support were School of Pharmacy Dean Natalie D. Eddington, PhD, FAAPS, FCP; Cherokee Layson-Wolf, PharmD, CGP, BCACP, FAPhA, associate dean for student affairs; Andrew Coop, PhD, associate dean for academic affairs, and Andrew Wherley, the president of the school's Student Government Association.
Those present were heeding the words of UMB President Jay A. Perman, MD, who in an open letter to the University on Feb. 19 said he was eager for ideas "on how we might focus our research and teaching here at UMB to take up this fight against gun violence."
Cowett said, "Regardless of which party you identify with, I hope you can all support this cause. We are health care professionals — pharmacists — and when we put on our white coats, we accept a responsibility for taking care of our nation and the public health issues that plague our nation."
Noting that more than 30,000 Americans die from gunfire every year, she said, "Gun violence is a public health issue that needs to be addressed." Among actions that academics might support is reversing the Dickey Amendment of 1996 that restricts the Centers for Disease Control and Prevention from researching the impact of gun violence. She urged her peers to attend the "March For Our Lives" rally in Washington, D.C., on March 24.
In showing solidarity at the event, students held signs such as "Never Again," "UMSOP Stands with MSD," "Love to Parkland," "PharmD for MSD," "Not a Statistic," and "White Coats Against Gun Violence."
Cowett is preparing an entry for the Inside SOP Blog about her advocacy on behalf of MSD and in collaboration with her former classmates who have organized their own #WhiteCoatsAgainstGunViolence events at sites such as Tufts University and the University of California, San Francisco .