It's Match Day, when graduating University of Maryland Medical School (UMSOM) students across the country find out where they'll spend their residencies. In a gripping and emotional ceremony March 16 at the Hippodrome Theatre, students in the Class of 2018 were handed an envelope that contained the name of their residency. The event is a true-life reality show, because students do not know ahead of time where they are going.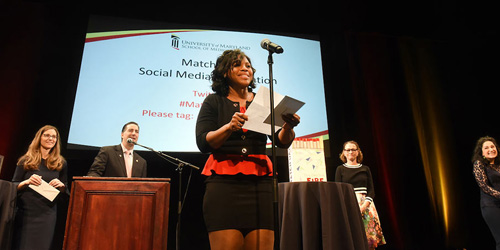 This year's students included Kwabena Yamoah. Born and raised in Ghana, Kwabena came to the United States in 2007 when he was 17. He knew he wanted to go into medicine early in life, when he went with his grandfather, a nurse technician, to hospitals in Ghana. Through the early years of his childhood, he and his siblings were raised alone by his mother in Ghana. "I think the struggles from poverty is what inspires me to be successful. Making her happy is what really drove me to do this," he said. He wants to be a radiologist and hopes to stay in Baltimore because his wife is a neurosurgery resident at Johns Hopkins. He was extremely happy to find out that he matched to the University of Maryland Medical Center (UMMC) in radiology.
Rebka Tekeste moved to the United States from Ethiopia when she was 10. She had two children during her time in medical school, the first during her third year and the second in February. Having her own children has given her important insight into the field of pediatrics. "It's very easy to know the medicine side of it, but having the first-time experience of being a parent has given me more of a perspective," she said, noting that it was tough to get through medical school and also become a new parent. "Family is important to me, and I made it work," she said. She matched to UMMC in pediatrics.
Jondavid Landon spent a year after college working on a 36-foot sailboat and sailing from Maine to the Caribbean. After that, he became a construction worker and a contractor, and only then did he decide to go to medical school. He was matched to Eastern Virginia Medical School in emergency medicine.
Sarah Kaslow took a year off in the middle of medical school to get a public health degree from Johns Hopkins — and have a baby. After getting a degree and giving birth, she returned and finished her MD. She matched with New York University Langone Hospital in general surgery.
Zulqarnain (Sono) Khan was born in Pakistan, but his family moved here when he was a small child so that he and his siblings could have better opportunities. He grew up in Catonsville and wants to be a cardiologist. He matched with UMMC in internal medicine.
Danny and Minna Leydorf are a brother and sister from Annapolis, completing medical school at the same time. They are three years apart and were roommates through school. Danny wants to be a surgeon, and Minna wants to be a pediatrician. Minna said having her brother go through medical school with her has been a great experience. "We've both grown immensely, and I believe for the better, through the challenging but worthwhile process of medical training thus far," she said. Danny matched at Anne Arundel Medical Center in general surgery, and Minna matched at UMMC in pediatrics.
Stefano Muscatelli played baseball at St. Mary's College and wants to be a sports medicine orthopedist. He matched at the University of Michigan in orthopedics.
Christina Tise is getting a PhD in genetics as well as an MD. She plans to combine research and working with patients and will focus on pediatrics and genetics. She matched at Stanford University in pediatrics.
Joshua Olexa and Gloribel Le are getting married in April. Joshua applied to residency programs in neurosurgery and Gloribel applied to programs in pediatrics, but mainly they wanted to be located together. Joshua was driven to neurosurgery after having three back surgeries. He was fascinated with the research but really loves the clinical aspect. "The interaction with people and the desire to help them is what drove me into medical school," he said. Gloribel has always worked with children and has a passion for pediatrics. This began in high school when she volunteered to help children with disabilities. They came up on stage together and were elated to find out that they had both matched at UMMC – he in neurosurgery and her in pediatrics.
Every student selected their own soundtrack for their walk to the stage. Many students danced their way up, to applause. This year, 142 UMSOM students matched at 69 hospitals in 30 states. Thirty-nine members of the Class of 2018 will stay in Maryland for their residency training.
Nationwide, more than 41,000 U.S. and international students applied for one of the approximately 30,000 first-year residency positions offered in this year's Main Residency Match, according to the National Residency Matching Program (NRMP). Even though more students than ever are enrolling in medical schools, the United States is still facing a significant physician shortage, according to the Association of American Medical Colleges.
News coverage of Match Day was featured in The Baltimore Sun.