University of Maryland Francis King Carey School of Law professor Lee Kovarsky, JD, prevailed 9-0 in a significant United States Supreme Court victory that will give a Texas death row inmate another chance to access funds that might lead to reconsideration of his sentence.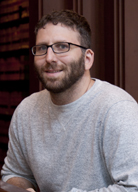 On March 21, 2018, justices unanimously ruled in the Ayestas v. Davis that a lower court was too restrictive in its reading of a federal law that provides assistance in capital cases that is "reasonably necessary."
A Texas 5th circuit court judge denied Carlos Manuel Ayestas funds for investigative services due to ineffective counsel on the grounds the defendant must show "substantial need."
Kovarsky, who has worked on dozens of death penalty cases, argued that a "substantial need" standard is more demanding and imposes a heavier burden on the defendant than the "reasonably necessary" standard prescribed in the federal statute. The court agreed 9-0.
While Kovarsky is encouraged by the justices' "unanimity behind the abstract idea that poor people facing the death penalty are entitled to an effective defense, just like everyone else," he says more needs to be done. "We just have to get better at delivering legal services to the people who can't afford them."
Carey Law Dean Donald Tobin, JD, congratulated Kovarsky, saying, "A 9-0 victory in a case involving the death penalty is an incredible accomplishment. This case is really about access to justice. It provides more opportunity for low-income individuals to obtain funds for investigation necessary for meaningful defense and fair representation."