One day in the future, a Baltimore student may confide during an admissions meeting that the idea of becoming a dentist was born in 2017 during a school field trip to the Dr. Samuel D. Harris National Museum of Dentistry in Baltimore.
That's a scenario envisioned by Richard Manski, DDS, PhD, MBA, executive director of the museum and professor and chair of Dental Public Health at the University of Maryland School of Dentistry (UMSOD), who described the goals of a new program that supports such field trips. The museum is partnering with the Maryland Department of Health and Mental Hygiene (DHMH) and Baltimore City Public Schools.
(View a video below.)
"We're serving a community where there's a lot of dental need," Manski said of Baltimore, elaborating on the museum's strategy of kindling an early interest in dentistry and dental hygiene.
"Traditionally, children visit the museum to have fun and get excited about caring for their teeth," he said. "We want to reach these future dental professionals early in order to encourage them to look forward to and appreciate their STEM [Science, Technology, Engineering, and Math] classes and aspire to health careers. As an added plus, we'll be promoting good oral health."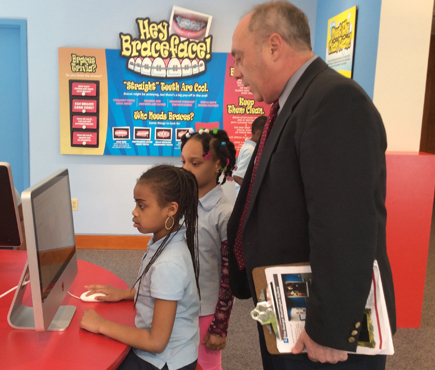 The museum, a Smithsonian affiliate, offers a fascinating collection of 40,000 objects, including George Washington's dentures, Queen Victoria's personal dental instruments, a narwhal's tusk, and artifacts from the history of dentistry. Many of these come from the collection of the Baltimore College of Dental Surgery, UMSOD's predecessor and the world's first college of dentistry, founded in 1840.
Located at 31 S. Greene St. on the campus of the University of Maryland, Baltimore, the museum also features interactive exhibits designed to engage and educate children. The new program supports visits by local schoolchildren by covering the cost of field trips, among other things.
Katy Battani, RDH, MS, director of the state health department's Perinatal & Infant Oral Health Quality Improvement Program, called the initiative a "tremendous opportunity" to communicate the importance of oral health.
Youngsters' enthusiasm was apparent during a series of recent visits by second-graders who attend Samuel F.B. Morse, Belmont, and Calvin M. Rodwell elementary schools. The field trips took place on March 7, Feb. 27, and Feb. 2, 2017, respectively. (View a photo gallery of the Rodwell field trip.)
Teachers praised the hands-on activities, such as the larger-than-life teeth positioned to encourage proper brushing and flossing, and the exhibits that show the perils of tobacco use or other consequences of unhealthy choices.
Yet history held its own. Each time, groups of excited children peered at President Washington's dentures, learning they were made not of wood but mostly of hippopotamus ivory. Students paused at a wax figure of Dr. G.V. Black, who is noted for his amalgam formula, and they gasped over tools that were in use more than a century ago.
"These are things that we can't see in a video," commented Rodwell teacher Maryann Kolarek, whose charges included a 7-year-old girl who gave her own assessments. The child declared the tools to be "unfriendly." But she gained an overall positive view, saying: "Being a dentist is cool."
That's the vocational message desired by Manski and his colleague at UMSOD, Scott Swank, DDS, assistant professor in Dental Public Health and the museum curator. "We want the students to realize that they can actually become dentists, dental hygienists, and one day help take care of other people's teeth as well as their own," Swank said.