Jay A. Perman, MD, president of the University of Maryland, Baltimore (UMB), asked an overflow crowd at a UMB town hall on March 11 for input on Senate Bill 1052: University of Maryland Strategic Partnership Act.
Perman got more than he asked for in an enthusiastic, and sometimes emotional, hour of give and take. And he got an ovation, too.
The Senate bill seeks to expand a collaborative partnership between UMB and the University of Maryland, College Park (UMCP) known as MPowering the State, a structured alliance of the two universities that was launched in 2012. Under the MPower partnership, UMB and UMCP have grown joint research dollars from practically zero to nearly $71 million and joint faculty appointments from one to 70-plus. A unified technology transfer office has aggressively developed and marketed university innovations, disclosing 1,407 inventions, licensing 209 technologies, and launching 41 startup companies.
The bill has been amended since it was introduced in the State Senate on Feb. 18, addressing many of the concerns Perman raised in his testimony the next day. Perman made it clear at the town hall he supported the principle of strategic partnerships in general. Then he turned the program over to the 340 in attendance at the Southern Management Corporation Campus Center who made their feelings known in no uncertain terms.
"I wonder if a merger of our campus and College Park would devalue our brand and take away our uniqueness as a University," said Aphrodite Bodycomb of the Health Sciences and Human Services Library. "We can already do programs and classes in collaboration without this bill. I'm struggling to find in this bill more than calculating research numbers. I also want to speak for some of the staff who have been working really hard in procurement, in IT, in HR who have scaled back and really operated very efficiently. Unless College Park has a lot of give in efficiencies — you can't get water from a stone. So the notion we're going to save a lot of money if we brought this merger in, I think it's just not true. Just say no!"
"There is an enormous cost to this reorganization," said Larry Magder, of the School of Medicine's Department of Epidemiology. "My department has experienced some of that trying to develop a collaborative School of Public Health with College Park. After two years of many documents and MOUs and many, many meetings, the whole process was abandoned to a great expense. The cultures are so different. It takes a tremendous amount of work to merge them."
This was echoed by Andrew Horn, a College Park student who works in the School of Medicine's Department of Physical Therapy at UMB.
"I can tell you when I went to Dr. [Wallace] Loh's meeting in College Park about the bill there were maybe 30 people in the room," he said. "It really was empty and there were hardly any students. It just wasn't something that the students really cared about down there. Obviously from working here it definitely is a completely different culture in Baltimore than it is in College Park."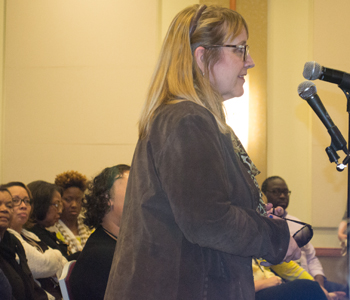 "UMB has heart," said Patti Hoffmann, who works in human resources at UMB and attends College Park as a Master of Law student, one of the joint programs that grew out of the MPowering initiative. "You feel it every day, you see it everywhere we go, and I hope we don't lose the heart we have."
Sarah Michel, president of the Faculty Senate, said the "devil is in the details" of the proposed bill. "The faculty are worried about how this will affect their faculty positions. [The universities] have different rules for tenure, different compensation, the way our jobs are defined."
Colette Beaulieu, UMB's Staff Senate president, recalled participating in the merger study 4 ½ years ago before MPower was formed.
"A lot of the staff concerns now are what I reported 4 ½ years ago. Whenever you talk about a merger, people are concerned about their jobs. I think a lot of the staff see the broad picture — what's best for the students, the staff, the faculty. But when a merger happens we worry what's going to happen to us? I think it's important the staff stay on top of this bill and contact your legislators."
Anthony Consoli, campus architect, asked if MPower has been such a huge success, "why add all this money to now do this great merging?"
"Our campus is so critical to the community and to Baltimore. And we have 130 or so programs right now that reach out to the community. What will happen to that? I really urge you to fight back against this."
Perman, who heads the Downtown Partnership and co-chairs the UniverCity Partnership with the mayor in trying to revitalize West Baltimore, restated UMB's commitment to Baltimore. He said that's one of the reasons the original bill, that mentioned the possibility of one president for the two campuses, concerned him so. "It's only human nature to care about something that you see right outside your window more than something you may not see or interact with every day." After the town hall, he was off to the Community Engagement Center UMB opened last fall to support its West Baltimore neighbors.
Many who spoke at the town hall asked why only UMB and UMCP were involved in this discussion when the University System of Maryland represents 12 institutions.
Geoffrey Heinzl, president of the University Student Government Association, reminded the crowd that 70 percent of the students in the system are not at UMB or College Park.
"That point was poignant when I attended the student council meeting for the system where students from all 12 institutions discussed this bill. I was really afraid I was going to have to go to war for UMB. But every other institution was willing to stand on our side and say they don't think this merger is a good idea. Honestly they felt they were going to be affected a whole lot more by this bill than we were. That our system is already imbalanced, there are a ton of institutions struggling with retention, struggling with graduation rates, and a lot of the funding that is being proposed in this bill that is empowering two already great institutions could be a lot better utilized in fulfilling the functions of the other universities and better serve those other 70 percent of the students in the system."
Ken Fahnestock of the School of Medicine was the last speaker and he applauded the turnout. "I think you've got enough information to go back and represent the University," he told Perman. "And I speak for myself and maybe the others in this room and around the University by saying I am proud to have you as president," setting off a long ovation.