Mayor Stephanie Rawlings-Blake, JD, gave those assembled for the University of Maryland, Baltimore's (UMB) Women's History Month presentation on March 10 many examples of great female role models.
The six female programmers in Aberdeen who formed ENIAC, the world's first electronic digital computer and the basis for our smartphones and laptops today. Francis Harper, who refused to give up her trolley seat in Philadelphia in 1858. Hattie Caraway, the first woman elected to the U.S. Senate in 1932. Maryland's own Barbara Mikulski, the longest-serving woman in the history of the U.S. Congress and a "whopping 4-foot-11 mighty force" whom Rawlings-Blake is proud to call a mentor and a role model.
But as she told the 150 people assembled at Westminster Hall, Rawlings-Blake didn't have to look to the history books or to Congress to find her inspiration. She found it in her own home.
Her late father, Howard "Pete" Rawlings, PhD, MS, was an influential member of the Maryland General Assembly. Her mom, Nina Rawlings, MD, is a retired pediatrician.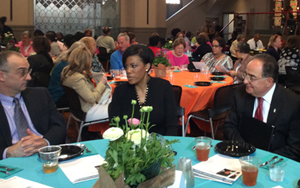 A smiling Rawlings-Blake recounted, "I just had this strong urge to be an elected official. And then I started to think back on my life and all of the functions my dad would take me to and all the people he introduced me to and then I thought maybe it was subtle brain-washing," she said as those in the crowd laughed. "It was good because I thought I had made the decision on my own."
He took her to see people like state Sen. Verda Welcome and many other elected African-American women he revered. "Dad saw them as his role models. Without knowing it, I realized later in life, I saw them as the possibilities for my own future. I saw in them what I could become," Rawlings-Blake said.
Her mother, one of the first African-American women to be admitted to the University of Maryland School of Medicine, "was an excellent doctor and she could have focused on making as much money as she could. Don't get me wrong. I don't have anything against making money and I plan to make a whole lot soon," said the mayor, whose term ends in December.
"She gave her time and talent and ensured that our community had accessible health care regardless of your ability to pay. She ran a community health center for years in the basement of our home. She was a force; she led by example. I had friends who wanted to stay in my mom's pediatric practice well into their 20s. I'm so blessed to still have her in my life.
"I learned from both parents that governing could be and must be a force for good. I learned to be strong and be my own person."
She learned her lessons well. Welcomed "home" as a 1995 alumna of the University of Maryland School of Law by UMB President Jay A. Perman, MD, Rawlings-Blake was the youngest person ever elected to the Baltimore City Council at the age of 25 in 1995. She served as City Council president from January 2007 to February 2010 before becoming mayor. She was elected secretary of the Democratic National Committee in 2012 and in 2015 she became the first African-American woman and the first Baltimorean to be elected as president of the U.S. Conference of Mayors.
In answering questions after her 22-minute presentation, Rawlings-Blake said she never second-guessed her decision to enter public service and she urged those assembled to contribute as well.
"Everyone has a role to play. I want to encourage all of you. Not everyone has to run for elected office," she said, "but I urge you to find a way to serve. Maybe it's being a mentor to our young people, who are desperate for role models. I took for granted what I had at home, meeting people of influence and building relationships. Many children today are going home to empty houses or to mothers who are addicted and unable to provide the support that is needed. Be a mentor and share with them the importance of college and higher education."
Bearing a "great degree from a great law school," which hosted the UMB Women's History Month event, Rawlings-Blake says she is excited about her future. "I'm extremely blessed to have a lot of options. While I will miss being mayor, I'm bursting with excitement about what's next for me."
Perman thanked the mayor, with whom he co-chairs the UniverCity Partnership, an effort to redevelop and revitalize Baltimore City's Westside. And he thanked the attendees from across UMB, many who brought donations to Paul's Place as part of the event.
"I want to thank all of you not only for celebrating women's history, but for helping to secure women's future, for commemorating the heroic women who have brought us to this moment in time," he said. "A moment when women are better represented in business, government, and the judiciary than ever before — especially in this city and state. A moment as women steadily gain power and safeguard the significant progress for which they've fought. And as we reframe fundamental issues of women's rights as issues of human rights."