University of Maryland Francis King Carey School of Law (SOL) Dean Donald B. Tobin, JD, has embarked upon a 10-day trip to China to strengthen the law school's international ties, increase its international diversity, and expand international opportunities for its students.
To achieve these goals, Tobin will visit six law schools in Beijing and Shanghai, meeting with students, faculty, and officials. He also will meet with many of the SOL alumni practicing in China. Tobin's visit is part of a larger effort by Maryland Gov. Larry Hogan and UMB President Jay A. Perman, MD, to increase the state's presence in China.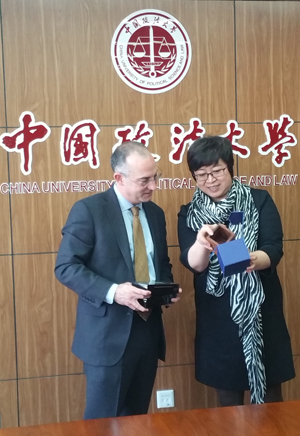 Katrin Hussmann Schroll, JD, director of admissions at the SOL, is sending regular dispatches home from China, excerpts of which will be published here along with photos Schroll has provided.
Tobin, an expert on U.S. tax law, is visiting six Chinese law schools to deliver a lecture on how the law can help or hinder business innovation, especially among online businesses such as Uber and Airbnb.
Tobin will deliver his lecture to faculty and students at the following law schools:
March 14, Beijing: China University of Political Science and Law (CUPL) & Tsinghua University School of Law
March 15, Beijing: University of International Business and Economics (UIBE) School of Law
March 16, Beijing: Peking University (PKU) Law School
March 17, Shanghai: Shanghai Jiaotong University
March 18, Shanghai: East China University of Political Science and Law (ECUPL)
In addition to Tobin's and Schroll's trip, faculty, staff, students and alumni of the SOL's Environmental Law Program are participating in the program's separate biennial visit, which is focused on China's environmental policies. They include Robert Percival, JD, MA, professor and director of the Environmental Law Program, associate professor Michael Pappas, JD, MA, and William Piermattei, JD, the program's managing director.
Travel Journal, by Katrin Hussmann Schroll, JD
Saturday, March 19:
First, Dean Tobin provided opening remarks at the "Green China: Public Interest Litigation and Environmental Governance Summit" hosted at KoGuan Law School, Shanghai Jiaotong University. This forum was a great way to end our trip since it fostered discussion about US-China relationships and recent developments in the international Environmental Law arena. Prof. Percival, Prof. Pappas, and some of our students had the opportunity to present at the conference.
In the afternoon,we met with alumnus Charlie Paglee '98. He is the CEO of Brannan Auto Engineering located in Shanghai, China. Mr. Paglee has more than two decades of business experience in China and speaks fluent Chinese Mandarin. He is an electrical engineer who started working with electric vehicles in 1991. Mr. Paglee has been with the Brannan since December 2011 and manages the company's automotive manufacturing operations in mainland China.
Friday, March 18:
We started our day with the folks from the Maryland China Center. We met with Chief Executive Ning Shao and Senior Account Executive Vikki Wang. They provided us with an overview of the program's history, and what they have accomplished since 1996. Dean Tobin provided a summary of our trip to China, and discussed all of the cooperation agreements we have talked about with our hosts on the trip. He talked about potential collaboration with the Maryland China Center as we consider internship options for students who want to work in China to gain exposure to Chinese Law practice.
We spent the afternoon with Professor Fei Xia, director of the international exchange center at East China University of Political Science and Law, and discussed ways in which we can establish a cooperation agreement. The meeting was very productive and expect to have an agreement signed soon.
Friday night, we attended a reception with the Environmental Law School Students group and Prof. Percival, Prof. Pappas, and Prof. Piermattei. Special guests in attendance included Daniel Guttman, who served in the Clinton administration as executive director for the advisory commission on human radiation experiments, as well as Zhenzi Zhang, head of the Shanghai Roots and Shoots office, a program designed to educate youths about environmental law issues and humanitarian values.
Thursday, March 17:
We began the day by visiting Shanghai Jiaotong University KoGuan Law School. The visit was coordinated by Professor Huiyu Zhao. She was a visiting scholar at the SOL with the Environmental Law Program, academic year 2011-2012. Now she is a well-respected professor at KoGuan law school.
First, we started off the visit by meeting with the dean of the law school, Weidong Ji. He shared the history of the law school, his international student body and his push for interdisciplinary education - especially in the health field. Dean Tobin provided an overview of our law school. We opened the conversation for possible collaborations between the schools given our common specialty areas in health law and environmental law. Dean Ji agreed to sign a cooperation agreement in the coming months.
In the afternoon, Professor Jiaxiang Hu hosted a luncheon presentation for Master and LLM students at SHU. Faculty members also attended. In honor of the Americans present, they served KFC for lunch.
Dean Tobin discussed legal education in the United States, the diversity in the coursework available, and the various specialties. Then the students asked that I give an overview of the application process for law degree programs in the United States, including JD, LLM, and MSL.
Later that afternoon, we were hosted by Jones Day Shanghai Office partner-in-charge Peter Wang. Peter has worked for Jones Day for 23 years. We had a meeting with more than 10 of their partners and discussed the legal market in China, similarities and differences with the US legal market, and the focus of their Shanghai practice. Dean Tobin asked about hiring practices in China, and what curriculum strengths they are looking for when hiring.
In the evening, we met our alumna Meg Utterback at the Shangri-la Hotel Restaurant overlooking the entire city of Shanghai. It was quite a spectacular view.
Meg is the only female western partner in a leadership position at King and Wood Mallesons. Her firm is the sixth largest firm in the world.
Wednesday, March 16:
In the morning, we shared breakfast with a prospective law student who is applying to our LLM program. She was very impressed with our internship opportunities, location, and student-to-faculty ratio.
After breakfast, we spent the day at Peking University. Our visit was facilitated by Andy Sun, JD, a JD alumnus who is an intellectual property law professor at Peking University. Dean Tobin met with the dean of Peking University to talk about their common academic interest in tax law, and to discuss their respective law schools. Dean Tobin then lectured about business and law to a group of PhD students, faculty members and the dean at Peking University. The students were engaged and enthusiastic, asking questions about how the law might change with more startups in the vein of Uber and Alibaba.
After the lecture, we joined the dean and our alum Andy Sun for lunch. We talked about possible collaborations, including an exchange program. Peking University already offers many courses in English in its Chinese law program. We took a walking tour of the campus after lunch to learn more about the history of the university. Then, Andy escorted us to Beijing's Summer Palace and served as a fantastic tour guide as we explored the grounds. In the evening, we flew to Shanghai.
Tuesday, March 15:
We met Nancy Chen, Education Officer of the Public Affairs Section of the U.S. Embassy in China, who also serves as Director of EducationUSA China and Fulbright programs at the Beijing American Center. We discussed legal education in China. We also talked about ways in which U.S. schools can better collaborate with the Center and educate Chinese students about opportunities to study law in the U.S. During the meeting, Dean Tobin discussed what makes our LLM program unique compared to other programs in the United States. We also learned about Chinese government incentives for faculty exchanges
Later, we met with a reporter from Future Magazine. They will be doing a feature on Dean Tobin and legal education in the United States in their May issue. The interview focused on the history of the law school, our diverse law curriculum, our practical training opportunities, and our great location.
In the afternoon, we visited the University of International Business and Economics (UIBE) School of Law. We met with law school Dean Jingxia Shi to talk about the ways in which we collaborate, with hopes of developing faculty exchanges and short-term law trainings in the future. Dean Tobin lectured to a group of students and faculty about the intersection of business and law.
Monday, March 14:
Morning: China University of Political Science and Law (CUPL)
We met with the leadership at CUPL to discuss ways in which we can establish a formal relationship between our schools.
We met with:
Prof. Xu Lan, Director, Office of International Cooperation and Exchange
Prof. Chen Jingshan, Deputy Editor-in-Chief, Journal of CUPL
Ms. Wang Ping, Assistant of Dean, Civil and Economic Law College
Associate Prof. Wang Zhuhao, Director of International Exchanges and Cooperation,Institute of Evidence Law and Forensic Science
Mr. Lyu Yong, Vice-Director, Office of International Cooperation and Exchange
Ms. Gao Fei, Program Officer, Office of International Cooperation and Exchange
A very productive conversation including discussion of the existing collaborations between UMB and CUPL, including a Master of Forensics degree program. Then, we discussed strengths and similarities of each program, including how we could complement one another. We ended the meeting with hopes of moving forward on ideas such as a student exchange, Master of Law (LLM) scholarships for CUPL graduates, and the hosting of faculty visiting scholars.
Afternoon: Tsinghua University
Professor James Li invited us to speak to his international law class of first-year students at Tsinghua University School of Law. More than 100 students attended and listened as Dean Tobin provided an overview about the SOL, the state of Maryland, his own background and the road to becoming a dean. We opened the floor for questions. Prof. Li from Tsinghua moderated as students asked questions about law education in the U.S., judicial discretion, the relationship between law and politics in America, tax law, and campaign finance law.
Evening: Beijing Bar Association at Dentons Law Firm
We ended the day with a great meeting at Dentons Law Firm in Beijing, talking with 10 members of the Beijing Bar Association from various law firms including Dentons, King & Wood Mallesons, and more. Vivien Tao, Senior Partner at Dentons, invited us to dinner after the meeting.
Sunday, March 13
Morning & Afternoon: Great Wall
The group was thrilled to visit the Great Wall outside of Beijing. Dean Tobin and his traveling group met up early that morning with Bob Percival, Michael Pappas, Will Piermattei, Environmental Law Program alumni, and current Environmental Law Students.
We left early for the hour-and-a-half trip to the Great Wall. We were very lucky to have amazing weather with very little smog and no clouds – just a bright blue sky.
On the way, we stopped at a jade factory and had a lovely lunch with the students before entering the Great Wall. The dean had the opportunity to discuss with the students important comparative law issues between China and the United States. Also, the students shared their initial impressions of China, and talked about their observations on the differences in the culture, people, and society.
Once we reached the Great Wall, we took a chair lift up to the top. There, overlooking an amazing view of the mountains surrounding the wall, we walked and discussed its history. We spent the afternoon walking most of the wall – it was quite a hike! We finished our trip by tobogganing down the mountain, as depicted in the great photo of Bob Percival and Dean Tobin.
Upon returning to our hotel that evening, we met up with alumnus and Board of Visitors member Yitai Hu '98. He is a partner at Alston and Byrd, with an office in San Francisco and an office in Beijing. He took us to a local restaurant, where we chatted over a hot pot and learned more about his intellectual property law practice. He shared about his most recent cases that concerned the Economic Espionage Act with regard to patent trade secrets. He discussed ways in which we have a lot of room to collaborate with Chinese law schools, including which schools might offer the most productive partnerships.