The following letter was jointly authored by Wallace D. Loh, PhD, president of the University of Maryland, College Park, and Jay A. Perman, MD, president of the University of Maryland, Baltimore.
Maryland's road to a stronger high-tech economy lies at the intersection of its I-95 and I-270 corridors. Better integration of education, research, and development in the state's two biggest innovation centers — the Washington suburbs and Baltimore — will spur success. This is underway.
In less than three years, a strategic collaboration between the University of Maryland, College Park and the University of Maryland, Baltimore, called MPowering the State, has dramatically energized technology development along these corridors.
Now, the 30 miles separating our two universities seems to be shrinking. Several dozen faculty members have joint appointments. Our scientists collaborate on research and commercializing new technologies. Innovative, joint academic programs give graduate and undergraduate students more classroom and lab opportunities. These new programs help meet the state's education and workforce needs.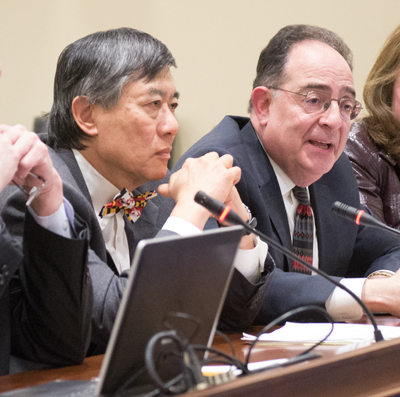 This teamwork improves efficiency, boosts productivity, and attracts major support. In 2 1/2 years, MPower research teams have jointly secured $79 million in federal funding. Industry has added millions more for product development.
College Park engineers and scientists form complementary teams with Baltimore's biomedical, surgical, and imaging researchers to develop the new toolbox of "personalized" medicine. Already, teams are developing a new generation of medical devices customized for individual patients.
They are also developing promising new vaccines; novel ways to deliver medications with great precision; immersive, virtual reality that puts a doctor "next" to faraway patients; and robots that reach into the brain where a surgeon cannot go.
In turn, this work attracts new and expanded partnerships with industry. It also links the established I-270 biotech cluster with the growing one in downtown Baltimore. Connecting this research and development triangle — in Montgomery County, College Park, and Baltimore — builds a critical mass of innovation and entrepreneurship that beckons investors and talent.
For example, MPower's Institute for Bioscience and Biotechnology Research (IBBR) is making the most of its I-270 location, building strong partnerships with the nearby National Institute of Standards and Technology and major international corporations like AstraZeneca's MedImmune. The Dutch agro-biotech company Keygene recently set up its North American headquarters on the IBBR campus.
To increase efficiency and impact, we have combined our commercialization operations. Now, more people aggressively and jointly market inventions. Others actively scout for promising university discoveries. The state has helped by adding new early-stage funding to promote commercialization.
The result: In three years, inventions jumped 78 percent; corporate licensing of our technology rose 82 percent; and licensing revenues grew 158 percent. Together, we've launched 26 new startup firms.
Collaboration and efficiencies are critically important in this uncertain budget environment, and MPower represents smart progress. By bringing public, private, and academic resources closer, it paves the way for well-connected innovation highways that will help Maryland prosper.
Wallace Loh is president of the University of Maryland, College Park. Jay Perman is president of the University of Maryland, Baltimore. They may be reached at jperman@umaryland.edu and president@umd.edu.