"I'm proud to witness the official unveiling of the new mobile health treatment unit," Caroline County Commissioner Larry Porter told a crowd gathered at the Caroline County Health Department offices in Denton on June 9. "We have a team that's dedicated to provide our citizens with the proper care and resources to help bridge this vital gap in our community."
The team Porter referenced is the Eastern Shore Mobile Care Collaborative, a partnership between the county health department's behavioral health program and the University of Maryland, Baltimore. Funded by the Maryland Health Resources and Services Administration, the collaborative's two mobile treatment units "bring evidence-based treatment to individuals with opioid use disorders and underserved rural communities," said Caroline County Health Officer Robin Cahall. "There's a great need here on the mid-Shore for the services that are being provided.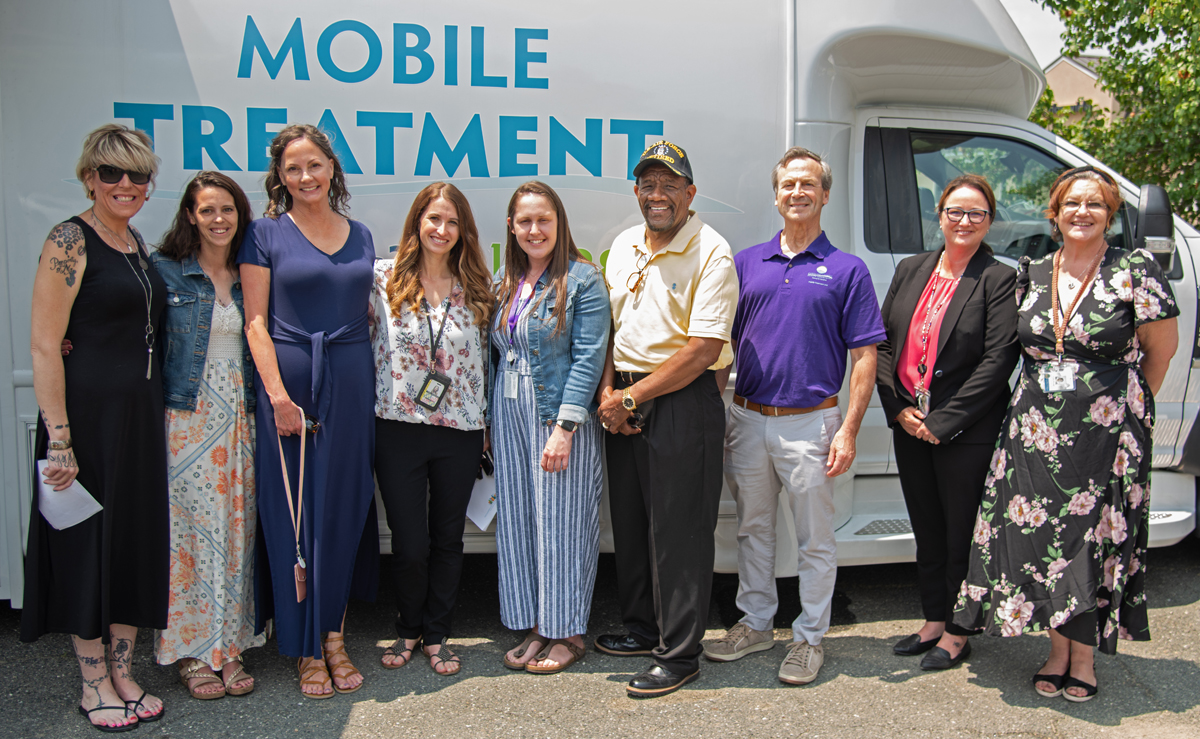 Under the medical supervision of University of Maryland School of Medicine (UMSOM) professor Eric Weintraub, MD, the mobile treatment team sees about 150 clients a month in Caroline County. With the addition of a second mobile unit, services will be extended to patients in neighboring Talbot County and the Chestertown area of Kent County.
"I've had the opportunity of working with this great team here and Caroline County for the last five years," Weintraub said. "And I'm just really impressed by the quality of work they do and how they reach out and take care of patients."
Weintraub, who is an associate professor in the Department of Psychiatry at UMSOM, has helped develop innovative programs in providing medication assisted treatment to underserved rural areas via telemedicine across Maryland.
"I'm just really impressed by the quality of work they do and how they reach out and take care of patients," he said. "Understanding that people with substance use disorders are really just trying to access help, they're people just like us, like everybody else. They have the same hopes and dreams, and they're just caught in the throes of a terrible disease that they can't always get out of. And we've been able to provide opportunities for these individuals to get evidence-based help."
Patients can visit the mobile treatment units (MTUs) at various locations throughout the month, solving a major obstacle for many residents of rural areas: transportation. Counselors and medical staff can meet and assess the needs of patients in person, and patients can meet privately with doctors located at the University in Baltimore via telemedicine technology.
"If you have a person who just walks up and knocks on his door and says they want help, that happens right then and there," said MTU program administrator Roger McKnight. "Nine times out of 10, we will have them with a medication prescription, they will be able to see the doctor, see a counselor, we do an intake."
An important factor in the success of the program, McKnight said, is the ability to make people feel at home welcomed on board. "They know I'm from here, too. So, it's not like an outsider coming in," he said. "I live down the road. I cut my grass, and they see that, but then when I come to work on Monday, my job is to help people with it."
The success of the program also can be seen in the lives of former patients, some of whom have returned to work as employees of the program helping others.
"It was at the mobile treatment unit that my life shifted for the better," said Jessica Anthony, a graduate of the outpatient program. "When I began treatment on the MTU, I had nothing. As a result of their guidance, I was able to regain my independence and rebuild my life from the ground up."
Anthony described her journey as a true testament to the power of resilience. "Now I am privileged to be able to work alongside them as a peer recovery specialist for the University of Maryland."