Back in mid-February, before most faculty, staff, and students scattered to the COVID-19 world of teleworking and remote learning, Judy L. Postmus, PhD, MSW, came to visit the University of Maryland School of Social Work (UMSSW). On July 1, she will begin her new role as the school's dean.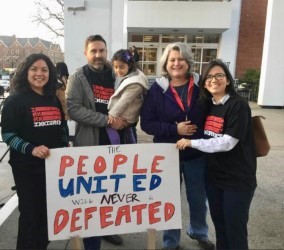 Currently a professor and associate dean for research and faculty development at Rutgers University School of Social Work, Postmus was appointed to the position by University of Maryland, Baltimore (UMB) Interim President Bruce E. Jarrell, MD, FACS. She is the second female dean and the seventh dean overall since UMSSW's founding in 1961.
Since she accepted the offer, Postmus has been home in New Jersey, spending her days much like everyone else who is riding out the pandemic, teleworking and not going out much.
"I'm ready to be done with it," she said.
Because of the pandemic, she's had only one visit to UMB, that February day, but it was a memorable one.
"It left such a good impression," said Postmus, who succeeds Dean Richard P. Barth, PhD, MSW, who has led UMSSW for 14 years and will continue to teach as a professor. "Faculty and staff and students at the school were the greatest. I thought they were patient and dedicated and really wanted to make a difference in people's lives in a variety of ways."
During her visit to Baltimore, Postmus learned about Promise Heights, an initiative led by the School of Social Work to improve the lives of children and families in the West Baltimore neighborhood of Upton/Druid Heights.
"I was blown away by the work that they are doing and the commitment they have to helping others," said Postmus, who has a passion and a history of helping those who are oppressed based on race, gender, and class. She is also a nationally known scholar on intimate partner violence.
Born and raised in Miami to immigrant parents, Postmus began working with at-risk youth and their families in Liberty City, Fla., an environment where racism and poverty were rampant, and violence erupted in response in this disenfranchised community. After earning her MSW at Barry University in 1990, Postmus worked at Miami Bridge, a runaway and homeless youth shelter in Miami, and then as executive director of the Domestic Abuse Shelter in the Florida Keys.
When she visited UMB, Postmus also was impressed by UMSSW's Institute for Innovation and Implementation and the service it provides to the state of Maryland. The institute supports state and local governments and organizations in implementing and sustaining effective systems and clinical practices that promote system of care values and best meet the needs of children and youth involved in the public systems and their families.
"There are a lot of reasons to be impressed with the school," Postmus said. She also noted that the size of the faculty and diversity of its student population are similar to those at Rutgers.
Having a diverse student population is extremely important, Postmus said. "For people who seek social services, it is important that social services education students represent their community. It is important to have models, but it is more important to have a culture of humility. Regardless of what background you have, we all can learn from the other and respect people for being different."
She said she will work to add diversity to the faculty, which has been criticized by social work students and alumni in the past.

"We don't just hire you because you look a certain way," she said. "We hire you to enhance our culture. We embrace diversity in all its forms. It's not easy to do, but it is important. It's crucial."

Already a strong advocate of distance learning, Postmus said she will be busy fine-tuning a robust online education system for the school.
"As adults, we all learn differently. Some can thrive in an online environment and others don't. The pandemic forced everyone to be online," Postmus said. "The challenge as we move forward is thinking of three different types of instruction: fully online, fully on the ground, and those in between. Somewhere there has to be some blend until things stabilize. I know there is a fear that fully online is not quality education, and I beg to differ."
In a letter to the UMB community, Jarrell said the goal was to find a new dean who demonstrates the ability to be an effective champion for the role of social work and its programs throughout the state, and to harness the strengths and commitment of the faculty, staff, and students to be catalysts for a compelling vision of the future of social work at UMB.
"I am confident that we have succeeded in that with the appointment of Judy Postmus," he said.
The selection of Postmus was made after a national search. Donald B. Tobin, JD, dean and professor at the University of Maryland Francis King Carey School of Law and chair of the search committee, described Postmus as an "excellent teacher and scholar and someone who has spent her career leveraging her research and teaching excellence with service to the community. She brings to the school a passion for teaching and student success as well as a deep commitment to research and community engagement.
"I look forward to welcoming her to UMB and to working with her in the future."
Francisco Leca, MSW '20, a student leader representative on the search committee, said Postmus was the best choice because of her experience as a social worker in research and academia from a large school.
"Coming from Rutgers, that will make her transition seamless," Leca said. "I think she will also bring in a fresh perspective, a passion to help take UMB to a higher level, and a unique lens for community alliances. She is not afraid to speak her mind and is candid. I appreciate that."
"I think her combination of academic, administrative, and direct practice experience is compelling," added Dawn Shafer, LCSW-C, LCADC, assistant dean of student services. "These varied skill sets will allow her to help enact change within our institution and ultimately make us more effective at serving the community. Social work practice relies on the value of human relationships, and Dr. Postmus' ability to make others feel comfortable through her humor and ability to listen is a great asset."
It was Barth who encouraged Postmus to apply for the dean position. The two have known each other for years through a mentor they have in common, Richard Edwards, distinguished professor and chancellor emeritus at Rutgers, who strongly vouched for her.
"She comes from a school very similar to ours, more similar than any other schools of social work in the country," Barth noted.
Barth said Postmus brings a "strong research capacity" to UMSSW. Her experience building the Center on Violence Against Women and Children at Rutgers, with funding from Verizon, indicates that she also has a strong knowledge of working with corporations and will have the ability to enhance UMSSW's development efforts, Barth added.
Meanwhile, back in New Jersey, when not hunting for Baltimore real estate, Postmus said she and her partner of 36 years, Geri Summers, enjoy reading, jogging, gardening, camping, and spending time with their two cats and dog.
"We are all excited to come to Baltimore," she said.